When Mohamad Alamour immigrated to Canada from Syria in 2005, he never expected that war would one day force his family to join him.
Mohamad left 11 brothers and sisters, as well as his parents, in his hometown of Khirbet Ghazaleh; his wife, Hadeel Almously, left a family of nine. Today, the town is effectively gone—bombed to rubble by government forces.
In 2005, such devastation was unimaginable. It was six years before the Day of Rage protests were staged in March 2011, calling for democratic reforms. Seven years before the International Committee of the Red Cross officially declared the situation to be a civil war in July 2012. Yet even in 2005, Mohamad felt a growing sense of unease.
"The situation was stable, but it was stable under a dictatorship," he says. "There were no free elections; if you spoke against the government, they could arrest you."
Choosing Canada in part because of its reputation for multiculturalism, Mohamad, an engineer, came as a skilled worker. He and Hadeel settled in Toronto and were saving to buy a house, building a new life as all semblance of stability crumbled back home.
As the fighting escalated, their families' options dwindled and they fled Ghazaleh, joining millions of Syrians in a desperate search for safety.
Seeking to sponsor them as refugees, Mohamad feared it would take years to bring their families to Canada, if they made it at all. But with the help of The Salvation Army, Mohamad and Hadeel have brought 15 family members to Canada—and there are more on the way.
"Nobody Can Survive There"
A town of about 25,000 people in southwest Syria, Ghazaleh is situated on a major international transit route leading to Jordan. In the spring of 2013, the town became the site of a strategic battle between the regime and the Free Syrian Army, who controlled the town and the highway. After a ferocious two-month assault, the rebels lost and the town was mostly destroyed.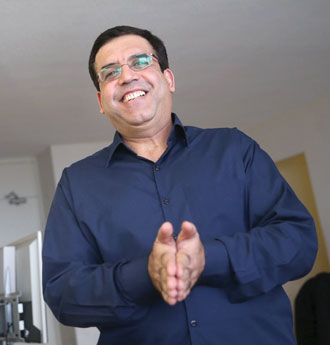 "Even now our village is totally occupied by the regime," Mohamad explains. "They've made it like a military base. They do not allow anybody to go inside. So we don't know what happened to our houses, if they've been burned or demolished."
Mohamad's family had left the town only a few months earlier, when the regime first began to bomb Ghazaleh, taking various routes toward Jordan. Several members of the family first went to nearby Gharea in search of safety, but conditions there were poor.
"There were electricity shortages, and not enough food and water to go around—everything was very expensive," Mohamad says. "Nobody can survive there."
Most of the family crossed into Jordan in January and February 2013, when the borders were still open. But Mohamad's brother, Ausama, and his family remained in Gharea a few months longer, with devastating results.
"He had three children—one son and two daughters," Mohamad shares. "One day his son was playing outside when a government airplane came and dropped a bomb. He was too close and he died, right in front of them."
Crossing Jordan
When the first members of Mohamad and Hadeel's families entered Jordan in 2013, there were about 142,000 Syrian refugees in the country. Since then, that number has ballooned to 640,000 registered refugees—just a fraction of the 4.8 million refugees outside Syria today.
Hadeel's brother, Loae Almously, his wife, Waed, and their one-year-old daughter, Zain, were among this first group. They initially stayed at a refugee camp, but left because of dire conditions. Only about 20 percent of Syrian refugees in Jordan live in the camps, which have been described by observers as inhumane.
"Living in Jordan is not easy," says Loae, "because you are not allowed to work, or to get a residency there. They are threatening the people all the time with deportation back to Syria if there are any issues."
Mohamad's mother, Najieh, was among those deported to Syria. She and his father left Jordan briefly to visit one of Mohamad's brothers in Saudi Arabia and she was refused re-entry. "They took her to the border and literally threw her back into Syria," says Mohamad.
"We don't know what happened to our houses, if they've been burned or demolished"
Loae and his family spent two and a half years in Jordan before they were given visas to come to Canada. But they were relatively fortunate—early in their time there, Loae found a job with the Jesuit Refugee Service, a Catholic NGO, helping other refugees.
Meanwhile, Mohamad started investigating the refugee immigration process.
"I went to many organizations, but they were asking the impossible," he says. "Some of them said I needed a business to sign on as a guarantor, but I couldn't find any. Some asked for so much money."
Finally, in the third quarter of 2013, Mohamad was connected with The Salvation Army through a colleague from the Syrian Canadian Council.
"Mohamad didn't know much about the process, so we sat down and went through the whole way that it works," says Paula Marshall, immigrant and refugee services liaison.
"I asked her many questions about the forms and Paula was very helpful," he says. "We completed the forms, and then she revised them and submitted them."
At the end of 2013, Mohamad filed his first applications for a brother and brother-in-law, expecting a long wait.
"I told them it would take one to two years," he says. "But about five months later, they were called for interviews and they came in September 2014. They were very happy."
A Better Future
Mohamad's mother and Loae's family were next to arrive, touching down in Toronto in June 2015. After two and a half years in Jordan, they were eager to leave, but the journey had its own complications.
"At the time, Waed was eight months pregnant, and we were afraid they would not allow her to get on the plane," says Loae. Thankfully, she was cleared for travel and the journey, though tiring, went ahead as planned. One month later, Waed gave birth to Masa, a baby girl.
"It was very hard," Waed reflects.
"We used to get the help from our community—they support the woman during the pregnancy and after giving birth," adds Loae, "but we found ourselves here, alone, going to the hospital, doing all these things. But Mohamad and Hadeel helped us in many ways, so it was better."
While Loae initially worked a number of survival jobs, he now has a job doing settlement counselling at a local community centre.
"We live in peace and we have good opportunities," Loae reflects. "Our daughter is now in school, which is wonderful. She's very happy in school. In Jordan, many people don't get the chance for a fair education.
"It's better here," he continues. "We have the chance to begin our life again, to have a better future."
Ausama and his family were next to arrive in September 2015, while Hadeel's brother, Yaman, and his family came in December. Most of the adults are already working and all of the children are in school.
"It's nice," says eight-year-old Sarah, Mohamad's daughter. "I like having my cousins and grandmother in Canada."
"My brother-in-law's daughter and my brother's daughter are the same age as Sarah, so she has more friends," says Mohamad. "Before, she did not speak a single word of Arabic, but since her cousins came, she started to get our language back. Now she speaks Arabic."
"We have the chance to begin our life again, to have a better future"
The transition to Canada has been more difficult for the older children.
"They had friends back home, or in Jordan, so they have to build relationships with new friends," says Loae. "And they don't know the language, or they are still learning English, so that's another difficulty."
"It's very hard for Ausama's children, who are 10 and 12," says Mohamad. "When they hear loud sounds, they are scared, because of the bombs. It will take them some time to forget."
Settled and Thriving
Now observing the civil war from afar, Loae and Waed find it difficult to be optimistic about Syria's future.
"At this time, it seems like we will never return, because now there is no hope that we'll get our country back," says Waed. "Even if the war ends, it will take many years to build the country again."
"We had some hope when we were in Jordan that the situation would get better in Syria, and that we would go back," adds Loae. "But we feel now that this is the perfect place to live. Canada is a country that respects human rights and our desire to live, work and make better chances for ourselves."
Meanwhile, the family in Canada continues to grow. In addition to the 15 members already sponsored through The Salvation Army, Marshall notes that four more applications are in process. Another six family members have come to Canada as government-sponsored refugees.
"We are trying to gather the whole family, because we don't want to leave everybody to be scattered all over the place," says Mohamad. "They come here and it's good for us and our children. We can help each other."
Now surrounded by loved ones, Mohamad is grateful for the Army's assistance.
"This would not have been possible without Paula's help," he says. "Paula was very nice. It was an easy process with her."
"These people's lives have been completely changed, and it's an honour to be part of that," says Marshall. "I'm so excited to see how they're getting settled here, and how they're thriving."
"It was sad when we left the country. Not everybody was thinking about leaving; we have been forced to leave," Mohamad says. "But it's good that we are gathered again in Canada. It lifts our feelings."
---
The Salvation Army's Response to the Syrian Crisis
Paula Marshall, immigrant and refugee services liaison, explains how the Army is providing assistance nationwide, and how corps and Salvationists can help.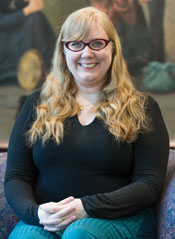 What kinds of practical assistance does the Army offer refugees?
Our main national response is clothing vouchers. They are available for any refugees, not just those from Syria, and they're valid at any Army thrift store. On a local level, each corps is going to have a different response. For example, some refugees may need furniture, others may need help with school registrations. Where there's a need, corps are filling it.
The Army is a sponsorship agreement holder. What does that mean?
We have a contract with the federal government to do private sponsorship. We co-sponsor refugees, working with family members, community groups, churches and the like. We vet our co-sponsors, making sure that they can handle the financial liability and the practical aspects of sponsorship. If they fall short in some places, we find ways to help them. We also form settlement teams to support the people when they arrive. We monitor the settlement and make sure the refugees are being taken care of properly, that they don't have any concerns.
How can corps get involved?
If they want to sponsor refugees, the first thing would be to take an inventory. What resources do they have in the corps? Housing? Furniture? Do they have the "people power" to help as needed? What resources are available in their community? I think a lot of corps would be amazed at what they actually have. Once they've taken an inventory and prayed about it, they should start thinking about the kind of family they can support. Then they can contact me and I'll walk them through the whole process.
What about individual Salvationists?
If they have a group of five people who want to sponsor, they can do it on their own (see
www.cic.gc.ca/english/refugees/sponsor/groups.asp
). Aside from sponsorship, there are government-assisted refugees arriving across the country. They don't have sponsors here in Canada, so they're going to need people to help them get oriented to Canadian life. Look at who is coming into your community and be a friend. Ask them how you can help.
(Photo: Timothy Cheng)