Booth University College graduands gathered online in April to mark the 2022 Spring Convocation and Conferring of Degrees.
"We gather this day to acknowledge a threshold moment, a thin place between what has been and what is to be," declared Lt-Colonel (Dr.) Susan van Duinen, Booth UC president and vice-chancellor. "Graduating class, you have made it! In these last couple of years, your resilience has been tested as you worked to complete your program of studies. Overcoming COVID challenges speaks volumes to your capacity, to go out into the world and to make a difference. Congratulations again to each one of you, and may you all succeed in the years ahead."
After the invocation of the ceremony by Commissioner Floyd Tidd, territorial commander and Booth UC chancellor, Michaela Cardamone gave the valedictory address. 
"These past few years have been difficult for everyone in many different ways," she said. "Many have experienced uncertainty, loss, helplessness, isolation, grief and separation from their loved ones. We are here to celebrate my fellow graduates' strength, perseverance, courage and dedication."
While she acknowledged that she couldn't speak for everyone, Cardamone confessed that she enjoyed the online experience.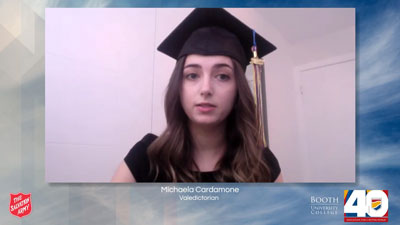 "A part of me did miss in-person classes," she said. "I'm sure we can all agree that we missed each other. We missed walking to our classes together, eating lunch together in the Bistro and the joy of each other's presence. Despite the absence of in-person classes, I still believe we have all made beautiful connections with one another. Friendships that got us through our degrees and friendships to cherish."  
In conclusion, she quoted a line from the classic movie Ferris Bueller's Day Off: "Life moves pretty fast. If you don't stop and look around once in a while, you could miss it." 
"I want you all to be proud of how far you've come along," Cardamone said. "Be proud of the hard work that got you to this moment in time. But most importantly, enjoy this moment. It is a moment that won't happen again. Capture it, remember it and embrace it. As today will soon be a memory to hold on to for years to come. Life has only just begun for us. So, make every moment count."
After Lt-Colonel John Murray, secretary for communications and chair of the Booth UC Board of Trustees, presented a prayer and Scripture reading for the day, Dr. Kenton C. Anderson, president of Providence University College and Theological Seminary, provided the keynote address.
The convocation and conferring of degrees by Dr. Michael Boyce, Booth UC's vice-president academic and dean, followed these remarks and 106 students graduated with a diploma, a certificate or a degree, from there to move beyond Booth UC to wherever life takes them.
The ceremony completed, Lt-Colonel van Duinen awarded the Chancellor's Medal to Jessica MacKenzie and the General's Medal to Lieutenant Marco Herrera Lopizic.
"Heavenly Father, please bless all of our graduates and their families," said Wendi Thiessen, associate professor, business administration, in her dedicatory prayer. "In spite of the ongoing challenges of the COVID pandemic, by your grace, you have enabled us to provide excellence in the classroom and continue to provide guidance to Booth University College's leadership. We thank you for the privilege of teaching these students in a world that seems volatile and unhinged. We pray that Booth University College's teachings and values will go with each of these graduates as they are challenged to live out their beliefs and apply justice and mercy in their decisions and areas of responsibility."
Watch the convocation ceremony: