"We sing, we dance, we pray—for healing in our land."
Mohawk musician Jonathan Maracle wrote these song lyrics in May 2021, expressing his hope for reconciliation between Indigenous people and those who settled in Canada. Two days later, the unmarked graves of 215 Indigenous children were uncovered at a former Indian residential school in Kamloops, B.C., a devastating reminder of the need for reconciliation—and the walls that divide us.
Jonathan is the founder and lead singer of Broken Walls, a music group that has travelled around the world, sharing the message of Jesus and building bridges across cultures, for almost 30 years. Last August, he was the musical guest at The Salvation Army's fifth annual Celebration of Culture, held in partnership with Indigenous Pathways, in Alberta.
"I've got two mandates," Jonathan says. "The first is to help non-Indigenous people understand what they've done to our people and find forgiveness. And the second is to break the walls of bitterness that lie within the hearts of my Indigenous people—to tell them that Jesus died for every tribe, tongue, people and nation. And for them to discover their gifts and carry them to the world with love."
"I Don't Need Jesus"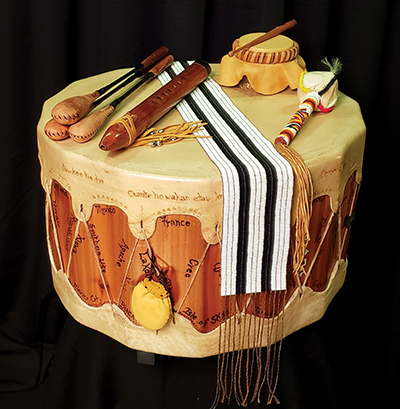 Jonathan grew up with five brothers in Akwesasne, a Mohawk Nation community in southeastern Ontario, where his father, Andrew Maracle, was a minister, respected elder and international advocate for Indigenous rights.
"My dad spoke the language fluently and he brought us up to be proud of our Mohawk heritage," he says. "At my coming-of-age ceremony, he gave me the name Oronhyatekha—which means 'Burning Cloud'—in honour of a Mohawk physician from the 19th century who was a distinguished leader in Canada."
But it was another public figure who most captured Jonathan's attention: Elvis Presley.
"I remember watching Elvis on TV, and I was stung by rock 'n' roll," he recalls. "I was completely entranced, listening to him sing. And I thought, That's what I want to do—I want to sing."
At 17, Jonathan started a rock band called Red Cloud, which played in bars around town. Soon, he decided to seek his fortune in California. His parents were distraught, thinking he was walking away from his faith. Still, his dad drove him to the bus station.
"As I was climbing onto the bus, he said to me, 'Son, when your back is against the wall and you have nowhere to turn, call out to Jesus,' " Jonathan remembers.
"I looked at him and said, 'I don't need Jesus.' And then I walked to the back of the bus."
"I Love You"
In California, things went well for a while, and Jonathan opened for some of the biggest bands in the world, including Peter Frampton, Rick Derringer and Blue Oyster Cult. Then the rock 'n' roll lifestyle of drugs and alcohol caught up to him. He lost friendships and sank into depression.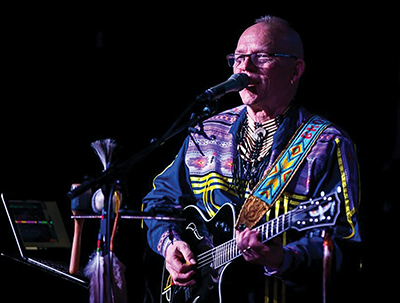 "I was devastated," he says. "I didn't want to live anymore, and I had devised a way to take my life." As he tried to put his feelings into a blues song, his father's words came back to him: "When you have nowhere to turn, call out to Jesus."
"I crumpled up the song, threw it in the garbage and started to cry," Jonathan says.
"Jesus, help me," he cried out.
Then the phone rang.
It was his father, whom he hadn't spoken to in more than two years. "He felt there was something wrong and had just bought a ticket to come and see me."
Jonathan switched the ticket so he could go and spend time with his parents. They showered him with love, but he refused to let them talk about God. On his last day, though, he went to church with them, to make his mother happy.
Inside, an elderly woman approached Jonathan and said, "I love you."
"It stunned me," he says. "I didn't feel very lovable. I asked, 'Why?' and she replied, 'Because Jesus told me to.' "
As he stood there, he felt a warm sensation flood through him, from the top of his head to the bottom of his feet, dissolving his loneliness, depression and addictions.
For the rest of the service, Jonathan sat at the back of the church. "I didn't hear a word the pastor was saying," he says. "I was just basking in this presence that I didn't understand."
Set Free
Although it was clear he couldn't return to the way he had been living, Jonathan didn't know what was next, so he moved home. He lived with his brother and started going to church with him, seeking to grow in his relationship with God.
Then the pastor told him he needed to choose between his faith and his Mohawk culture.
"He said my culture was heathen, and that I would need to give it up to follow Jesus," Jonathan says. "I was heartbroken. But I wanted Jesus more than my culture, more than anything else, because He had done such a supernatural thing in my spirit." He rejected his heritage and went on to become a worship leader.
It wasn't until many years later that he was able to reclaim his Indigenous identity as a follower of Jesus.
In 1995, he was invited to attend the Sacred Assembly, a national conference organized by Elijah Harper, an Oji-Cree Member of Parliament, that brought together Indigenous and non-Indigenous people for a time of listening, learning, praying and worshipping.
Jonathan had been asked to sing Amazing Grace, but then the words of one of the speakers caught his attention. He spoke about the pain of colonialism, and how this had built walls of bitterness within the hearts of Indigenous people—walls that needed to be broken for them to walk in the fullness of freedom that the Creator gave us through the death of his Son.
He wrote the song Broken Walls in response and played it on his drum. It led to an outpouring of tears and confession, forgiveness and healing.
"And that was the beginning of what I do today," Jonathan says. "We're in it to see our people set free."
Check out four of Jonathan Maracle's songs here (scroll to bottom of the page).