In response to the growing wave of digital ministry at church, The Salvation Army has launched a new virtual ministry highlight project. Resulting from a partnership between corps missions and the territorial communications video team, the project is composed of a series of videos that take an inside look at how corps across the territory are implementing audio visual technology into their church and worship settings.
The project follows four corps of varying sizes and capacities, including Georgina Community Church, Ont., St. John's Temple and Conception Bay South Corps, N.L., and Calgary's Glenmore Temple. "Each of these corps are doing virtual ministry and live streaming differently, and the purpose of this project is to highlight and celebrate how they are doing it well," says Matthew Osmond, children and youth media ministry consultant, who spearheaded theproject.
While one corps may be operating with only an iPad and a stand, others may have a team of people using a variety of equipment, such as cameras, soundboards and computers. The goal is to show how virtual ministry can be accomplished in different spaces using different budgets and resources, and to start discussions around what corps can do in their own setting.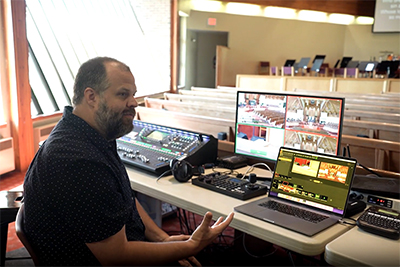 For Osmond, the vision is to guide congregations toward embracing virtual ministry in its various forms, whether it involves recording audio, sharing Scripture verses or posting on social media platforms such as Facebook.
"Some may look at what other corps are doing and think, I should do that. But that's not the case. Virtual ministry has to be sustainable and tailored to your spaces and the resources that you can draw upon," says Osmond. "I think that by sharing these videos, it will open up helpful and collaborative conversations around what is possible in the context of individual corps."
Another important aspect of the virtual ministry project is to help establish an intentional approach to using audio visual technology in the church. The videos provide a snapshot that allows viewers to walk into the building, have a conversation with the person in charge of virtual ministry and to see not only how they are doing it, but why they are doing it that way.
Officially launched in September 2023, the virtual ministry corps highlight project consists of 50-second promotional videos circulated on social media, which show vignettes of individual corps, short videos published on YouTube and a 25-minute feature episode that highlights all the corps involved.
To watch the virtual ministry highlight videos, visit: https://salvationist.ca/virtual-ministry-videos/