The 19th High Council has elected Commissioner Brian Peddle to be the General of The Salvation Army.
On the day voting would begin to elect the 21st General of The Salvation Army it was symbolic that the morning began with the worldwide prayer meeting. Led by the Chaplain (Commissioner Mark Tillsley, International Headquarters) the five zones into which the international Army is divided administratively became a focus for prayer, naming specific requests where appropriate. Each time the focus changed the members of the zone being lifted up to God were encircled by their fellow council members. These moments of prayer concluded with the chorus Bless them Now.

At the beginning of the day's business the President (Commissioner Birgitte Brekke-Clifton, International Headquarters) took a few moments to acknowledge and thank the support staff: translators, IT support, secretariat staff and recorders – a sentiment endorsed by the council with appreciative applause.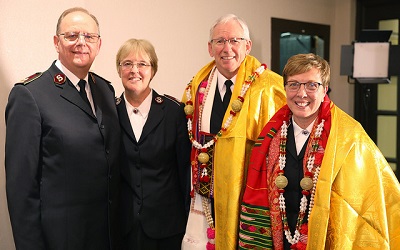 As with the answers to the questionnaires on the previous day, the speeches from the four candidates were delivered without interruption and there followed no expression of approval or dissent. The drawing of lots again determined the order in which the candidates gave their speeches, which were received in silence. The council then adjourned.

The Chaplain led the council in singing song 975 from The Song Book of The Salvation Army, Salvation! O the Joyful Sound! before Commissioner Devon Haughton (Territorial Commander, Caribbean Territory) read from Acts 7:51-60. Drawing on these verses and directing his thoughts to the candidates, but suggesting they were for all present in the chamber, the Chaplain spoke of the need for holy boldness. In this story of Stephen he noted also the heavenly assurance he received and finally that, despite everything, Stephen continued to have a heartache for humanity. The council joined in the song To be Like Jesus, with its emphasis on "His Spirit helping me ..." before prayer was offered by Commissioner Yvonne Westrupp (Territorial President of Women's Ministries, New Zealand, Fiji and Tonga Territory.)

Then followed the election process, undertaken in silence as a solemn and sacred duty, resulting in the election of Commissioner Brian Peddle as the 21st General of The Salvation Army.

After the General-Elect was announced, Commissioner Peddle addressed those in attendance at the High Council and those watching worldwide via livestream: "It is absolutely a pleasure to stand before you today and acknowledge the confidence the High Council has placed in myself and Commissioner Rosalie. We are overwhelmed to say the least, but deeply honoured and feeling somewhat unworthy of the momentous task ahead of us.

"We stand so eager for God to move in a new way among us … We pray that The Salvation Army internationally will now move from strength to strength and that God almighty will bless us in an incredible way as we move forward into the future."

Visit this page for updates about the 2018 High Council.