Everyone loves a parade, so it's not surprising that when the Royal Bermuda Regiment Band marches along Front Street in Hamilton, Bermuda, there's always a crowd. And if some of the spectators happen to attend one of The Salvation Army's four corps on the island, they might think one of the musicians looks very familiar.
Happy Camper
CSgt Sheldon Fox II, bandmaster designate of the Royal Bermuda Regiment (RBR), who currently plays cornet with the Royal Bermuda Regiment Band & Corps of Drums, was born into a Salvation Army family and raised at Hamilton Citadel, which is now known as North Street Citadel. "I remember making an active decision to serve Christ for myself shortly before I became a junior soldier," Fox shares.
"I joined the musical forces when I was young—the singing company and young people's band—but I went to music camp long before I should have, like when I was six," he says. "I was always one of the younger campers in the instrumental program."
Fox credits the mentorship and teaching he received at Bermuda Music Camp (BMC), the Bermuda Division's music camp, and at the corps for helping to shape him into the person he is today. "I've had many musical influences growing up in Bermuda," he says, including Kevin Hayward, former bandmaster of the Canadian Staff Band; David Knight, songster leader at St. George's Corps; Warren Jones, bandmaster of the Bermuda Divisional Band and at Cedar Hill Corps; and Calvin Ming, former bandmaster at North Street Citadel and now the divisional director of public relations and development in Bermuda.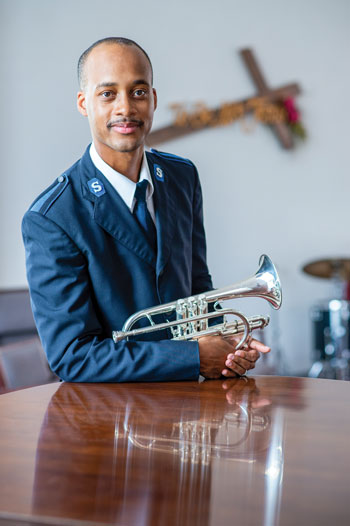 "Sheldon was one of those kids that when you looked at him, you knew God had given him a gift," Ming says. "He had rhythm and a good sense of how the music was to sound."
By the time Fox was in his early teens, he often asked Ming about the rudiments of conducting and musical analysis. "He loved to hear stories from the older guys about Salvation Army banding and music," Ming smiles, "but I always tried to leave him with the thought that God expects us to use what we have been given for his glory."
Even as his interest in music continued to grow, so did Fox's understanding of what following Christ meant. "I was able to demonstrate my faith when I became a senior soldier in 2004," he remarks.
Following graduation from high school, Fox received a bachelor of music education from Southeastern University, a private Christian liberal arts university in Lakeland, Florida, and met Taja, the love of his life. "We've been married since 2012. I guess you could say I married my college sweetheart," he smiles, explaining that Taja moved from the United States to Bermuda with him following their marriage.
Soldier First
When Fox enlisted in the reserve-style RBR in 2013, it came as no surprise to Ming. "His father played with the Royal Bermuda Regiment Band," Ming explains, "and when they were on the march, you would see little Sheldon marching on the sidewalk with the band."
Fox's military career began with basic training that included marching and weapons handling. With the majority of the regiment's training being done in two-week segments, often overseas, he has been deployed to Jamaica twice for intensive training. "I am a soldier first," Fox says, "but I knew there was a high probability that I would end up in the band." And with his rich musical background and natural talent, that's exactly what happened.
"For the first three and a half years of my service, I was the regimental bugler for parades, funerals and national events," he says, "including the annual Remembrance Day service at the cenotaph in Hamilton."
When the opportunity to apply for full-time service as the RBR bandmaster presented itself, Fox took the necessary steps to become a corporal. It required a lot of weekends and drill nights to accomplish, but it was worth it. "I started full-time service in 2016 and began training to become the bandmaster."
From September 2017 to May 2018, Fox was deployed to the prestigious Naval School of Music in Virginia Beach, Virginia, to participate in their Senior Musicians Course. For 30 weeks he worked alongside members of the U.S. Navy and U.S. Marine Corps to earn military credentials as they studied music history, composition, audio engineering and conducting, and underwent advanced score study, ear training and rehearsal techniques. "I'm now in my final year of training to become the bandmaster," Fox says, an appointment that is on track to begin in the fall.
Bold Faith
Now holding the military rank of colour sergeant, how does Fox balance his faith in Christ with his role as a professional soldier? "Servant leadership is important to me," he explains. "Yes, I'm part of the military, but I'm here to serve my troops."
When they need someone to talk to, Fox is there to listen and perhaps give a word of wisdom to make a difference in their life. "It's a small community," he says, "so you can't hide what you believe in. People know who you are, so you have to be bold in your faith. It has to be lived out."
"I'm part of the military, but I'm here to serve my troops."
Those are not empty words to this soldier who serves in two armies. Fox is an active member at North Street Citadel, where he plays cornet in the band and keyboard for the worship team, and is the corps pianist whenever he is not deployed overseas.
"While I was in university, I was part of Florida Brass, a Salvation Army youth band," he says, "and wherever I have been stationed with the RBR, I have been heavily involved with the local corps or divisional work."
He plays soprano cornet in the Bermuda Divisional Band, is a member of the band's executive and has served on various committees at the divisional level. And
Love at Home
, published by the Canada and Bermuda Territory's Maple Leaf Brass in 2017, is a march Fox wrote for the Bermuda Divisional Band featuring a well-known song from General Albert Orsborn: "Greater things! Give us faith, O Lord, we pray, faith for greater things!"
"The reason why I'm still in the church is because of people that would come alongside me and say, 'This is what you need to be at,' " Fox concludes. "It is so important that people in leadership positions have a passion for the youth. That's the only way that we can move forward."