As corps sergeant-major at the Somerset Corps in Bermuda, Henrietta Fubler had had many opportunities to minister to grieving families after the death of a loved one.
So when her corps members asked her to visit James Bean after his wife passed away, she faithfully went to pray with the family, share Scripture and offer encouragement. A widow herself, Henrietta knew what it was like to lose a spouse.
Connecting with James through that shared grief, Henrietta found a new friend. She never expected she would also find a new love.
Love Lost
James and Henrietta Bean are both long-time members of The Salvation Army in Bermuda.
"When I was 12, my parents started sending me to the Army, and I've been going ever since," James says with a smile.
Though Henrietta attended The Salvation Army in her youth, it was her first husband who brought her back to Somerset Corps, now West End Community Church, in the early 1990s.
Today, this musical couple are members of the Bermuda Divisional Band, while also playing at their respective corps—James as assistant bandmaster at Cedar Hill Citadel and Henrietta at West End. Yet somehow, before that fateful day, James and Henrietta had never met.
"To have a second chance—I thought, It's impossible! But you never know what God has in store for you."
When James' wife, Pamela, passed away on Mother's Day in 1998, it was completely unexpected. After celebrating the occasion with James and their son, Jamal, Pamela went to bed early, while James finished cleaning up.
"After I washed the dishes, I realized I hadn't given her a card for Mother's Day yet," James recalls, "so I went upstairs, gave her the card and a kiss, and all of a sudden, she started shaking."
James realized his wife was having a heart attack and Jamal called a doctor, but it was too late—Pamela had passed away. "I thought that we were going to spend the rest of our lives together, but God had other plans," says James.
It was an experience that Henrietta could relate to. Her husband passed away in 1993, during the first year of their marriage. "He was diagnosed with leukemia in August and, by December, he had died," she says.
The loss was devastating for her and her two young stepdaughters, Kim Simmons and Lushay Fubler. "Sometimes we don't know why things happen," Henrietta adds, "but at least I was there for his children."
A Second Chance
Before she left James' house on the day they first met, Henrietta gave him her phone number. "She told me that if I ever needed to talk about the grieving, she was always available," James remembers.
About five months later, James took her up on that offer. "He's not a person that talks much, and many times it was silence," says Henrietta. "But he knew that he had a friend who would be there for him.
"That's the way we started out, and even after we married, we still have that," she continues. "He's more than just a husband; he's my closest friend."
A few months after they started talking on the phone, that friendship blossomed into something deeper, and James got up the courage to ask her out.
"I never would have thought that we would be where we are now," Henrietta says. "In fact, I laugh about it, because I always said I would probably never get married. Then I did, but my husband passed away. So to have a second chance—I thought,
It's impossible!
But you never know what God has in store for you. James and I felt that this was what God wanted."
Beautiful Scene
James and Henrietta had been dating for almost five years when he decided to propose. It was late on Christmas Eve and they had just returned to Henrietta's house after a night of serenading the neighbourhoods of Bermuda with the Salvation Army band.
Still in their uniforms, James pulled out the ring and asked Henrietta to be his wife.
"I was shocked," Henrietta laughs. "I said, 'Are you sure?' Just because of the circumstances that we had been through."
But for James, there was no doubt. "She's a beautiful woman," he smiles. "I couldn't go through life without marrying her."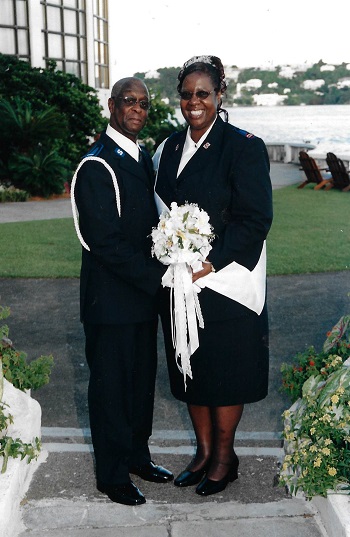 North Street Citadel was packed to capacity on the day Henrietta and James were married in June 2003, with 450 people attending. Along with their wedding party—which included Jamal as best man—the couple was dressed in their Salvation Army uniforms, complemented by white accents.
"Every corps in Bermuda was represented in our wedding party," Henrietta says.
"It was a beautiful scene," James adds.
Partners in Ministry
But James and Henrietta almost didn't get their happy ending. After they married, Henrietta underwent what should have been a simple surgery, but a medical error caused serious complications. Two weeks at the hospital in Bermuda turned into a year-long hospital stay in Boston.
"I went to Boston every month to be with her," James says, "and there were others who rotated so she didn't have to be alone."
"It was touch and go for a long time—James almost lost me," says Henrietta. "But we kept the faith—it was just another trial that we had to go through. We came through it, thank God, and that experience only made us closer."
Though at the beginning of their relationship romance was the furthest thing from their minds, James and Henrietta are grateful for the love they have found together and how their shared experience of losing a spouse has brought healing in their lives.
"It helps us understand each other," says Henrietta. "When you go into a mood or a time when you seem extra quiet, we are able to read one another, and help each other through it."
More than just partners in life, James and Henrietta are also partners in ministry, especially music and visitation—although, because Henrietta doesn't have a driver's license, James sometimes finds himself doing visitations when he least expects it.
"I may put him on the spot occasionally," Henrietta admits, and James laughs. "But we enjoy doing visitations together. It's part of us."
James agrees. "I enjoy being with people," he says. "Regardless of the situation they're in, I think that if you love people, if you show them that you care when you visit, it's surprising how it makes them feel."
As a semi-retired plumber, James has more time for ministry these days, and while Henrietta enjoys her job as floor manager at a furniture store, she also looks forward to retirement.
"I'd like to spend more time with people, doing visitations," she says. "That's what I've enjoyed most in my ministry—to sit with a family, pray with them, and let them be assured that the Army will be there for them, no matter what. Whatever I do, I want to represent Christ and The Salvation Army."