(Above) African members of York CC lead worship at a celebration service in December (Photos: Kristin Ostensen)
Helen's heart skipped a beat when she saw the uniformed RCMP officers waiting for her just across the border.
"This is not a legal way to come to Canada," one of them boomed. "If you cross here, you will be arrested. Do you understand?"
An eight-hour bus journey from New York City to Plattsburgh, N.Y., and another half-hour taxi ride had led her to this—the end of Roxham Road, the busiest unofficial border crossing point into Canada.
There was no turning back now. Helen's 10-day visitor's visa to the United States was about to run out. Returning to Turkey, where her life was in danger, was not an option, nor was going home to her native Nigeria.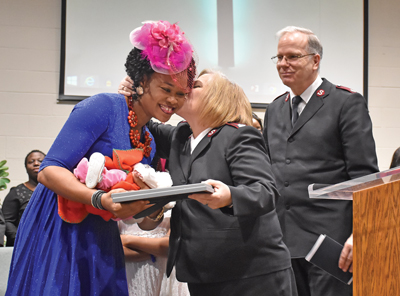 Clutching her luggage and her two young children, she froze in the cold October air. "I just stood there, fixed," recalls Helen, who was seven months pregnant at the time. "I didn't know what to do."
As she hesitated, her three-year-old son took a leap of faith.
"My son walked across the border and then my daughter joined him," Helen says. She called them back, but they said, "Come, Mommy. Let's go!"
Crossing the border that day, Helen felt like Abraham. "He went into a strange land that God called him to, without knowing what was in store, but he went and the Bible says he found prosperity there," she reflects.
"Before I left Turkey, I prayed, 'God, I don't know what's ahead of me, in whatever country I'm going to, but please just help me.' "
That help was waiting for her in Toronto, just across the street from her new apartment, at York Community Church.
Miraculous Growth
Helen and her children are some of the newest members at the York corps, which has seen extraordinary growth in the past year, thanks to an outreach ministry among African newcomers. While Sunday attendance once averaged around 65 people, the corps now welcomes more than 120 each week—with over 200 people attending a special thanksgiving service in December.
"As a corps council, we had prayed that by the time we celebrated our 100th anniversary in 2021, we would have an increase in our congregation," says Joan Ash, corps sergeant-major, with a smile. "We didn't expect this explosion!"
The idea for a specific ministry to African newcomers came out of the corps' community and family services. "As more refugees started coming to our food bank, we kept hearing people saying that they were lonely, they didn't feel connected," says Major Donna Senter, community and family services officer. "We realized that they needed a place to get to know each other and thought, Why don't we do something?"
Major Donna and Major Royal Senter, corps officer, settled on the idea of holding an African dinner and praise evening, and invited as many people as they knew. That first event, held in January 2019, brought more than 60 people to the corps, including Syriah and her fiancé, Abbey.
Originally from Uganda, Syriah was invited to the dinner by a Muslim friend who volunteered at the corps' food bank. "I thought, Why not? I'm not busy," she recalls. "The day I stepped into York Community Church, I felt at home. I knew God brought me here. The following Sunday, I came to church and I have never turned back."
A Sign from God
After the success of the African dinner, York decided to hire a full-time evangelist and prayer intercessor, a refugee from Nigeria who was already attending the corps.
Solomon is an electrical engineer by profession and was working for the Shell oil company when problems with a corrupt police force made it impossible for him to stay in his home country. Leaving his wife and five children behind, Solomon came to Canada in July 2018 and ended up staying at The Salvation Army's Maxwell Meighen Centre in Toronto.
After six weeks at the shelter, an employee helped Solomon secure housing near York Community Church. The first Sunday he attended, he was moved by what he saw and heard. "When Major Donna prayed, it was so spiritual, so touching," he recalls. "When someone has the Holy Ghost, you can feel it. I thought, This church is good."
Yet after several Sundays, Solomon still felt unsettled. Ordained as a pastor in 1995, Solomon had been a bishop in Nigeria. "So it was my nature to always be speaking to people about Christ," he explains. "But after coming to Canada, I had not been preaching for about two or three months. I felt that I was wasting."
He prayed and asked God to give him a sign that the Army was the right church for him to get involved in ministry. "The next Sunday, Major Royal walked up to me and said, 'Solomon, can you do the Bible reading for us today?' " Solomon recalls. "And that's how my journey in the Salvation Army church started—God showed me plainly that he wants me to be here."
Solomon has been an employee at York since last May.
"Mama D"
Hiring Solomon was a turning point for the corps. "We made a conscious decision to be outward-focused," says Major Royal. "Most churches hire positions that are inward-focused, and what's happening? They're shrinking.
"Growth is something that God does, and we believe that he will send growth to any church that is prepared to receive it," he adds.
When it comes to his ministry at York, Solomon's top priority is prayer. He leads a weekly prayer meeting at the corps, spends at least one hour in prayer at the church every day and conducts a prayer walk around the neighbourhood on Thursdays. He carries the Army flag while he walks, which often leads to opportunities for evangelism—his other top priority.
Supporting the corps' social ministries, Solomon spearheads a monthly support group for newcomers called New Connections, and attends the food bank on Mondays, Tuesdays and Thursdays, connecting with those who come in. That was how Solomon met Helen.
Having exhausted the food supplies she brought with her from Turkey, Helen summoned the courage to try York, having heard about the Army's food bank program from the Red Cross. As she waited for her appointment, Solomon struck up a conversation with her and when he learned she was a Christian, invited her to church.
"When it was my turn, they gave me a big box of food and I was like, wow!" Helen recalls. "The church was so generous. I'd never seen this kind of thing before in my life; back home, no church does that."
Before she left that day, Helen offered to start volunteering at the food bank. "I felt like, what else can I do than to be of service to this church that God has used to feed my family?" she says.
Helen started attending Sunday services and kept volunteering until she gave birth in December. When the time came for the baby to the born, she knew exactly who to call: Major Donna, or "Mama D" as she calls her.
"Mama D has been so wonderful," Helen says. "When I was in the hospital, she was with my children, she came to see me, she organized the Africans to make me food. She has made this place a home away from home for me. She has been the mother that I never had in a strange land."
All Together
For York Community Church, making the African newcomers feel welcome is far more than just the programs they offer; it's a whole congregational effort.
"If the people in the congregation weren't loving and welcoming, it wouldn't matter what we did," says Major Donna. "It has to be all of us together loving people because that's what people are looking for."
"Veteran" members such as Joan have embraced the newcomers. "I have gained so many new friends," she says.
Seeing an opportunity to show hospitality, Joan has invited a number of the single women to her house during the holidays, beginning with Thanksgiving last October. "I thought I should invite them over because they're here on their own and don't have anywhere to go," she explains. "We had such a great time—I invited them all back again for New Year's and will do the same for Easter."
As the congregation grows and evolves, the church's leaders are working diligently to ensure that the newcomers are well integrated. One of the ways they do this is through ministry opportunities.
"When people say they want to get involved, we say, 'What is your passion? What do you feel God is asking you to do?' " says Major Donna.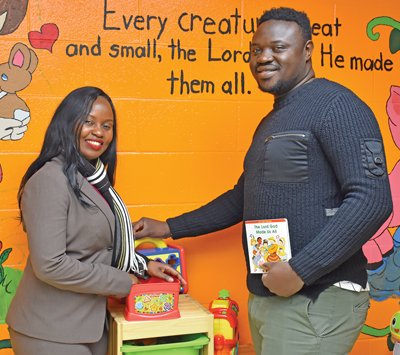 Having opportunities to serve at York has been transformative for Syriah, who has been heavily involved in youth ministry, including Bible studies, Sunday school and nursery. This ministry has been particularly meaningful for Syriah, who had to leave her four children with a friend when she left Uganda for her safety.
"Our separation is the hardest thing I've had to go through in life," she says. "I realized at some point that the depression was taking me, unknowingly.
"But in this place, I found medicine for my heart," Syriah continues. "These people love you so much, you feel like the only thing you can do is pay it forward and love the next person."
Already enrolled as adherents, Syriah and Abbey are now taking classes to become senior soldiers. "We want to go all the way because we want to serve," she explains. "That is our pledge to God."
Thanksgiving
For most of York's African members, life in Canada remains challenging. They've left their home countries marked by the violence that forced them to seek safety in a new country. They are separated from children, spouses and other loved ones. They live in shelters while struggling to find permanent accommodation and employment, despite having professional qualifications and work experience.
And yet all of them are quick to express their immense gratitude for their new lives in Canada.
"In October, we held an international dinner at the church, and some of us were talking about how God has been good to us," shares Solomon. "Back home, we knew the death sentence that waited for us because of the threats, and now we have a peaceful life. Look at how Canada has taken care of us."
Out of that conversation came the idea to have a thanksgiving celebration at the corps. "We said, if God has favoured us and given us this, we have to say thanks to him collectively," says Solomon.
He suggested the idea to the Senters, who immediately supported it. The service, held on the last Sunday in December, was organized by the church's African members, who led worship, shared testimonies and offered special musical performances. The service also featured the dedication of Helen's baby and was followed by an African lunch—planned, cooked and paid for by the Africans.
"Even though many of them are living in shelters with no money, they didn't want the church to pay for it," Major Donna notes.
Anthony was one of the new members who gave his testimony at the thanksgiving celebration. He faithfully attends Sunday services, volunteers at the food bank on Mondays, and participates in New Connections and men's ministries.
Anthony and his family live in north Scarborough, meaning they travel a long way to attend church, but they won't consider going elsewhere. "I've not seen this kind of church all my life," Anthony says. "The love here is something else.
"Whenever I mention church to my daughters, they want to follow me," he continues. "On Sundays they wake me up: 'Daddy, let's go to church!'"
As the African ministry continues to grow, York is looking to get a shuttle bus, to pick up individuals and families like Anthony's who struggle with transportation to church. The corps also hopes to run two day camps for children this summer—one at York and one at a shelter for refugees.
"I've said that my target for York Community Church is 5,000 members," smiles Solomon. "People say, how can it be? But with God all things are possible."