How does 15-year-old swimmer Jillian Friesen train devotedly all year round, even though there is no indoor pool facility in her hometown of Arborg, Manitoba?
Four times a week, she and her two younger sisters, Sonja and Jocelyn, train in Selkirk, Man., with the Selkirk Dolphins Swim Club. Under optimal conditions, the drive takes an hour and ten minutes. Of course, "optimal" driving conditions are rare in winter, but Jillian chalks it up to a family outing.
"We did hit the ditch one time," she laughs, "but normally it's pretty good. I'm used to the drive now. My mom and dad carpool with another family, and my grandparents help out with the driving sometimes. My sisters and I read and do homework. We love living in our small town, so it's no big deal if we have to make extra time to get to somewhere outside it."
Difficult Choice
"The long distance that Jillian lives from the pool means that she is not able to practise as often as her competitors," Jillian's father, Marty, comments. "In supporting her pursuit of a spot on the Canada Summer Games team, I offered to drive her to the pool Wednesday evenings on top of her Monday, Tuesday, Thursday and Saturday sessions. It wasn't an easy decision for Jillian; she knows the importance of extra time in the pool.
"But after considering my offer for a few weeks, she decided that spending Wednesday nights at her church's youth group would be more beneficial to her long-term future than an extra night at the pool."
Jillian's focus on spiritual growth and Bible study led her to use her Wednesday nights to deepen her faith together with friends who share this mindset.
"While the decision surprised me," says Marty, "it gave me confidence in Jillian's ability to navigate through the increasingly difficult decisions that will come her way in the future."
Passing Fancy?
When Jillian decided she wanted to swim competitively, the then eight-year-old had to prove she meant it.
"At the start of that summer,she was barely able to swim the six lengths required by the level 7 Red Cross swim lessons," Marty remembers. "Jillian and I went to the pool almost every day of that cool, blustery summer so she could swim an ever-increasing number of laps."
When asked if their local pool—open only in June, July and August—was heated, Jillian replies, "It is, but the heater has broken a few times."
"Many evenings that summer, in the hour before the pool closed, it was just the two of us and the lifeguards as Jillian swam lap after lap," her dad says. "By the end of the summer, she managed to swim 81 laps over the course of an hour, proving to us and herself that competitive swimming would be more than a passing fad. Five months later, she qualified for Provincials."
Golden Proof
Marty goes on to share how swimming has helped Jillian develop perseverance and the inner fortitude that comes from experiencing failure at a young age. Hip flexor injuries and thoracic-outlet syndrome with associated physiotherapy have shown her ability to recover and learn from physical setbacks. Mental setbacks have been even more of a challenge.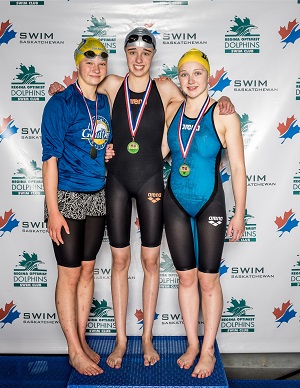 "For me so far, the mental aspect is the hardest part of competition," Jillian says, "but I know the lessons I'm learning now are getting me ready for later in life. Dad works a lot with me on the mental part. He's been teaching me that I shouldn't just swim for the sake of swimming. I should swim because God has made me fast. I need to use the gift He gave me.
"But it's not all about my own success," she goes on to explain. "I enjoy being fast and working hard; however, I also enjoy seeing other people do that along with me. There's satisfaction in everyone having a good practice and feeling great going home afterward."
At the 2016 ManSask competition, Jillian finished out of the medals by a second or portions of a second in four different races, but was able to put those results behind her and went on to win the first gold medal of her career in the competition's 200-metre freestyle. She discovered failure in an intense experience can create either disappointment or desire.
"Coming through on that night was huge for me," she recalls. "Emotionally, I was so down. Mentally, I felt weak and tired. Then on the block, I silently prayed, 'Hey, Jesus, can You please give me strength?' As soon as I hit the water, I just felt like I was along for the ride."
Her favourite Bible verse is 1 Peter 1:8: "Even though you do not see Him now, you believe in Him …" and that's why her Wednesday night youth group, sharing life with those of like faith, is so important to her. She has a gold medal as proof that practising faith is more important than practising strokes.