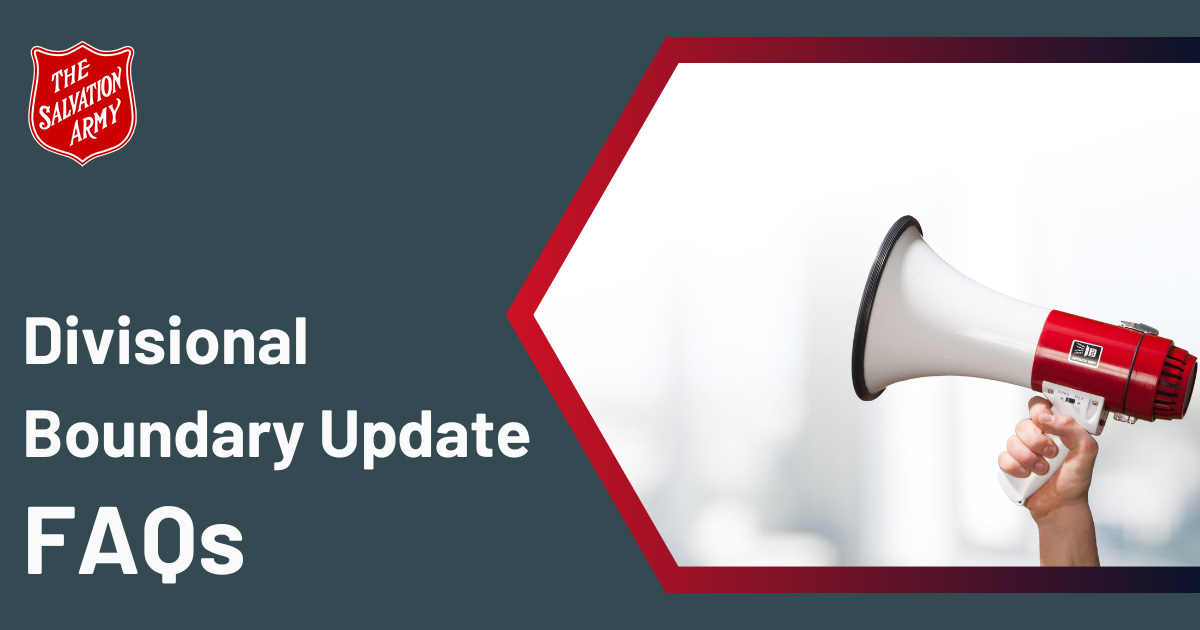 General FAQs
Click the question to reveal the answer.
(Version française)
What divisions will be merging? When?
After extensive consultation with territorial and divisional leaders, and with IHQ approval, it has been decided to merge the following divisions:
Alberta and Northern Territories Division and Prairie Division will merge to form one division

Bermuda Division, Newfoundland and Labrador Division, Maritime Division, and Quebec Division will merge to form one division

B.C. Division and Ontario Division will remain separate divisions as they are today.
The mergers will be fully realized January 2024, giving us 11 months to work together on implementation.
How did we come to the decision to merge divisions
In September 2021, a diverse working group was formed to test the assumptions that divisional mergers will benefit the territory.
The working group conducted interviews with every Divisional Commander, engaged with Divisional Executive Boards and conducted in-depth focus groups across the territory to assess divisional needs and determine the best way forward. The review also analyzed the external environment, consulting with Divisional Leaders for their advice based on their local context.
The findings provided a strong case for the divisional mergers.
What are the benefits of merging divisions?
We are merging to create four balanced divisions to continually adapt to increasing external complexities, steward our resources responsibly and ensure our front line has equal access to expertise.
The rationale for these changes includes:
Restructuring to deal with the increasing complexity of the external context in which we serve

Creating consistency across divisional structure, processes, systems, and leadership team

Giving all divisions an equal voice in territorial decision-making
Realigning resources and leveraging technology for better stewardship
Levelling the playing field so that each of the four divisions will have more balanced personnel, budgets and ministry units
Why are we doing this now? What is the risk of not merging?
The Salvation Army is not just an organization – we are a movement. That means that we can't ever stand still. We need to respond to the evolving changes and conditions around us. We need to be sure that we are doing our best to fulfill our mission to share the love of Jesus, meet human needs and be a transforming influence in the communities of our world.
The working group consulted with divisional leadership, analyzed the external environment, assessed divisional needs, and conducted in-depth focus groups to determine the best way forward. This expert analysis has shown us that divisional restructuring will lead to better mission outcomes.
By not following this best advice, we do ourselves a disservice. Inaction will inevitably lead to paralysis and decline. Instead, we want to be an Army "on the move," continually adapting and adopting the best business wisdom of the day, all while keeping our hearts fixed on Jesus.
How will existing divisions maintain their unique identity?
A committee that includes divisional commanders, will consider the unique needs of existing divisions to ensure that, upon merger, the distinctiveness is not lost.
Why are you communicating about this a year in advance?
Merging divisions is no simple task and requires the involvement and collaboration of many departments, as well as officers and employees across the impacted divisions. However, that work couldn't fully begin until we officially announced the mergers.
Now that the announcement has been made, we can begin the next stage of planning and implementation.
Who is overseeing this merger?
The project will be governed by the Chief Secretary who will chair a committee, including a combination of divisional and territorial leaders in diverse functions.
What will the new divisions be called?
This will be decided in collaboration with the merging divisions.
If I am a part of a merged division, how will this help me in a corps or social setting?
All divisions will have equal access to expertise, which may not currently exist, greater equity in financial resources and streamlined decision making, in collaboration with the Chief Secretary's office.
Will ministry units be affected by the merger?
Merging of divisions will not affect Ministry Units other than a potential reporting change. While changes to corps and social units may occur in the days ahead, those changes are not related to divisional mergers.
Will camps be affected by the merger? What about camp staff?
The mergers will not impact camps. These will continue to operate as before, serving the specific needs of those in their regional catchment area.
Is the merger a cost-saving exercise?
No, the catalyst for the mergers was not for the purpose of cost-savings. However, stewardship is always top of mind as we make any decisions as an organization. Organizationally, we are in a healthy financial position and want to continue to build in efficiencies and effectiveness in our structure.
How will this merger affect officer appointments?
The annual change (officer appointments) announcement will proceed as usual in April. Through Personnel consultations, officers affected by the mergers will be apprised of an immediate plan for appointments as of July 1, 2023, as well as a long-term plan for a seamless transition to divisional roles, starting in January 2024 where applicable.
What other changes can we anticipate in 2023/2024? How will the merger impact those changes?
The Divisional Boundary Review is just one part of the Mobilize 2.0 overall program which also included a new territorial vision statement and the development of a detailed territorial strategic plan. You can find out more at www.Mobilize2.ca (including how to Learn, Live and Lead the Vision) and access the territorial strategic plan at www.Salvationist.ca/strategicplan. The Divisional Boundary Review was conducted with other strategic projects in mind. These initiatives will mutually support one another as we continue to evolve as a territory.
When will the announcement be made who the Divisional Commander will be for the new divisions?
This is to be determined.