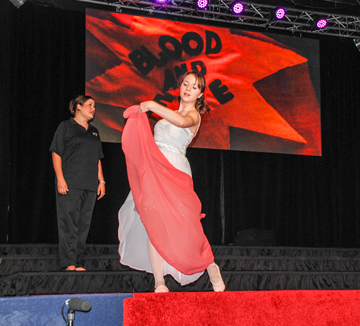 Several Salvationists quietly gasped at the conclusion of a moving dramatic presentation by the Bill Booth Theatre Company at Friday's Celebration and Praise night at Canada Christian College in Toronto. The skit featured a man being interrogated by a police officer and a woman, asking why he did not share his faith with his girlfriend. The man defended himself with various excuses, but the interrogators explained that God is love and showing love means sharing God. At the end, an emotional twist revealed that the man's girlfriend had died and the man was free to go because he "didn't do anything."
The dark and thought-provoking performance resonated with the hundreds of Salvationists in attendance and tied in with the evening's theme to Proclaim his Glory Across the Nations and to do so boldly.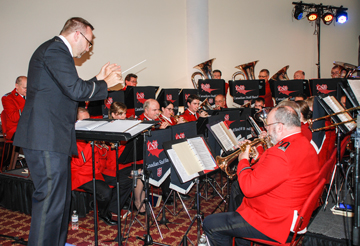 The Canadian Staff Band enthusiastically led attendees into worship with significant choruses like
Heart to God, We've a Story to Tell to the Nations
and
They Shall Come from the East
and
the worship team from the College for Officer Training led
Glorious Day.
Other performances by the theatre troupe, hailing from Chicago included interpretative dance, an enactment about what it means to be God's masterpiece and an upbeat effort to list through song all 126 countries where The Salvation Army is at work.
Cadets also contributed throughout the evening, beginning with worship led by Cadet Shawna Goulding, a prayer by Cadet Dae-Gun Kim and a Scripture reading by then Cadet Ricaurte Velasquez.
Commissioner Brian Peddle, territorial commander, ended the night by sharing a personal experience of a man who approached him during his travels and, upon confirming he was the "man in charge" at The Salvation Army, thanked him for saving his life.
"Couched in all that you have heard tonight is a reminder that we need to welcome people into the kingdom of God," said Commissioner Peddle. "You and I get to be the instruments in which someone grabs your hand and says, 'You saved my life!' "
The commissioner prayed that Salvationists across the territory would carry the life-giving, life-saving gospel message to everyone in their sphere of influence, their family and friends.
Read reports from other Commissioning 2013 Events:
Ordination and Commissioning
(Saturday, June 22, 2013)
Worship and Installation
(Sunday, June 23, 2013)