"This is the most diverse group of officers ever commissioned in the Canada and Bermuda Territory!" exclaimed Commissioner Brian Peddle, territorial commander, to the hundreds gathered at Toronto's Canada Christian College to witness the ordination and commissioning of 23 new officers from the Proclaimers of the Resurrection Session and graduates of the auxiliary-captains' program. "God has placed his hand on a variety of people, but there is a common denominator. They are living out an obedient faith to the Lord Jesus Christ."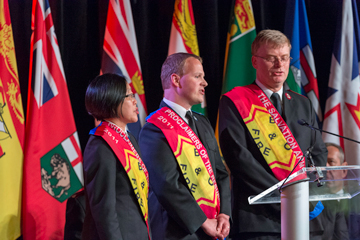 The new officers included 14 cadets from the residential program at Winnipeg's
College for Officer Training (CFOT)
, four cadets from field-based training in British Columbia and Ontario, and five auxiliary-captains who have completed the criteria for officer training. Speaking five languages and hailing from homelands as far away as Singapore and Colombia, they reflect the changing landscape of Army leadership and ministry in the territory.
The Saturday evening event was part of a three-day celebration that began on Friday with officers' councils and an evening celebration and praise concert at Canada Christian College featuring the
Canadian Staff Band (CSB)
and Chicago's Bill Booth Theatre Company. Sunday morning's worship service at Toronto's Scarborough Citadel included the installation of Colonels Mark and Sharon Tillsley as chief secretary and territorial secretary for women's ministries.
As the Bill Booth Theatre Company sang
All That I Am
, the cadets and auxiliary-captains made their way to the platform. In his presentation of the cadets, Major Jamie Braund, CFOT principal, explained the changing face of training and expressed that the new officers are gifted individuals who are ready to serve the territory.
A recitation of the Officer's Covenant was presented by Cadet David Hickman, Cadet Peck-Ee Wong and Aux-Captain Ron Farr, all of whom were soon to be commissioned. The Scripture reading was delivered in six languages, further emphasizing the diversity of the Army's ministry today.
"God has called and gifted you for sacred service," said Commissioner Brian Peddle to each of the new officers as they stood before him following a moment of silent prayer. The territorial commander ordained them as ministers of the gospel of Jesus Christ and commissioned them as Salvation Army officers—18 cadets and one auxiliary-captain as lieutenants and four auxiliary-captains as captains.
Commissioner Rosalie Peddle, territorial president of women's ministries, addressed each new officer with a portion of Scripture that had been chosen specifically for them and offered a prayer of dedication for the group as they begin their ministry. "Give them holy courage as they live out their calling," she prayed.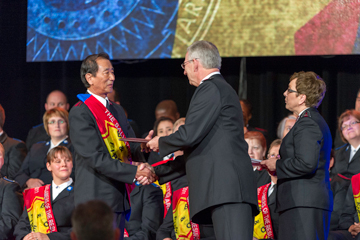 The new officers left the auditorium and returned a few moments later amidst cheers and handclapping as the CSB played
Montreal Citadel
. Attired in uniforms bearing the distinctive red trim of commissioned Salvation Army officers, the new lieutenants and captains again took their places on the platform.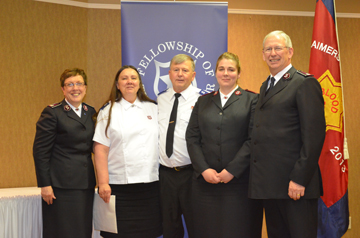 Newly commissioned Lieutenant Justin Gleadall spoke on behalf of his session as they move forward into ministry. "We now step out from under the umbrella of CFOT to proclaim the Resurrection across this country," he said.
In his challenge to the new officers, the territorial commander assured them that the territory is upholding them in prayer and reminded them that they are not alone in their calling. "You have become a part of a worldwide covenanted officer family," he said.
In response to an invitation from Commissioner Brian Peddle, men and women made their way to the platform to offer themselves for full-time service as Salvation Army officers.
Following the singing of
And Can it Be
, Lt-Colonel Sandra Rice, secretary for personnel, pronounced the benediction.
Read reports from other Commissioning 2013 Events:
Celebration and Praise
(Friday, June 21, 2013)
Worship and Installation
(Sunday, June 23, 2013)
(Photos by Timothy Cheng and Pamela Richardson)