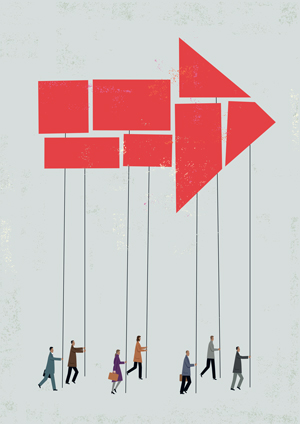 This month, we welcomed 23 new Salvation Army officers in the Canada and Bermuda Territory (read about commissioning events
here
). In many situations, officers are the face of the Army—whether they are on the street handing out blankets to the homeless or greeting worshippers at the corps on a Sunday morning.
But as we grow to meet the needs of our communities today, the face of leadership in the Army is changing.
"Leadership development in The Salvation Army is not just about officers," says Major Jamie Braund, principal of the College for Officer Training (CFOT) in Winnipeg. "It seems to be because that's where leadership begins, but there are more leaders in the Army who are not officers than those who are. If you look at the membership of The Salvation Army—that's where you'll find our biggest pool of leaders."
Developing Capacity
Leadership development is one of the territory's seven territorial priorities and is key to the Army's success and future.
"If you are asking an individual to take on a leadership role, you have a responsibility to make sure that the individual is adequately prepared, otherwise you can be setting them up for failure," says Major Mona Moore, leadership development secretary.
Though it may look different for different people, depending on the role they are preparing for, "Leadership development is about helping people reach their greatest potential," says Donald Burke, president of Winnipeg's Booth University College. "And within our organization, that means developing the capacity of people to contribute to the mission of The Salvation Army."
Over the past decade, the Army has been more intentional about offering opportunities for development through training programs such as the Leadership Development Initiative (formerly the Executive Leadership Development Program) for officers and employees. As well, the Army has harmonized its approach to leadership development through the Territorial Training and Education Council.
Two years ago, the council formulated a model of leadership for the territory, which is commonly described as the leader-coach model (see sidebar).
"Being a leader-coach means that you take time to develop relationships," explains Major Moore. "You don't tell somebody what they should do, but you discuss things with them so that by reflecting and examining the situation, they will come to an understanding of what they need to do."
This model also puts a high value on transparency and accountability.
"People quickly see through facades," says Captain Lee-Ann van Duinen, corps officer, Rainbow Country Church, Parry Sound, Ont. "If you say one thing and do another, people may follow you because they have to, but they will not connect with you and you will not get the outcomes that you're looking for. Every leader needs to bring their authentic self, so that even when people disagree with you, they will respect you and want to follow you."
Leaders Who Train Leaders
Through CFOT, cadets receive training that is foundational to their development as leaders. The leader-coach model is taught through courses such as organizational leadership and applied in their field placements.
The goal, says Major Braund, is that after they are commissioned, they will not only be officers but also leaders who know how to go out and train leaders.
"As a corps officer, I used to think that if I were being sent to a community, then I would be the leader of The Salvation Army there," says Major Braund. "Today, I would surround myself with a group of leaders so that, together, we would lead The Salvation Army in that community."
The leader-coach model is in some ways more difficult than the Army's previous models of leadership, says Major Moore.
"Some soldiers really liked the commanding officer model where the corps officer told you what to do, figured out how to do it and then you just went along," she says. "The new model puts much more responsibility on the individual to understand what we're doing and why we're doing it."
Yet with this responsibility comes many opportunities for lay people to serve in the Army, whether at the corps or out in the community.
"A lay person who is interested in being involved with leadership could go to their corps officer and ask, 'What are the needs?' " Major Moore suggests. "And then, 'Do I have skills that match? Or, if it's an area of interest and I don't have the skills, what do I need to do—and what do I need to ask the Army to do—to become skilled in that area so I can be effective in ministry?'
"If lay people see an area where there's a gap, they need to speak up and ask how they can contribute to filling that gap."
---
The Army's Leader-Coach Model of Leadership
The Salvation Army Canada and Bermuda Territory is committed to a model of leadership that will:


Be participative rather than prescriptive to facilitate options, solutions and ministry innovation that spring out of local gifting, opportunities and vision.


Be coaching and mentoring focused, utilizing a leader-coach model.


Involve working at all levels to develop solid and achievable ministry results with accountability for the congruency of outcomes with mission and core values.


(Territorial Training and Education Council)
---
National Recycling Operations: Leadership Development in Action
The Salvation Army's National Recycling Operations (NRO) operates more than 100 thrift stores across Canada. In 2010, NRO introduced a leadership training program for its management team—from store managers to executive—training approximately 170 people to date. Heather Morrison, NRO director of human resources, tells
Salvationist
about the program and its impact on NRO.
What is the purpose of the program?
Heather Morrison: To train our management team, from the store level up, to be leader-coaches. For our store managers, this means not necessarily being directive all the time, but asking their team to participate in planning for the future. People are more engaged and more cohesive as a team when they're working toward a common goal.
Why is this program important?
HM: Because our management team is the future of NRO, we want to invest in our people and grow them into amazing leaders. The better we do that, the greater contribution we can make to the Army. As well, we are focusing on training people on the "front lines"—rather than just the executive—because they are the ones who are in contact with the community. They are the face of The Salvation Army—they are what people know to be the leadership of the Army—so it's really important that we build them up for success.
What kind of impact has the program had on NRO?
HM: It's changed the culture within NRO. We're learning how to be a feedback-enriched environment. Providing feedback isn't a negative thing; it's just uncomfortable because it's not a practice that we're used to. Not everything has to be about right and wrong; it's about why. This program has changed the conversations we have within the organization. Before, it would have been more directive: "You need to do this." And that was it. Now, it's more collaborative: "Where are you going? What can I do to help you get there?"
Across the board, there's a deeper level of engagement and connection with what we do as NRO, and the impact that has on the greater Salvation Army. Our sense of team has expanded. We believe that we are not just NRO but we are The Salvation Army.