"I don't have time" … "I think it's boring" … "I just did it for my parents" … "My needs are not being met." Whatever the reason, a trend has emerged: young people are disappearing from the church.
A recent survey by the Evangelical Fellowship of Canada found that only one-third of Canadian young adults who attended church weekly as a child still do today. Some of those who stop attending retain the Christian label, but most drop any affiliation whatsoever.
What does this mean for The Salvation Army?
Salvationist surveyed 35 Booth University College students about their experiences with the church. The results show a generation that still sees some value in going to church, but is reluctant to commit.
Growing Up Godly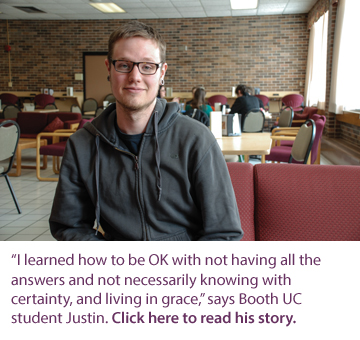 Almost three-quarters of students surveyed (71 percent) were raised in a Christian family and, for most of those, church played an important role in their lives when they were growing up. Many students credit church for helping them develop morals and values.
"The church has shaped the lens, in a significant way, through which I see and encounter my world," says one student. "So much of my world is wrapped, for better or for worse, in the Christian story."
Most Christian-raised students said their parents were "very involved" or "somewhat involved" in the church (72 percent), and nearly two-thirds noted that their parents prayed with them (64 percent), read the Bible with them (60 percent) and encouraged them to ask questions about their faith (64 percent).
About half of students who were raised in Christian families were involved in leadership at their church—usually teaching Sunday school or helping with music ministry—and three-quarters were part of a youth group.
But looking back on their church experience as a whole, only about half of those surveyed said they felt like full participants at their church—that church was a place where they developed their gifts and talents—while the rest said they felt more like spectators.
"Church is Not God"
Today, 86 percent of students say they consider themselves to be a Christian, and most have a favourable impression of church: 69 percent currently feel "very positive" or "somewhat positive" about the church.
"As a student away from home, church has been such an encouragement," says one student. "I look forward to being with other Christians there every week."
"Church still plays a very big role in my life," says a Salvationist. "It's one of the best parts of my week."
However, only 63 percent of Christian students attend church every week. Ten percent go at least once per month, while another 17 percent say they go at least once every few months.
"I am not involved but I still enjoy what I gain when I do attend church," notes one student who says she attends at least once every few months.
"It's there when I need it," says another, who attends at least once per year.
Such responses are in keeping with a general feeling among students that church is not a necessary part of being a Christian: almost all (94 percent) believe that it is possible for someone to be a Christian and not participate in a local church. As one student puts it, "Church is not God."
"Christ is everywhere," says a Salvationist. "One can live a Christ-driven life without steady church involvement."
Yet many students still see the value of participating in a church.
"Church is not a building or a service—it's a community," says a student. "You can be a Christian and not go to church, but I believe church is very important for accountability, fellowship, teaching, love, acceptance and overall spiritual growth."
"Christians have a fuller faith when in community," says a Salvationist. "It is possible to continue in faith while alone, but this is undesirable."
Go or No Go?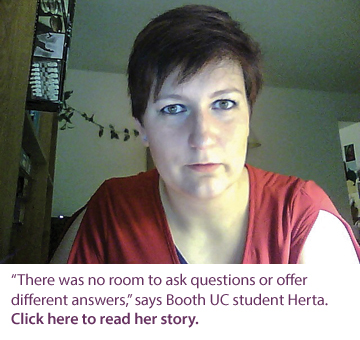 If they see some value in attending church, why do so many young people choose not to? The students offered several answers.
Many felt that young people leave because their Christian faith was never their own—they only went to church because of their parents. Among young people who are committed to Christianity, church attendance is often low because the programs offered by churches do not meet their needs.
"Church is often considered an 'old-fashioned' notion, and young people tire of the constant rituals and church activities," says one Salvationist.
"There is no room to engage with difficult questions," says another student. "Anti-intellectualism cripples young people who are trying to understand their world and their faith, and they see the faith being offered to them as small."
On the other hand, students said that the key to ongoing church attendance among young people is an established relationship with God and a strong community—one made up of family, friends and mentors who care for them and invest in them.
As one Salvationist puts it, "They keep going to church because they love the Lord, and they feel they belong."
---
A Way Forward
Though The Salvation Army faces some challenges in helping young people stay connected to the church, Major Keith Pike, territorial youth secretary, sees many opportunities for reaching out. He believes one of the Army's greatest strengths is its camping ministry, which serves more than 4,500 youth each summer.
"Camp has a tremendous impact, not only on their ability to relate to one another, but also on their spiritual development," he says. "It's an opportunity for them to ask questions and come to answers within a community."
He also points to new regional initiatives, such as one in Toronto, that bring youth from the same area together to help connect them with their peers and build a sense of the broader Army community. In smaller towns, where corps may not have the resources to run youth programs, it means partnering with other like-minded denominations.
But Major Pike cautions against seeing programs as a solution on their own.
"At the end of the day, what we do has to be relational," he says. "Programs will always attract people on the surface, but no one will ever have a deeper Christian experience because of one. Programs have to be vehicles.
"We want to encourage young people to go deeper—not just in relationship with peers or youth workers, but in relationship with Christ," he adds. "And we want them to know that even if they don't choose a relationship with Christ, it's not as if they're just thrown away. We're still there for them."
(Photo: © iStockphoto.com/pastorscott)