This August, thousands of athletes descended on Rio de Janeiro, Brazil, as the South American city hosted the Summer Olympic Games. But while the world was watching the events occurring in stadiums around the city, at The Salvation Army, a different kind of Olympics was taking place.
Using sports as a medium for ministry, Salvationists from 10 countries, including Canada, went to Rio, teaming up with 29 locals for three weeks of community outreach.
"The focus of the Rio program was to impact the local neighbourhood with the gospel and make disciples for Christ using the tools of sport and play," explains Lt-Colonel David Bowles, sports ministry co-ordinator for Europe. "Our goals were to connect with people living around the corps, build relationships and keep those relationships growing after the mission teams left Rio de Janeiro."
A Canadian team comprised of Maria Raudales and Jorge Vargas of Montreal Citadel, and Lieutenants Juan Chirinos and Indira Albert, corps officers, Église communautaire de l'Outaouais in Gatineau, Que., participated in the first block of ministry, serving in Rio from August 3 to 13. Joanne Poupard of Whitby Community Church, Ont., joined the Rio team from August 13 to 23.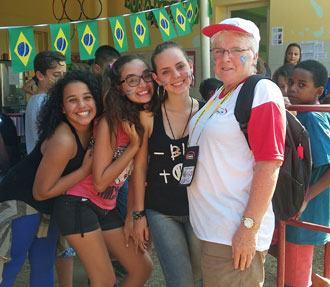 The first team was stationed at the Niterói and São Gonçalo corps, where they led Olympic-themed crafts and sports activities for local children and shared the gospel message. As schools were closed for the duration of the Games, the children were free to participate in the Army's programs.
At the Niterói Corps, which has an existing sports ministry for kids, the program was held in a nearby
favela
(slum). "Every day, we had around 50 kids," says Lieutenant Albert. One child she met was amazed that they would come all the way to Brazil to lead this program. "He asked me if I was going to watch any of the Games, and I said, 'No, I'm just here to make the Olympics for you.' He was so happy, he looked into my eyes and said, 'It's a pleasure to meet you. I can't thank you enough for being here.' " After this, Lieutenant Albert shared the gospel with him and he accepted Christ.
Lieutenant Chirinos had a similar experience witnessing to four boys in Niterói. While talking with them about why they loved soccer, "I told them that it was God who created sport so we can enjoy life, and that God wants to bring happiness into our life." When he asked them if they wanted that happiness from God in their own lives, they said yes and Lieutenant Chirinos prayed with them. "I asked them if they wanted to have Christ in their heart, and they received him as their Saviour that day."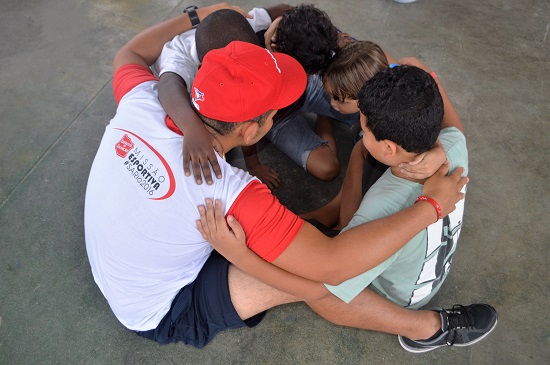 At the São Gonçalo Corps, where the Army's ministry to children is less established, team members paraded through the streets with drums, musical instruments and flags to invite kids to the corps' mini Olympics. "Seeing the corps full of kids the next day and playing with them was a personal blessing," says Lieutenant Chirinos.
"Bringing the Olympics to these kids was such an important thing," he continues, "because they could see that the Olympics were happening, but it was just for exclusive people, not for them. With this ministry, we brought the Olympics to their neighbourhood."
In addition to the ministry to children, team members took part in the Niterói Corps' Open Door Project, a program for women on the street. "Every Friday night, the women can go in and have something warm to eat, and take part in a workshop," explains Lieutenant Albert. "The project empowers these women by teaching them a new skill, like sewing. It's giving them hope that there is something else they can do—they don't have to work the streets."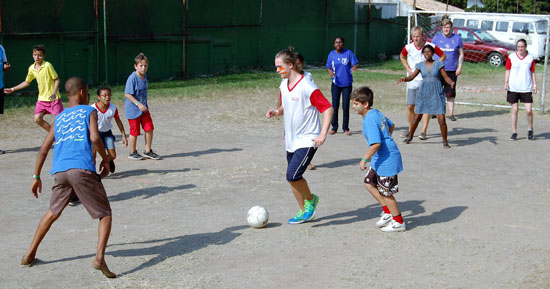 The team also went out at night to give out blankets and warm clothes to people in need. "We met one woman who was screaming because she was so cold," recalls Lieutenant Albert. The woman had only a thin blanket, so the team gave her a new one, but when she wouldn't stop shivering, they decided to call an ambulance. "It took a while for the ambulance to arrive, so we stayed and prayed with her."
Though the Rio team wrapped up its ministry as the Games came to a close, Lieutenant Albert is confident that the team's presence will have a long-term impact.
"Through this sports ministry, kids gave their hearts to Christ," she says. "That's an eternal legacy."