Meatta was just nine years old when civil war broke out in Liberia, forcing her to flee her home in Lofa and seek safety with family in Monrovia, Liberia's capital. It took several weeks of travel—much of it on foot—for Meatta to reach her destination, and during that time and the years following, she witnessed horrific things that no child should see.
"Killings, rapes, amputations and more. Many victims were my own family members and friends," she says. "Some of my schoolmates were kidnapped into the guerrilla army—young boys as soldiers, young girls as sex slaves. It was unimaginable."
When the war finally ended in 2003, Meatta had lost her youth and struggled to have hope for the future. Her education was cut short by the war and it seemed unlikely that she would be able to change that.
"While many boys and young men returned to school, most girls and young women didn't have that chance," she says. "In Liberia, many families will pay educational costs for their sons, but not their daughters."
But today, her future is looking much brighter. Meatta is a Grade 12 student at The Salvation Army's John Gowans Junior and Senior High School in Salala, thanks to a scholarship provided by the Army, and after she finishes school, she plans to continue her studies and become a nurse.
"The Salvation Army came along and changed everything," she says. "Now, at the age of 28, I'm on track to graduate with the education I need to live a good life."
Supporting the Youth
In a country with a sizable youth population—more than half of Liberians are younger than 18—Meatta is one of many young people whose lives have been drastically altered by the civil war. Spanning 14 years, the war uprooted most of the population and claimed an estimated 250,000 to 520,000 lives—a devastating number for a country that, today, numbers only four million.
The return to normalcy following the war has been slow as the effects of the war are still being felt, but The Salvation Army is making efforts to bring restoration and hope to those affected.
"After the war, we wanted to find ways to support the youth, recognizing that many had missed school and had traumatic experiences, and there were gaps in their education," says Major Gillian Brown, director of world missions for Canada and Bermuda. Major Brown says that education is the key to helping young people who've only known war and destruction move forward with their lives.
The Salvation Army has been active in Liberia since 1988 and operates 12 schools across the country, currently enrolling 4,700 students.
John Gowans has 85 students from a broad area—some travel two or three hours by foot each way every school day. Expense and a lack of infrastructure make other travel methods unfeasible.
Many of the students at John Gowans are, like Meatta, in their 20s or even early 30s, having missed out on getting an education because of the war. This situation creates some unique challenges for the Army's schools. As Major Brown says, "How do you have 16- to 18-year-olds in a primary class with six-year-olds?"
In addition to funds raised through donations, John Gowans operates a piggery which provides money for scholarships so that girls and young women can go to school when their families can't afford to pay.
A Nation of Orphans
The Salvation Army's largest school in Liberia is located in Monrovia, a city of one million people and the centre of commerce for the country. With a combined enrolment of 1,459 students in the primary, elementary, junior and senior high levels, the two Len Millar schools are named for Canadian Major Leonard Millar. He and his wife, Mrs. Major Dorothy Millar, commenced the Army's work in Liberia.
Strip away the physical surroundings and Len Millar is a typical school with an intelligent and friendly staff, who are giving children the education they need to be successful in life. But there are many reminders that the city was at war not long ago.
A high fence surrounds the school and there is a security guard at the gate checking students in when they arrive. Next to the school stands a half-demolished building, a casualty of the conflict and subsequent neglect.
"It's very hard living in Monrovia," says Grace, a Grade 12 student at Len Millar. "When you are not getting the support you need, going to school is very hard.
"Most of the youth don't have parents due to the war," she explains. "Some of their parents died in the war, some have gone missing and some have lost their connection with their children. That's why the youth don't have parents and some of them are homeless."
Grace proudly shares that she is taking 13 subjects this school year and hopes to become a nurse. She's grateful for the opportunity to attend the Len Millar school.
"The Salvation Army is doing a great thing by opening schools, clinics and churches, and encouraging the young people," she says.
During the war, Grace had many traumatic experiences that will stay with her for the rest of her life.
"I can remember people lying on the streets, bleeding, people were running from gunshots, people fainting, people dying," she shares. "But from that time up till now, I am seeing improvement in the country. I'm seeing that young people are taking education seriously, and more young people are going to school."
One of the challenges Len Millar and many other schools in Liberia face is a lack of supplies. Since the end of the civil war, there has been a severe shortage of textbooks. A survey conducted by the Liberian Ministry of Education and its partners put the student-to-textbook ratio at 5:1 in urban areas and up to 12:1 in some rural communities.
Most of the students at The Salvation Army's schools come from low-income families and cannot afford to buy textbooks. To remedy this situation and help students improve their academic performance, the Army has provided textbooks for core subjects such as language arts, mathematics, science and social studies.
A related problem is the lack of science lab equipment. During the war, many schools were looted and the import of chemicals was banned to prevent people from creating bombs.
"So there was nothing for schools when they reopened," explains Major Brown. "But since then, The Salvation Army has restocked the labs with books and supplies, and more necessary equipment is on its way."
Securing the Future
For children who have lost their parents, getting an education is unlikely to be their top concern. Merely surviving from day to day is a constant challenge. Across the country, 64 percent of Liberians live below the national poverty line and more than 80 percent of Liberians are living on less than US$1.25 per day.
"You've got 10-year-olds who are trying to support their two or three younger siblings," says Matthew Osmond, who travelled to Liberia with the Army's world missions team. "Or they could be supporting extended family such as cousins if, for example, their uncle was killed."
In Monrovia, the Salvation Army Vocational Technical and Training College gives young people the opportunity to learn practical skills to secure their long-term financial future. The college currently enrols 300 students who are typically in their late teens or 20s.
"A lot of the people who go to the college have finished high school but don't have the means to go on to secondary education because they don't have parents to support them," says Osmond. "The Salvation Army provides the funding so that they can get the training they need to provide for their families."
The college offers a wide variety of training, which includes auto mechanics, construction, flooring, roofing, tailoring and hairdressing.
The government of Liberia has given The Salvation Army land in Lofa in northern Liberia—the area of the country where the war lasted until 2005—to create similar programs for the people there.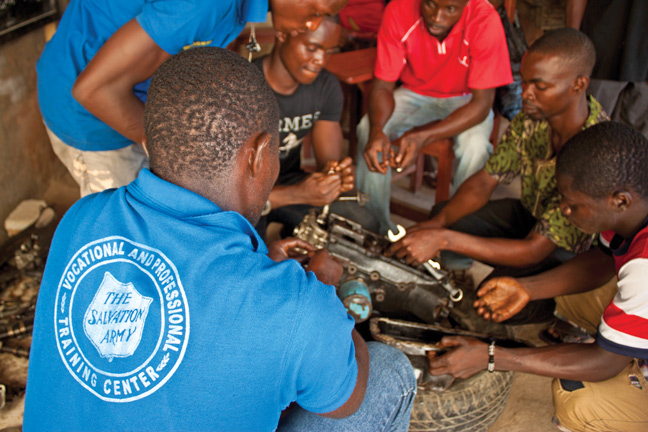 Planning for Tomorrow
With a stable government and a recovering economy, Liberia and its young people have reason to be more optimistic about their future. In the 10 years since the war ended, Major Brown has seen a gradual shift in how Liberians see their prospects.
"Of all the African countries, Liberia is one that seems to feel that it's always on the edge of another civil war," she says. "In the years after the war, when we would propose a long-term project such as a goat bank, they would say, 'OK, but tomorrow we could be at war again and the goats will be killed.' It's taken a long time, but now they're getting to a place where they feel they can plan for tomorrow."
(Photos: Matthew Osmond)