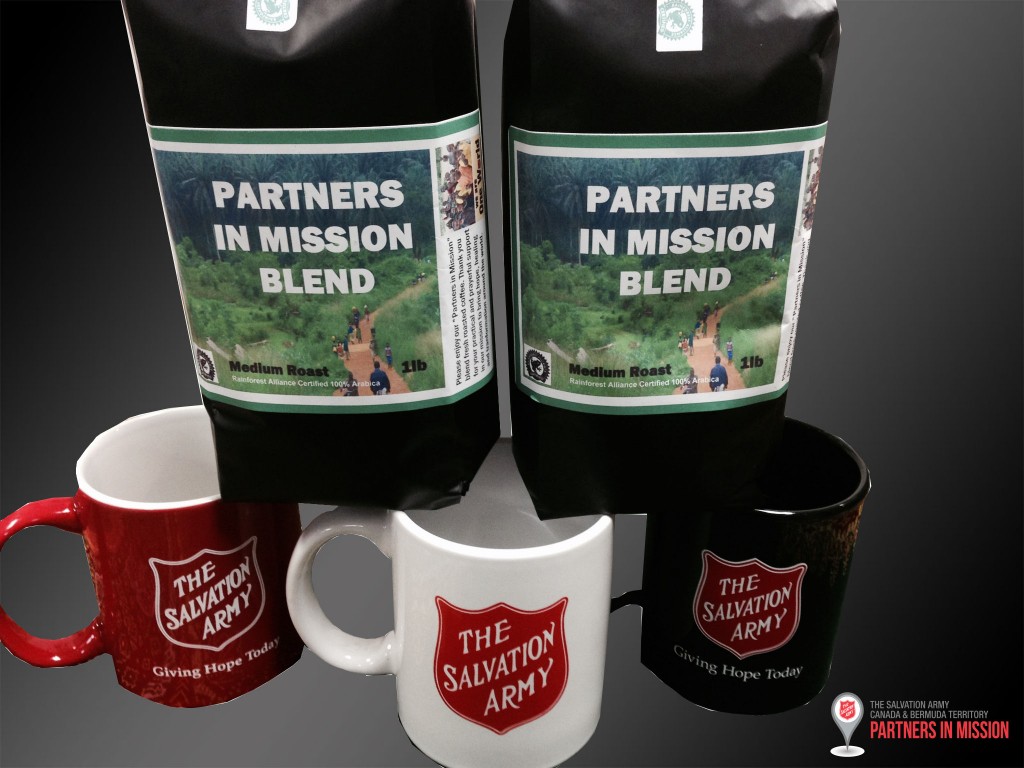 Light, dark, flavoured or decaf, whatever your taste buds desire, here's a fresh hot idea from Etobicoke Temple.  They've taken fundraising for Partners in Mission to a whole new level with givecoffee.ca.  Givecoffee.ca is a new Canadian fundraiser that allows you to pick your roast, choose your label with custom text and ships right to your door. 
"We had our first Christmas Bazaar/Tea at our new corps building," says Evangeline Court, a member of The Salvation Army Etobicoke Temple, lovingly deemed the Partners in Mission Sergeant by the Corps Officers, "I was trying to think of a couple of new ideas for an old-fashioned sale."  Keeping with the hot beverage theme, Evangeline contacted friends, whom she knows through Army friends, who own the thriving business.  Together, they developed a 'mission' blend of coffee and logo for the package. 
The Christmas Bazaar/Tea was a great way to sell and give Partners in Mission its notice.  The corps had a table set up with pretty tea cups filled with loose leaf tea for gift-giving and a separate table dedicated for the 'mission blend coffee. During the sale, a lady visited from the neighbourhood and bought nearly the whole table of tea cups.
When asked about how the corps is selling the coffee, Evangeline said she bought 50 1 lbs  bags of 'mission coffee' and 25 of those bags are gone.  She's marketing the coffee at the corps; and every so often promotes it in the bulletin; and any event at the corps.
"I strongly feel that Partners in Mission is not a few weeks' event, but all the time.  We now have corps officers who rather feel that way too.  We promote the giving in the cartridge envelope all year long" says Evangeline.
We want to pass our World Missions Gold Medal to Etobicoke Temple for their unique idea!  We wish you luck in your fundraising goal!  May God bless you and your ministry unit and thank you for supporting Partners in Mission 2014.
If you want to find out more information, please visit givecoffee.ca or simply click on the banner below.

If you or a ministry you know has an idea or has had a recent achievement, please send us your story to patricia_eady@can.salvationarmy.org.  We want to celebrate those achievements with a World Missions Olympic medal!