The Canadian Staff Songsters (CSS) made their official debut last Sunday at a dedication service held at Jackson's Point Conference Centre, Ont. In the presence of family, friends and the territorial executive council, the newly formed group offered up songs of praise and committed themselves to musical ministry.

The service began with words of welcome from Colonel Mark Tillsley, chief secretary, who shared that while many people had recommended the formation of this group over the years, the timing was now right.

After words of prayer, the CSS opened with Make His Praise Glorious. Lt-Colonel Wendy Waters, executive officer of the CSS, then introduced each staff songster individually. The CSS come from a broad range of corps, including South Windsor, Simcoe, Bracebridge, Brantford, Ont., and Toronto's Bloor Central, among others. The CSS then sang another set of songs, a highlight of which was I Love You, Lord, with soprano soloist Karen Gross.

Commissioner Susan McMillan, territorial commander, then invited each staff songster to kneel at the mercy seat and sign their covenant, demonstrating that they are seeking the Lord's blessing on their ministry. Commissioner McMillan then officially installed Major Len Ballantine as leader of the CSS and presented him with his commission. This is the second staff songster section that Major Ballantine has led.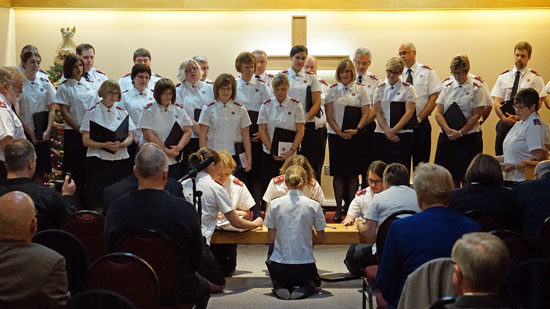 As the evening concluded, the staff songsters and the congregation joined in singing O for a Thousand Tongues to Sing.

"These are exciting days for our territory as we focus on returning to a singing Army, and the CSS will play a key role in helping us get our congregations singing again," says Craig Lewis, territorial secretary for music and gospel arts, who was one of the driving forces behind the launch of the CSS.

The first public performance of the CSS will take place on December 10 at Christmas with The Salvation Army at Roy Thomson Hall in Toronto.