As 2016 came to a close, the world watched with horror as a devastating siege took hold of Aleppo, once the largest city in Syria, now a battleground between government forces and rebel groups.
For the past five years, scenes such as these have played on screens around the world, making the Syrian civil war and the resulting refugee crisis a reality that cannot be ignored. That crisis has rippled outward, as nearly five million Syrians have fled their country, searching for safety. Many of them have found a home in Europe, where The Salvation Army is providing assistance across the continent.
Difficult Journey
In the Germany, Lithuania and Poland Territory, a partner territory of Canada and Bermuda, caring for refugees has become an integral part of The Salvation Army's ministry.
With approximately 900,000 people arriving there in 2015, Germany is the leading destination for migrants in Europe. The country received 442,000 asylum applications in 2015, and more than 300,000 in 2016.
In the city of Leipzig, the Army is providing accommodation for refugees. About a dozen people live in apartments attached to the corps, including Abed Hilani and Moufak Alsadat. Like many others, Hilani and Alsadat arrived in Europe in an inflatable boat, and then travelled through Greece, Macedonia, Serbia, Hungary and Austria to get to Germany.
"It was a difficult and terrible journey," says Alsadat, "but as soon as you arrive in Germany, you can feel serenity and calm."
For Hilani, the help he has received from the Army has made the transition to life in Germany much smoother. "They help us to learn the language, education and different types of services," he says. "Everything we need could be found here in Germany."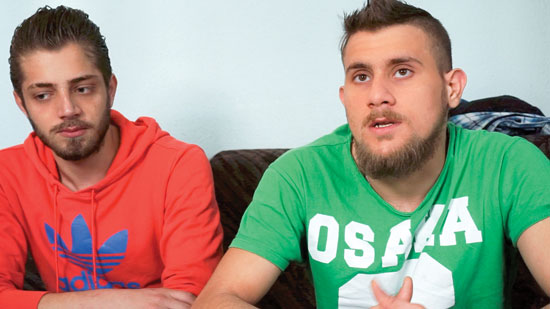 The Leipzig Corps also supports refugees through its thrift store and household wares store, which offers furniture, electronics and other household items at low prices. The construction and operation of this store, which is housed in a temporary tent-like structure, was sponsored by the Canada and Bermuda Territory.
More than just customers, many of the store's volunteers are refugees.
"Although The Salvation Army was helping them, they didn't want to be taking and not giving," says Major Brenda Murray, director of world missions, who visited the facility last year.
Major Murray had the opportunity to speak to some of the volunteers as they loaded and unloaded trucks coming into the facility. "They told us how much they enjoyed doing what they were doing. They were happy, like they were having fun."
Challenges Ahead
Not far from Leipzig, in the city of Naumburg, The Salvation Army has an apartment that houses refugees and offers a drop-in program for refugee women and children. This program provides tea, coffee, snacks, games for children and an opportunity to practise German and receive support, from both The Salvation Army and their peers.
Visiting the program gave Major Karen Lemke, world missions financial co-ordinator, insight into the challenges many refugees are facing. "I spoke to one woman with school-aged children," she recalls. "Some of her family was in Turkey, some were in Germany, and some were elsewhere—they were trying to find a way to get everybody back together again. Meanwhile, she had been living in Germany for months and still hadn't been able to get into German classes, or get all the ID cards that she needed."
The Army also has a thriving ministry in Dresden, which received a massive influx of refugees in the fall of 2015, prompting the city to contact The Salvation Army and ask if they could operate an emergency shelter. Lieutenant Gert Scharf and Aux-Captain Rosi Scharf answered the call, accommodating 40 refugees in a school gym. With the Army's assistance, all of these men had housing just three weeks later.
A church with 25 members, Dresden Corps maintains strong relationships with about a dozen refugees, including two families. Much of the practical assistance they provide is administrative, helping them navigate the immigration system and find jobs. "It's very difficult for them because they're not allowed to work until their application is positively answered," says Lieutenant Scharf.
But the key to the Army's ministry to refugees is not programs or practical assistance, says Lieutenant Scharf. "The most important thing is to be friends to them," he concludes.
To find out more about the Army's work in the Germany, Lithuania and Poland Territory, download this infographic.