MOBILIZED FOR MISSION
This resource is an 11-lesson in-depth study of Salvationist doctrine and practice. This senior soldier preparation course contains five lessons on doctrine, three on Christian lifestyle and three on Salvationism. It is an updated and revised version of Preparing for Battle, which has been widely used and well received, both territorially and internationally. These downloads include the leaders information and participant area in one document. View/download this Soldiership resource
SOLDIERSHIP TRAINING MATERIAL
CALL TO ARMS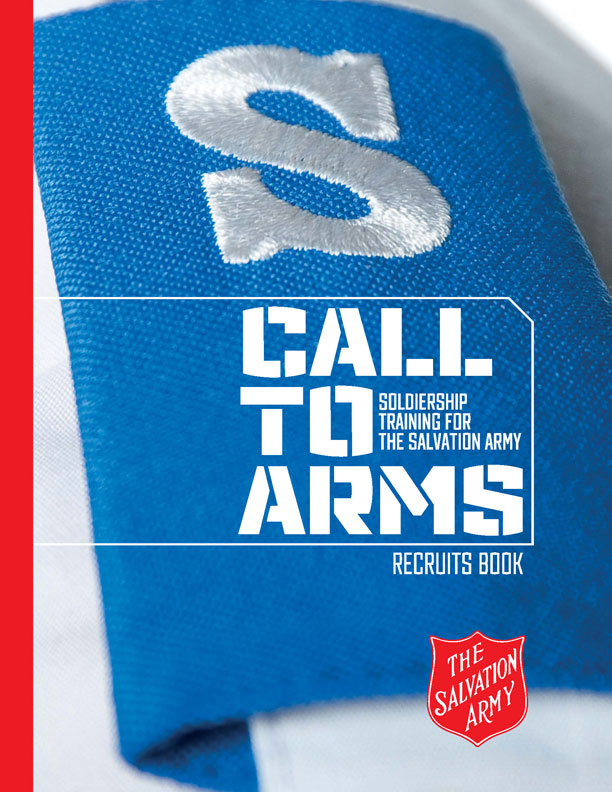 This colourful resource was published in the Australia Southern Territory and is shared with our territory with minimal edits. It consists of 11 lessons focused on doctrine, and integrating practice. It is user-friendly and concise, offering flexibility for implementation and use.
Leader's Guide:
The leader's guide is a free download and includes the lesson information, participant worksheets and extra study resources. View/download this Soldiership resource
SOLDIERSHIP TRAINING MATERIAL
Recruit's Book:
This material also has an
optional
Recruits Book, which is a full colour resource of information, designed to compliment the lesson material. These are available in hard copy only and can be
ordered online
.
BATTLE READY (Soldiership Training for Teens)
An immersive preparatory Bible study for teens considering soldiership in The Salvation Army.
Battle Ready is built on the idea that "a Salvation Soldier lives a life marked by a CHRIST–centred, OTHERS–focused faith, in sacred covenant," and aims to educate and train teens through interactive means, preparing them to make the decision to live as such. Download this resource from SendTheFire.ca
---
SOLDIERSHIP TRAINING MATERIAL SURVEY