What if everybody joined together... for 40 days... with one purpose?
To be Generous!
Welcome to '40 Days of Generosity'
September 21 - October 31, 2017

"40 Days" was designed to create a generous spirit in our community that will last for all time. For a designated 40 days (Sept 21-Oct 31, 2017), people will experience being even more generous by performing all sorts of acts of kindness as individuals, families, churches, businesses and groups of all kinds.
Check out this website: www.godsloveforyou.com

The Corps Ministries department is excited to share an amazing idea that many communities have been using and will be a great tool for Corps officers and leadership teams to involve the congregation and the whole community.
PURPOSE
To bless our community by learning, serving, giving & celebrating Generosity, so that we are forever changed into people who live a lifestyle of giving & serving others!

EXTRAS
GO TO your phone or tablet APP store and search for "givewithjoy" (as one word). Or receive the 40 Day daily devotional by email at www.GiveWithJoy.org.
PROMOTION
Downloads are available in the right column.
Downloads
40 Days of Generosity
flyer - filled with ideas for individuals, children and groups.
Love In Action Cards
- two sided printable cards to give away with each act of kindness. These cards explain the action and encourage others to pay it forward as well!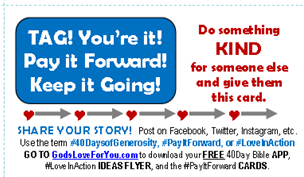 40 Days of Generosity
- bulletin insert for use on Sunday.