Covid Webinars
WORSHIP & MINISTRY DURING COVID
Four topics to choose from.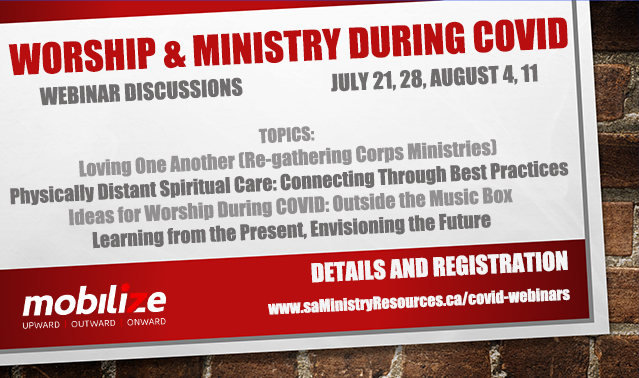 Title: Loving One Another (Re-gathering Corps Ministries)
Date: Tuesday, July 21, 2020, 1:00 p.m. EST
Guests: Mjr. Peter van Duinen, Mjr. Gerald Reilly, Moderator: Darlene Stoops
Description: An opportunity to discuss the implementation of Ministry of Health recommendations in the worship setting; raise questions; make suggestions; and learn about some pitfalls already experienced by others.
Suggested Resources: Checklists for Re-Gathering These checklists may be helpful - remember to always check your local requirements.
View Session Recording: Loving On Another (Re-gathering Corps Ministries)


Title: Physically Distant Spiritual Care: Connecting Through Best Practices
Date: Tuesday, July 28, 1:00 p.m. EST
Guests: Mjr. Lisa Hillier, Capt. Andrew Watkinson, Moderator: Mjr. Rick Zelinsky
Description: Meeting spiritual needs, enhancing relationships and inter-connectedness while we are apart, maximizing
View Session Recording: Physically Distant Spiritual Care: Connecting Through Best Practices

Title: Ideas for Worship During COVID: Outside the Music Box
Guests: Capt. Barbara Stanley, Mjr. Pauline Gruer-Caulfield, Capts. Jeff and Graciela Arkell, Moderator: Paula Marshall
Date: Tuesday, Aug 4, 1:00 p.m. EST
Description: Exploring and sharing engaging worship practices useful for on-line services or restricted in person worship, which go beyond our music traditions.
View Session Recording: Ideas for Worship During COVID: Outside the Music Box

Title: Learning from the Present, Envisioning the Future
Date: Tuesday, August 11, 1:00 p.m. EST
Guests: Capt. Rachel Sheils, Mjr. Karen Puddicombe, Moderator: James Watson
Description: Exploring how COVID has impacted our mission and vision for ministry in corps, and how we respond and revision.
Scroll down to register.


---



COVID AND MINISTRY OPPORTUNITY

Faithfulness in Uncertain Times
With the onset of social distancing, corps ministry has changed. Leaders were asked what advice they would offer to others and here are some of the responses. These are pastoral and mission leader ideas which strike at the heart of faithful ministry during this strange season. This introduction to the webinars serves to highlight some of the issues which are impacting the front lines. In the webinars we will have some corps leadership voices to provide their perspectives but then invite dialogue.
Put People First
"Put people first. Find ways to connect people to each-other and direct them to Jesus. We all need to know that we aren't alone in this journey. Empower the body to care for each-other. Lead by example and lead by intentionally creating opportunities to connect people." Major Karen Puddicombe
This advice frames the creativity and concern expressed by many corps leaders.
"Do something ... Our people need us, and while these are unprecedented times for all of us, we need to find ways to minister. It will take some of us out of our comfort zones, but it is so important right now that we continue to be "corps officers" in whatever capacity that might mean." One repeating refrain is that corps leaders are struggling to ensure people feel connected. There has been a great deal of creativity invested in this area and some of those ideas will be shared in Part 2 of Corps During COVID. Major Chad Ingram
Keep It Simple


"Keep things simple. It's the biggest lesson that we've learned here at Hope. We don't have tech/digital/online teams. We have one or two people carrying it all - so we need to have it weigh less. We made sure the basics were covered and left the fancy stuff for future learning." Captain Tammy Sabourin
Practical action is at the heart of the Army's ministry but part of the reflection required is to prioritize what needs to be done now.
"

Tap into what is available

- use whatever means are available through Social Media, Zoom, phone, e-mail, etc to stay connected with your people. So many are grieving the loss of their congregation (the assembling, the fellowship, the corporate worship) and they need to still feel connected. The main thing we have proven during COVID-19 is use whatever means are available to show that we are still the CHURCH and be the hand extended to encourage, to run an errand, maybe a trip to the supermarket, provide a meal, etc. to those that need it. JUST BE AVAILABLE...BE THERE...SHOW YOU CARE...BE THE CHURCH!" Major Chris Pilgrim
It was recognized that one of the defining factors was to contextualize whatever approach was being taken and this might require some soul searching or experimentation.
"I would like to suggest that Corps could need to discover and do what works best for them when it comes to ministry today." Major Darryl Simms
Embrace Creativity for Your Setting


"The question that keeps coming to mind is: why didn't we do this before Covid-19? The non-availability of a building has helped to think outside the box, to do things differently, out of the norm, to stretch us and push beyond the comfort zone; to actually be the church in the community." Major Donette Percy
This challenge has increased the necessity of creativity. It is the needs of your congregation and community which drive your innovations.
In reflecting on what advice to offer other corps:
"I can't really speak to other corps – except to do what you can – don't compare … each response is unique to the setting." Major Denise Walker
"As long as we're prayfully finding ways to do ministry, please don't be led into the temptation of comparison. You do you. God called YOU." Major Chad Ingram
---
Register for the Webinar
---