JUNIOR SOLDIERS PROMISE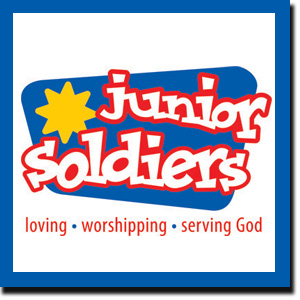 The following is the junior soldier (junior members) promise:



­
I know that Jesus is my Saviour from sin.
I have asked him to forgive my sins, and I will trust him to keep me good.
By his help, I will be his loving and obedient child, and will help others to follow him.
I promise to pray, to read my Bible, and to lead a life that is clean in thought, word and deed.
I will not use anything that may injure my body or mind,including harmful drugs, alcohol and tobacco.
As you may be aware we have printed this promise on our Junior Soldier Promise Enrollment Card, Junior Soldier Preparation Course, and the Junior Soldier Day of Renewal Bookmarks and Bulletins.

Have Questions?­ Email your questions to program_helps@can.salvationarmy.org
JUNIOR SOLDIERS PREPARATION COURSE
The junior soldier preparation course provides young people between the ages of 7-12 with a clear understanding of what if means to be a soldier for God, and a soldier within The Salvation Army. This course has been written to give the young people an understanding and assurance that with God's help they can live up to the Junior Soldier Promise they are asked to make at the end of the 6 week course. Download an
Application for Junior Soldier Enrolment
This 6-week course material comes complete with reproducible instructor resources pages and student take-home sheets. The take home sheets have two different reading levels and can be given out accordingly. Also included are reproducible postcards and letters to the parents which can be mailed home each week to help extend the lesson outside of the classroom. The easy-to-use instructor's guide also comes with one full-colour poster which can be used to advertise your course. Additional posters are also available.
Lesson 1 - God's Purpose
The young people will discover that we are all made in God's image, and that God has a purpose for each of us: to love, worship and serve him.
Lesson 2 - God's Plan
God has a plan for each of us. He has an ABCDE Plan - it's a plan of salvation.
Lesson 3 - God's Protection
God provides each of us with protection from Satan's attacks, the Christian Armor, but we must first choose to put it on.
Lesson 4 - God's Church
God created the "Church" so that we could encourage each other. The Salvation Army is a part of God's Church.
Lesson 5 - God's Helper
God not only wants us to come together to encourage each other, he wants us to help each other, especially those in need.
Lesson 6 - God's Witness
God keeps all his promises and will help us keep ours. God will help us live up to our Junior Soldier Promise.
Have Questions?­ Email your questions to program_helps@can.salvationarmy.org


JUNIOR SOLDIER DAY OF RENEWAL

Download supplies at www.saMinistryHelps.ca/Toolkit

Junior Soldier Day of Renewal Cards
Set aside one Sunday this coming January to recognize and encourage the junior members of your church and the Ready to Serve recruits. Celebrate their willingness to be disciples of Jesus. This renewal card can be used to encourage the young people in both programs. Use the blue junior soldier side to remind them of the promises they made when they became a junior soldier of The Salvation Army. Or use the orange side to encourage young people to remain committed to their training in Ready to Serve.


Junior Soldier Day of Renewal / Ready to Serve Sunday Bulletin
January is the suggested month to recognize your junior members and ready to serve participants. Use this colourful bulletin cover with your congregation. It'll help remind them of the promises our young people make when they choose to become junior members of The Salvation Army. Encourage them to take it home and use it as a reminder to pray for the young people.