B Tru2U CROSSzone (Jr. High) Bible Study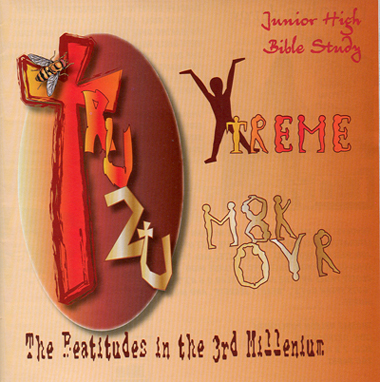 Summary
In this course you will help your students discover a new way of thinking and living as taught by Jesus in the Beatitudes and Parables. Exploring the paradoxical truths of the Beatitudes and discussing relational behaviours will challenge them to develop in new ways.
1 - What Makes You Happy? (Intro to Beatitudes)
Aims: discover that Jesus taught new ways of thinking, explore the relevance of the Beatitudes
Summary: The Sermon on the Mount is a collection of Jesus' kingdom messages. The Beatitudes, which form the core of this teaching, are among the most important teachings of the New Testament. Through the Beatitudes Jesus introduces the paradox of kingdom living, exposing a new way of thinking about and responding to life's varied experiences. Young people need to experience this difference. They need to see in us that living as a Christian is a different lifestyle from the way people in the world live. This is a difficult concept for us to live out, but we must.
2 -Less is More (Assurance)
Aims:have confident knowledge of their own salvation, trust in God's promise to work in them for his purpose and glory
Summary: "Blessed are the poor in spirit, for theirs is the kingdom of heaven" (Matthew 5;3) is combined in this lesson with teaching about the assurance of salvation. Since becoming 'poor in spirit' means emptying ourselves of any confidence to achieve our own salvation, the complementary teaching of assurance from God goes together nicely.
Christians often struggle with their faith because they do not "feel" saved. This is especially true for teens. It is important in our faith journey that we know, and are convinced, that we are saved after we seek God's forgiveness and empowerment for holy living.
3 - Lost is Found (Mourning)
Aims: to understand and respond to God's unconditional love, to increase understanding of the doctrine of salvation
Summary: Your students will be comforted by the knowledge that no matter how far away they wander from God, he will always welcome them with open arms when they return. Take this opportunity to emphasize the unconditional love of the Father.
4 - Meek is Master (Meekness)
Aims: to understand meekness/humility, realize the importance of developing their ability, identify personal potential for service
Summary: Pre-teens and teens often struggle with feeling needed or important in the church body. It is important for them to know that God has given them gifts and talents to be shared within the community of believers to make everyone better. Encourage them to discover their God-given abilities, and then to put them to good use.
5 - Hungry Will Feast (Seeking God)
Aims: discover a new way of understanding rules and obedience, see rules and boundaries as positives
Summary: Obedience comes in many forms. There is conformity for the sake of appearances, there is hypocrisy for the sake of self, there is acknowledgment but freedom to choose.
Actually wanting and seeking God's rules may be a new concept for your students. Take this opportunity to impress on them the meaning of hunger and thirst after righteousness.
6 - When you care for others... (Mercy)
Aims: to explore the Biblical concept of a neighbour, understand and practice a spirit of mercy
Summary: Following in the footsteps of Jesus includes learning to respond to others in a Christ-like manner. Challenge your teens to examine how they currently react towards those who need mercy, and to contemplate ways of imitating Christ's response to those who need mercy.
7 - Heart Smarts (Transformation)­
Aims: to discover Jesus' teaching about prayer, see prayer as a daily communication with God
Summary: Learning to see things through God's eyes is a part of developing spiritually. It is important for tweens and teens to try to look at things objectively, and to remove themselves from their feelings. When we understand what it means to pray 'thy will be done' we start to see what God would desire to happen in our world.
8 - Peacemakers
Aims: to discover a new way of peacemaking as taught by Jesus in the Sermon on the Mount, explore different ways to resolve conflicts
Summary: Jesus calls every Christian to be a peacemaker. Again we find there is a paradox in this beatitude, when we fully understand it. Since we often think of peace as 'without argument', 'quietly' or 'without fight', we may be surprised to see it joined with 'maker' - referring to one who is diligent and goes to battle to see the desired outcome. Basically then, Jesus was saying that it is our responsibility not just to uphold the concept of peace, but to actively bring it about. Often the process of bringing peace is anything but peaceful. Thus the paradox.
9 - Suffering Find Joy (Persecution)
Aims: to understand that obedience is a building block to strong faith, to understand that obedience will bring rejection
Summary: When Jesus told his disciples that they would have to take up their cross to follow him, he was not glossing over the difficulties of a life of faith. We need to be honest with young people about the Christian walk, and the consequences of obedience and denial.
10 - Producing Fruit (Growing)
Aims: to understand the teaching of the parable of the sower, demonstrate personal receptiveness to God's Word
Summary: Cultivating change in our hearts takes effort and time. We need to retrain ourselves to think differently about truth, and to guard against being molded by the world's teaching.
Today you can challenge your youth to make sure their hearts stay receptive to God's teaching, and to commit to follow through.

To place orders visit www.saMinistryCatalogue.ca
To download a sample lesson click here.
WHERE JUNIOR HIGH AND CROSSzone MEET! The Junior High Bible Study is also used as the Bible curriculum for the CROSSzone program. To learn more about upcoming units follow the link to Discipleship Programs at the top of this page.