Forever Friends (CROSSzone)
Forever Friends (Junior High Bible Study/CROSSzone) - Winter 2019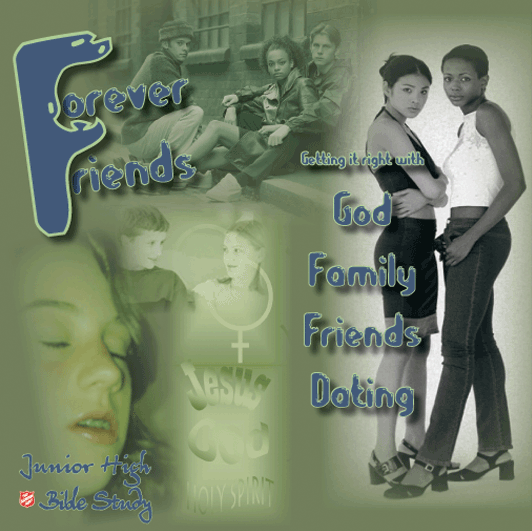 1 - What"s In A Name? (Knowing God)
Aims: learn about the character of God through biblical images, worship God in spirit and in truth, understand that God wants a growing relationship with them.
Summary: Forming a clear picture of God is your mission in this study. Begin with their own ideas in the Warm-Up activity, and then progress through Psalm 145 where they will discover how David saw God; how scripture pictures God; and how they can visualize God.
2 - Best Friends With Who? (Salvation)
Aims: recognize the need to have God for a friend, discuss how Jesus can become their best friend, come to a point of decision.
Summary: Because of this, early adolescence is a great time to show them how Jesus can be their best friend. Many of your young people may have made an early decision for Christ. However, some will not have been ready. Some will need to reconfirm their decision and others will discover a new element in their relationship with Jesus that needs acknowledgment.
3 - Staying Connected? (Prayer)
Aims: to understand Biblical teaching about prayer, to discover some ways to structure prayer.
Summary: This study is designed to address some of the key questions about prayer that will help in the development of spiritual maturity. It will explore answers to questions such as, Why should I pray? Where and when is prayer important? and What are the attitudes I should bring with me into prayer?
In this new community we all belong. Not because someone else says so but because God ordained it. God distributes the gifts amongst his body and it is our responsibility to contribute by using those gifts.
4 - Why Should I Believe The Bible? (The Bible)
Aims: recognize the Bible as the source of knowledge about God's guidance, understand that they can find help in God's Word, commit themselves to personal Bible study
Summary: The most important thing about the Bible is that it is God's Word to us. It is a record of God's interaction with his people from the beginning of time down to the establishment of the Christian church. The Bible is relevant in our day to day life. When we read the Bible, we should sense God speaking to us. This should be the most exiting thing we do each day, yet young people (and adults) struggle to understand what God is saying to them.
5 - You Are Beautiful! (Self-Image)
Aims: understand that they are unique because God made them, discover that they can feel good about themselves.
Summary: Developing a positive image is a delicate balance of learning one's strengths, taking steps to exercise those strengths, then reaching out to others. By applying basic principles found in the Bible, through all stages of development, one can discover purpose, peace and fulfillment.
6 - Home Is Where Harmony Lives (Parents)
Aims: recognize the importance of communicating well with parents, understand they are responsible to find a solution to communication problems, develop some communication skills.
Summary: The relationship experiencing the most strain is often the parent-child relationship. Conflicts between parents and "almost" teens are normal. It is often difficult for parents to let their children grow up. It is equally difficult for "almost" teens, eager to "try their own wings," to remember that parents have wisdom and experience that "almost" teens need to rely on.
7 - Family Like-Ness (Siblings)
Aims: value their relationship with their brothers and sisters, discover ways of resolving sibling conflicts
Summary: No one wants to feel that they don't belong. It is important to communicate to your students that God has placed them in their family for a reason. Finding and understanding our role in the family is important.
8 - Who Are Your Friends? (Friends)
Aims: value Christian friendship, discover the balance of give and take in friendships, develop the characteristics of a true friend
Summary: Friends provide an environment where teens feel accepted. Your reaction to conversation and dress issues communicates a great deal about how much you accept your teens. Let them know today that they are valued and accepted as God's children.
9 - Who Will Be The Next Broken Heart? (Dating)
Aims: understand that God created us to enjoy relationships, discover biblical guidelines for relationships with the opposite sex, develop personal guidelines for dating
Summary: Your first reaction to the title and theme of this lesson may be a surprise. Hopefully your students are not into dating relationships yet. But the statistics and studies of current teen culture are showing that young people are getting involved in physical dating relationships younger and younger. In light of these frightening facts we cannot ignore the issues of dating relationships. It is important for our Christian young people to know what is appropriate before they become interested in this type of relationships. If we don't address the issues, they will accept what they see and hear all around them - particularly in the media.
10 - Don"t You Know You Are Adopted? (Other Believers)
Aims: understand the role of community in the life of the believer, recognize their responsibility to the community of believers, the Church
Summary: Finally in this course we want to impress upon young believers that because they have accepted the work of Jesus on the cross, they are part of God's family. As part of God's family they are in relationship with thousands of other believers, and unlike many other relationships they may develop, these relationships are for eternity. They are truly FOREVER FRIENDS.
To place orders visit ww.saMinistryCatalogue.ca/Youth


WHERE JUNIOR HIGH AND CROSSzone MEET!
The Junior High Bible Study is also used as the Bible curriculum for the CROSSzone program. To learn more about upcoming units follow the link to Discipleship Programs at the top of this page.