Corps Planting
Corps planting takes place in many ways. Small groups, outposts, second congregations, in partnership with social services, from a mother corps or pioneering a new corps are all possible options – each with its own variations as we respond to unique and changing communities .
For more information, please contact the Corps Mission Resource Secretary or the Corps Health and Planting Consultant (see contact info at the bottom of the page).
Territorial Support Systems for New Corps

View this graphic for details about support systems from THQ. Download poster displayed above:
Corps Planting Cycle of Support


Imagine: Corps Planting Guide for Divisional Headquarters
This guide was designed based on the past decade of planting experience in our Territory and informed by mission experience and theory from many evangelical leaders. It is tailored to our Territory and attempts to address many of the questions which naturally arise in the planting process. For additional information or an interactive introduction, contact:
james.watson@salvationarmy.ca


Coaching/Consulting
The initial phases of start-up can feel very open-ended, which is both exciting and raises many questions. Working through the central questions (What has God called us to? Who are our neighbours? How can we move forward?) and having some options which have assisted others in developing corps both accelerates the process and reduces stress.
Training
We offer individualized training and partner with other planting agencies and church organizations (denominations) to provide opportunities for shared learning.
Church Planting Canada
We have connected with the broader Canadian church through a network which allows for mutual sharing of mission lessons learned.(
churchplantingcanada.ca
)
Research
Understanding local communities allows for deeper engagement and if it is done with a "neighbourly" attitude the research can demonstrate care. Research of larger trends can assist in identifying direction at the local level.
Are You a Planter?
What if the question is rephrased as, "Are you engaged in God's mission of loving reconciliation for the world?" There are many roles to play in the starting of "new things." Assistance in discerning the role you could play is available.
Recommended Resources
Community in Mission: A Salvationist Ecclesiology by Phil Needham is a great ebook on theological foundations of congregations. Download:https://frontierpress.org/wp-content/uploads/2016/09/CommunityInMission.pdf
City Shaped Churches: Planting Churches in the Global Era
(2018)
is a great text book from Linda Bergquist and Michael D. Crane. While focused on American and global urban issues, it unpacks and critically reflects on a wide-range of mission insights.
Everyone Sent to Multiply Everything: Cultivating a Multiplying Discipleship and Church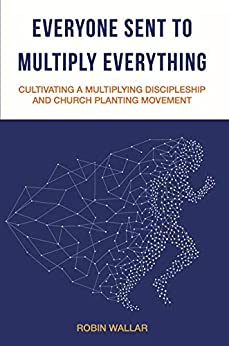 Planting Movement (2020) from Robin Wallar is an explanation of how discipleship can serve as the basis for multiplying ministry. From the experience of starting congregations on university and college campuses with discipleship as the starting point, the biblical reflection and proposals for multiplying discipleship provide both insight and strategic options.
There are many books on planting and how to minister in the diverse communities within our Territory – see "Contact" below to start up a conversation about relevant resources.
­
---
Discipleship Bases
For a discipleship process which promotes the development of Christian community, consider
infinitumlife.com
. For information on how to integrate discipleship with the formation of discipleship bases, please contact Major Stephen Court, Evangelism Consultant (
stephen.court@salvationarmy.ca
).