THE GOD WHO SEES (BOOK CLUB)
6 Sessions (weekly)

Postponed: If you are interested in a potential March start
please register. Dates will be determined at a later date.
---
Title: The God who Sees: Immigrants, the Bible, and the Journey to Belonging
Author: Karen González
Publishing info: Herald Press (Harrisonburg, Virginia) 2019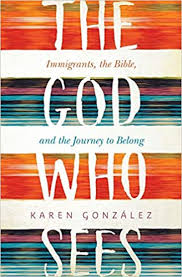 Dates
Description
Ch1: Naomi and Ruth, Ch 2: Baptism

Ch 3: Abraham,

Ch 4: Communion

Ch 5: Hagar,

Ch 6: Confirmation

Ch 7: Joseph,

Ch 8: Anointing the Sick

Ch 9: The Syrophoenician Woman,

Ch 10: Reconciliation

Ch 11: The Holy Family, Ideas for Action and Reflection
Why a Learning Cohort?
Reflection on God's mission and how it finds expression in our leadership is important. We can increase our learning by hearing and reflecting on the experience of others. The time commitments are intentionally brief, however having several other people to share in the journey over a five week period provides support, encouragement and peer accountability in the process.
What will it Cost to Participate in this Cohort?
The registration fee for this cohort is $25.00. Your Corps may be able to help with the cost of you participating in a cohort. Please see your Corps Officer. The cost of the presenters, resources, coaching appointments and administration is being subsidized by the Corps Mission Resource Department at Territorial Headquarters. This fee will to cover the purchase and delivery of the book.
Who are the Presenters?
Paula Marshall – Immigrant and Refugee Ministries Consultant
What Is the Format of the Learning Cohort?
The Learning Cohort will include the following elements:
Pre-Session Reading
One hour Video conference for the six weeks


Any Questions?
If at any time you have questions, you are welcome to contact corps.ministries@salvationarmy.ca Questions about the content of the Cohort should be directed to the individual Cohort facilitator.