Mercy Seat Counsellor Training


The origin of the mercy seat can be found in the Bible. The mercy seat was a solid gold covering for the Ark of the Covenant, which moved with the Israelites as they journeyed to the promised land, Canaan (Exodus 25). The mercy seat symbolised the presence of God among them and it was the place where God met Moses and spoke to him. There can be as many reasons for using the mercy seat as there are human needs. Very often people use the mercy seat as a place where they seek healing. They may also use it as a place where they ask God for some special help.
'I think the mercy seat should be utilised for any purpose involving prayer. I think it is quite useful for Salvationists to be invited to come together for prayer at the mercy seat for a number of purposes. Unfortunately, in too many corps coming to the mercy seat means that there is something wrong or there has been a distressing defeat In the person's life. Having Salvationists together in positive prayer around the mercy seat can help remove some of the unfortunate barriers.' Colonel Phil Needham (Community in Mission)



'We may kneel to give thanks, to intercede for others, to dedicate ourselves, and to share spiritual communion with Christ, and whatever our need we can be assured that God can meet it.' Commissioner Wesley Harris (Battlelines)


---
Mercy Seat Counselling

When was the last time your corps offered training for those who counsel at the Mercy Seat? Here is a great resource for a three session training - covering information on what the Mercy Seat is, how it should be used, and some very practical, biblical teaching for those who are involved in counselling at the Mercy Seat!

This training tool is a powerpoint presentation which includes complete training notes.

Download the training slides with notes: Mercy Seat Counsellor Training
Download the .pdf notes: Mercy Seat Counsellor Training (Notes)





---
Prayer at the Mercy Seat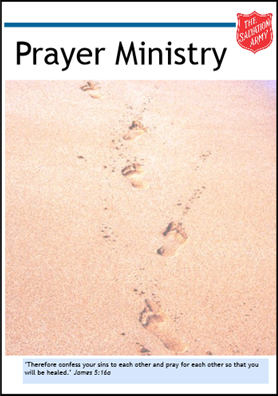 This prayer resource is supplied by the Center for Spiritual Life Development with great information and instruction about
Prayer Ministry
at the mercy seat. This .pdf booklet is useful to copy and distribute to corps leaders and others who might be involved in mercy seat counselling.
This item contains information helpful for training people to be involved in this ministry.
My New Life In Christ
P
eople beginning the journey of walking with Christ have begun a new life, and there is lots to learn! In the booklet "My New Life In Christ", new believers will find solid teaching about this new life by working through this book, preferably with one or two mentors who will disciple them. Eleven lessons, plus bonus materials will answer questions new believers may have, such as: Can I Be Sure I'm Saved? What are God's promises? How do I get to know God? Does God want to use me? What Does Holiness Mean? In addition, memorization of Bible verses is encouraged, and memory cards are provided for participants.
Download a free copy from
www.saMinistryHelps.ca/Toolkit
Formerly:­ From Mercy Seat to Spiritual Maturity - now three volumes in one.


---
Children's Decision Pamphlets
Colourful cartoon booklets in four age categories, designed to be used to lead a child to a decision for Jesus. The six week follow-up courses provide daily devotions to lead children and youth into a deeper relationship with God after they have made a decision to follow Him.
To read detailed descriptions of each, or to order visit the CATALOGUE.

4 - 6 year olds
Life Is Full Of...Choices (decision pamphlet)
Grow..God's Way (follow-up course)
6 - 8 year olds
It's My Choice! (decision pamphlet)
How Do I Grow With God? (follow-up course)
8 - 10 year olds
Life is Full Of Decisions! (decision pamphlet)
So What Do I Do Now? (follow-up course)
Teens
Making Choices ... (decision pamphlet)
I Have Decided To Follow Jesus! (follow-up course)