Skeleton Army, a new Salvation Army musical, will have its Canadian premiere at the INSPIRE Conference and Congress. Join us for one of four performances at the Westin Harbour Castle Hotel.

Note: Everyone attending the INSPIRE welcome banquet on Monday evening will see Skeleton Army as part of the event, no additional registration required.

Tuesday, June 27 – 7:30 p.m.
Wednesday, June 28 – 7:30 p.m.
Thursday, June 29 – 8:00 p.m.
Saturday, July 1 – 2:45 p.m.
---


About Skeleton Army
The newest Salvation Army musical, Skeleton Army, premièred off-Broadway in New York City on August 29, 2019. Conceived and performed entirely by Canadians, we are very excited to welcome as many people as we can to the Canadian-premier performances that will be hosted onsite at Westin Harbour Castle Hotel during INSPIRE Conference & Congress 2023 in June.
The two-actor show depicts clashes between early-day Salvationists and the notorious Skeleton Army in London's East End. Kyle Higgins stars as Charles Jeffries, leader of the Skeleton Army, and Kathryn Higgins plays three roles: a barmaid in the Blind Beggar pub, the Salvation Army officer at Whitechapel Road who helps set Jeffries on a new path, and Jeffries' wife.
With music and lyrics by Canadian Staff Songster Leader, Major Len Ballantine, and based on a book by John Copeland, the musical is directed by Brad Cain, produced by Carol Jaudes, and originally conceived by Neil W. Leduke, Territorial Director of Territorial Marketing Communications for The Salvation Army in Canada and Bermuda. This team worked in close collaboration with The Salvation Army U.S.A. East Arts Ministries Bureau, headed by Kathyrn Higgins, daughter of Major Ballantine, to bring this true story to life in 2019 and now to Toronto in 2023.
Adapted from an article by Geoff Moulton, published in Salvationist, November 2019. Read the full article.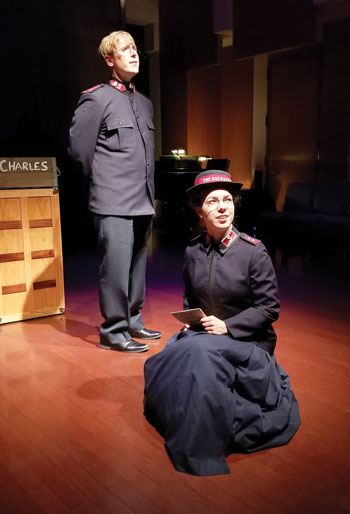 ---



Salvationist Podcast: Skeleton Army
Listen to a new exclusive interview with Kathryn and Kyle Higgins, stars of Skeleton Army.