Conference

Who: Children ages 0-12
When: Monday to Friday
Where: Westin Harbour Castle Hotel





Day Trips
Who: Youth ages 13-17
When: Tuesday to Friday
What:
Where: Meet in the lobby of Westin Harbour Castle Hotel at 8:30 a.m. Youth will be returned to the lobby by 5 p.m. (depending on traffic/commuting times).
Bag lunch will be provided, but it is recommended that youth bring spending money to purchase additional food or souvenirs. Parents must sign up youth in advance to ensure space for all youth who want to attend. Contact Sarah Ball at Sarah.Ball@salvationarmy.ca to register your children.
Young adults (ages 18+) can participate in youth- and children-focused workshops at the conference.
SALCON

8:30 p.m. to 12 a.m.

SALCON events:

SA Gaming tournament
Food and music
Camp photobooths
Epic swag
Salvation Army celebrity autographs
And much, much more


Saturday, July 1
Canada Day with The Salvation Army at Yonge-Dundas Square
11 a.m. to 7 p.m.
Buskers
Family games
Face painting
Food trucks
Entertainment
7 p.m. to 12 a.m.
Outdoor concert featuring:
Brooke Nicholls

And others
---

Congress and CoMissionING Program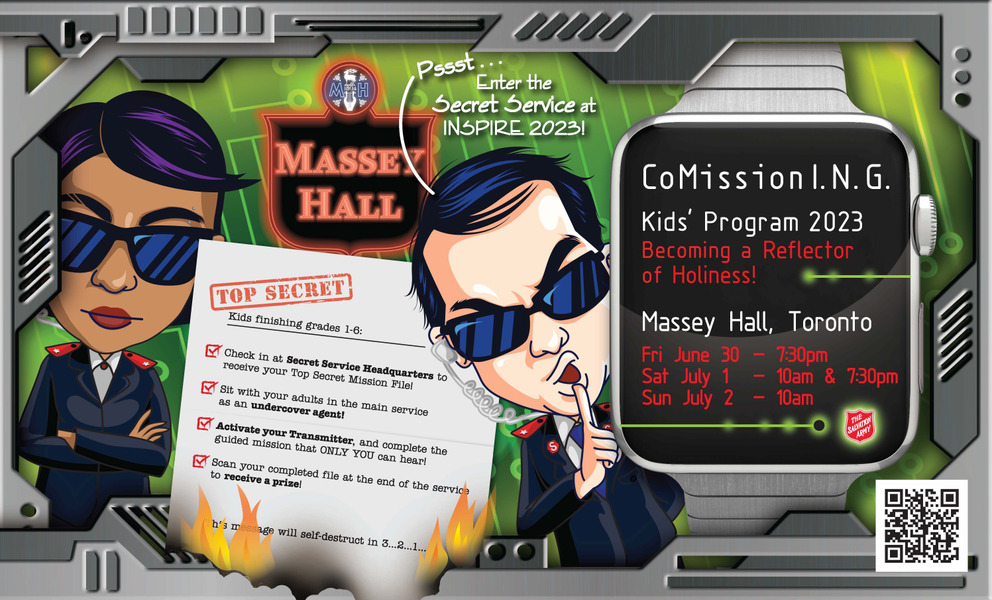 Improv Care will be looking after child care for ages 0-12 during the conference week at the Westin Hotel. When the congress weekend begins on Friday evening, the Improv Care at the hotel will transition to kindergarten and younger ONLY. Children who are in Grades 1-6 will be part of the CoMissionING Kids Program at Massey Hall.
During CoMissionING, children in Grades 1-6 will engage in an interactive top-secret mission experience from their seats beside their parents/caregivers in the Massey Hall programs. They'll be undercover agents, completing top secret missions that only they can hear, delivered to them via individualized communication devices! Four missions will be completed over the weekend:
Mission #1 - Friday at 7:30 p.m.
Mission #2 - Saturday at 10:00 a.m.
Mission #3 - Saturday at 7:30 p.m.
Mission #4 - Sunday at 10:00 a.m.