MSHT, Canadian Laws, and the Criminal Justice System
June 21, 2022, 11:00 a.m. (PDT) / 1:00 p.m. (CMT) / 2:00 p.m. (EDT)
Modern slavery and human trafficking (MSHT) is happening all around us. As Canada continues to mobilize and engage in supporting and equipping victims and survivors, how does its' criminal justice system fit into this? This webinar seeks to provide an introduction to Canada's legal system and MSHT by focusing on:
What are the MSHT laws and Bills that people need to be aware of?
How are MSHT laws utilized and interpreted in prosecutions?
What are some of the challenges faced with current MSHT laws, legal definitions, and structure?
Why are there not more arrests and convictions?
How can we best support victims and survivors in this process?

Speaker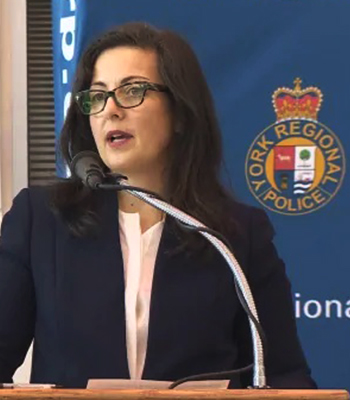 Susan Orlando
Susan Orlando has been the Provincial Coordinator of Ontario's Human Trafficking Prosecution Team since it was formed on January 3, 2017. She leads a team of 14 specialized prosecutors from across the province, including Toronto and the GTA. Prior to assuming this role, she was the Deputy Director in the Office of the Assistant Deputy Attorney General – Criminal Law Division, Ministry of the Attorney General, where she was responsible for providing legal and strategic advice and support to the Chief Prosecutor for Ontario. A graduate of the University of Ottawa Law School, Susan was called to the Ontario Bar in 1997 and began her career as an Assistant Crown Attorney in downtown Toronto.