Administration: Meet Our Team!
The Territorial Women's Ministries team is passionate about seeing women embrace their identity as children of God and equipping them to be Kingdom builders.
Commissioner Tracey Tidd

Territorial President for Women's Ministries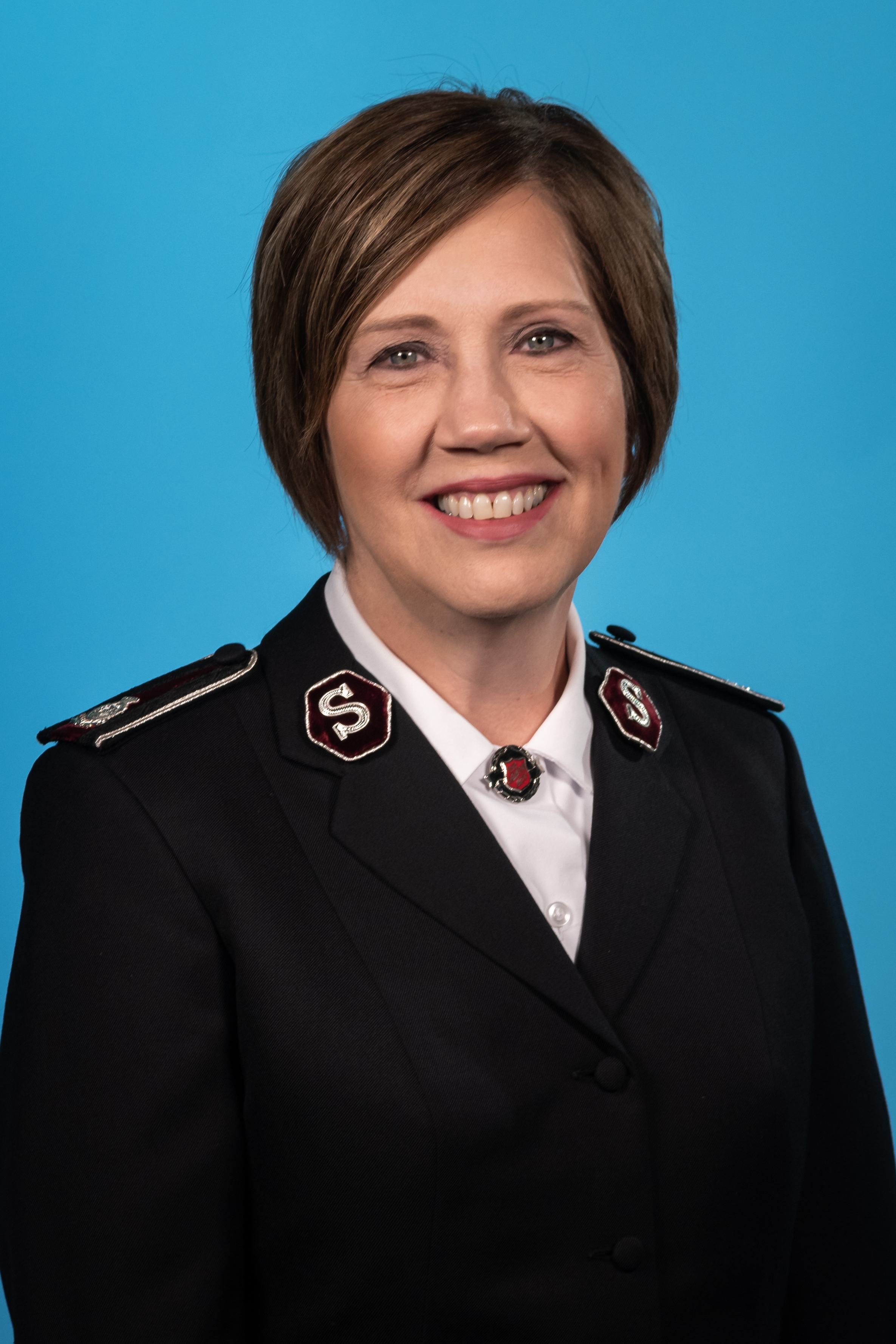 Tracey was born and raised in Sudbury, Ontario, Canada, where she began her journey in Christian faith and with The Salvation Army as a child in Sunday school. Accepting God's call to officership, she entered the College for Officer Training in Toronto in 1984, along with her husband Floyd. A sense of the privilege of being partners in the gospel (see Philippians 1:3-5) was instilled in those years of training. Since her commissioning, she has ministered in a variety of appointments as associate officer, church planter, divisional youth leader, rural and city corps officer, as well as in an administrative assignment at the territorial level in the areas of youth and children's ministries. Tracey was also a chaplain at Broadview Village, a facility for adults with developmental disabilities.
Prior to becoming the Territorial Secretary for Women's Ministries for Canada and Bermuda, Tracey was appointed as Divisional Leader with the appointment of Divisional Director of Women's Ministries for the Ontario Central-East Division. In June 2013, Tracey was appointed as Territorial Leader with the appointment of Territorial President of Women's Ministries for the Australia Southern Territory. On June 1, 2016, Tracey and her husband were appointed as the foundational national leaders for Australia to oversee the amalgamation of the Australia Eastern and Australia Southern territories. On December 1, 2018, Tracey was appointed as a Territorial Leader with the appointment of Territorial President of Women's Ministries of the Australia Territory.
Tracey and her husband commenced their appointments as Territorial Leaders for the Canada and Bermuda Territory on October 1, 2019, with Tracey serving as the Territorial President of Women's Ministries.Tracey brings unique gifts, learnings and experience to her role. She counts it a privilege to serve in partnership with officers, soldiers, adherents, employees and friends of The Salvation Army, both internationally and at home in the Canada and Bermuda Territory. Tracey and her husband celebrate their two children, Kaleena and Christopher, daughter-in-law, Kalyn, and son-in-law, Anthony, who keep them real; and grandson, Arlo, who keeps them young.
Colonel Shelley Hill
Territorial Secretary for Women's Ministries

Shelley is passionate about ministry to women. Her desire is to have ladies know Jesus and to live a life that is full and pleasing to Him.
She is a graduate of the 39th class of Arrow Leadership. She uses what she has learned to lead and encourage others in their faith.
Shelley's greatest accomplishments is not her education or certificates, but rather being the mother of Stephanie, Samantha & Samuel. She loves when they all come under one roof where she can love on and spend quality time with them.
Chocolate is often needed to manage life, ministry & family – but not more than she needs Jesus!




Sarah Horwath
Administrative Assistant

Sarah grew up living in different parts of Canada, eventually settling in Burlington, Ontario. She has lived in Toronto for the past 10 years and recently married her college sweetheart Alex. With a Bachelor's degree in Theatre & Film, minor in Religious Studies and post-graduate degree in Journalism, she brings a variety of knowledge, skills and experience to the team. After working in the education and publishing industries for several years, she decided a change was needed, and in May 2016 she joined The Salvation Army, Canada & Bermuda Headquarters.
Sarah enjoys working with the support of women, in a faith-based environment where helping others is at the forefront. Having been raised Roman Catholic, Sarah was completely new to The Salvation Army and has learned a great deal along the way. Since joining the organization, Sarah's faith and love for Jesus has grown. She has realized the importance of having a relationship with Jesus and that He is truly listening and guiding us on our journey.
In her spare time she enjoys travelling, cooking, and spending time with her husband Alex and their two dogs Oliver and Butters.
Sarah's message to the women in our territory would be that all women recognize that their self-worth is not determined by other people. You have a voice and you are enough.