MAY NEWS



Online Forms are almost all in!
(272 Complete/11 Outstanding)
RESULTS will be complied and distributed to
divisional and territorial leaders soon!

VIRTUAL SUNDAY WORSHIP:
78% = Yes, 22% = No



VIRTUAL PLATFORMS:
141 - Pre-recorded, 111 - LiveStream, 60 - Interactive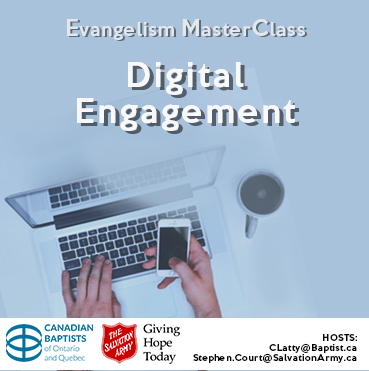 Our guest presenters at the recent Evangelism Master Class: Digital Engagement session, Jordan and Sonya Tetley, shared their tips for engaging online in ministry.
1. Recognize it is not a competition and be true to who God has made you to be. You can't compete with the production level of online churches such as Elevation, LifeChurch or other online ministries in terms of content, but God has uniquely gifted you to reach people in a way that no other church can.

2. Measure engagement not views. Ask yourself how will I engage people in discipleship not just viewership? Traditionally we measure a church's impact by how many people attend a service and physically are in our pews. However, in online church…


Read more…

May 25th, 2020. 1:00 PM EST
Presenters: Solange Belluz (Congregational Life Pastor of The People's Church) and
Dr. Narry Santos (Intercultural Leadership, Tyndale University)

REGISTER NOW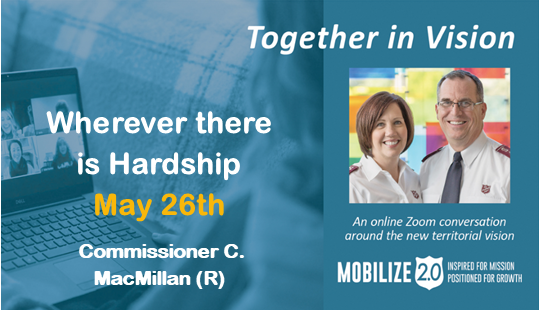 Don't miss this opportunity to join with Salvationists from across the territory to discuss vision!
More information & registration
RESPONSIVE READING
SERMON, MUSIC, VIDEO SUGGESTIONS
IMAGES FOR PROMOTION
Register to Receive This by Email
---
UPCOMING WEBINARS

---
EVANGELISM MASTER CLASSES

INTERCULTURAL CONNECTIVITY
May 25, 2021 at 1 pm (EST)
SPIRITUAL PREPARATION
June 15, 2021 at 1 pm (EST)
A collaboration between the Canadian Baptists Ontario and Quebec and The Salvation Army Canada and Bermuda.
More information will be coming soon.