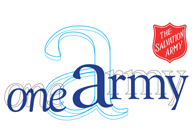 The Salvation Army defines itself with an international mission statement:
The Salvation Army, an international movement, is an evangelical part of the universal Christian Church. Its message is based on the Bible. Its ministry is motivated by the love of God. Its mission is to preach the gospel of
Jesus Christ and to meet human needs in his name without discrimination.


The ONE ARMY series consists of twelve studies, each with video clips and leaders' notes.

For all information visit: www.salvationarmy.org/onearmy/series
One Army begins with One Life - we are all given one life and no two lives are the same.
As the series unfolds it will examine an Army united:
You can also access the One Army material in Chinese, Korean and Spanish
These integral aspects of the Army will be presented for information, inspiration, discussion and response. They will show what the Army is, what it teaches and what it does. The series will be presented using various forms of communication and include participation and interaction. Especially, it will be presented in the context of how each life can find its own place in the will and purposes of God.