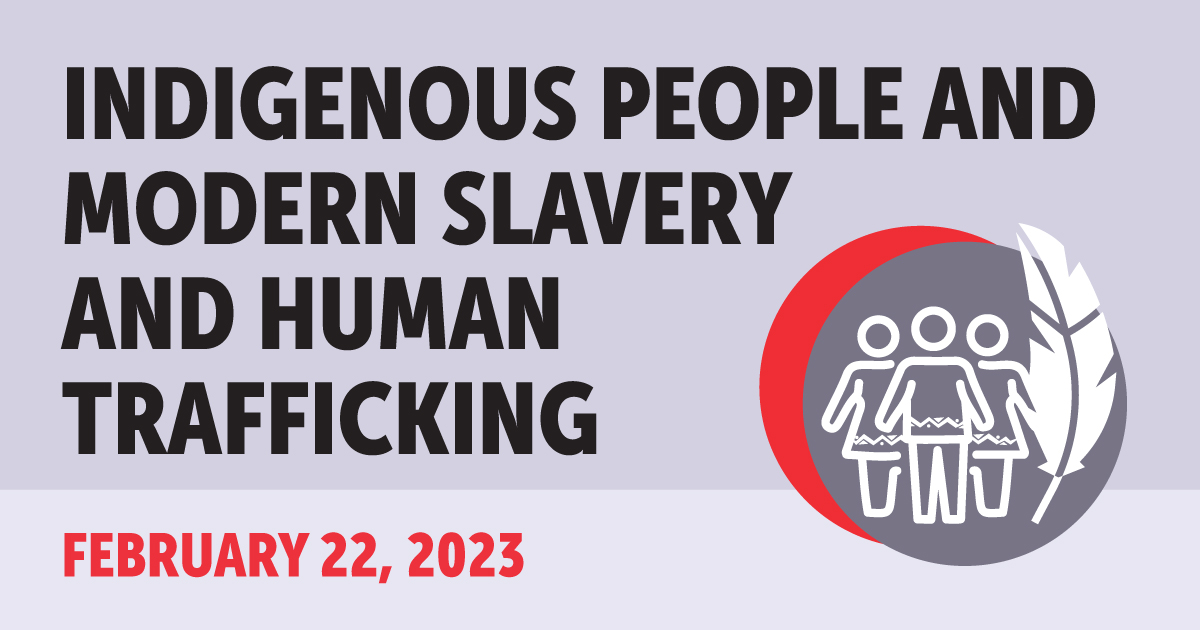 Indigenous People and Modern Slavery and Human Trafficking
February 22, 2023, 11:00 a.m. (PST) / 12:00 p.m. (MST) / 1:00 p.m. (CST) / 2:00 p.m. (EST)
This webinar will be 1.5 hours
Since colonization, Indigenous Peoples have been experiencing and continue to experience modern slavery and human trafficking throughout Canada (MSHT). As shared by Paula Newton in her article, "Canada's stolen daughters: Sex traffickers target Indigenous Canadians", it is estimated that Indigenous women and girls make up 50% of domestic sex trafficking victims despite making up 4.3% of Canada's population.
Join Beatrice Wallace as she teaches from Indigenous history focusing on:
How Indigenous women and girls have been sexually exploited from first contact with the settlers

Who was the real Pocahontas and how she is not the princess that Disney represents

How our Canadian past has deeply affected Indigenous People today as they are overrepresented in MSHT – speaking specifically about residential schools, the 60's Scoop, and child welfare play such a big part in this
As an Indigenous woman with lived experience and a leader, Beatrice will be sharing her thoughts and suggestions on how to achieve change so that Indigenous Peoples are not one of the most trafficked and exploited people in Canada.

Speaker
Beatrice Wallace
Lived Experience Engagement and Inclusion Specialist – The Salvation Army (Canada and Bermuda)

Beatrice is a mother of eight, Kokum to six grandchildren, and from Muskowekwan First Nation. She is a 60s Scoop survivor and has overcome sexual exploitation. She is also the author of "Wolf Woman: A Search for Identity". She has worked in her community of Regina, Saskatchewan for nearly fifteen years as well as being a public speaker and advocate for ending sexual exploitation. She believes that prevention is the key as our children are our future.
"I believe there's a reason for everything. I believe that no matter what I went through, I have a story, and my story is like those of so many of my Indigenous brothers and sisters. It's the story of rejection and deceit. It's the story of abuse and shame. It's the story that many of my friends, family members, and my beautiful mom were never able to tell because their lives were cut short. I tell my story so that people can watch out for women and young girls who are being exploited. They're not exploited because they choose to be. They're there because life dealt them a bad hand." – Beatrice Wolfe