The Salvation Army and Modern Slavery and Human Trafficking Response Work – London Correctional and Justice Services
March 21, 2023, 11:00 a.m. (PST) / 12:00 p.m. (MST) / 1:00 p.m. (CST) / 2:00 p.m. (EST)
This webinar will be 1.5 hours long
The Salvation Army is deeply committed to ending modern slavery and human trafficking (MSHT) globally and in Canada. Join us in this webinar to learn more about The Salvation Army's MSHT response work through London's Correctional and Justice Services and how they are working to prevent, protect, and support individuals who have experienced MSHT.

Speakers
Julia Parker
Julia is the Executive Director of The Salvation Army, Correctional and Justice Services and Community Alternatives for Youth London and Area began working with the Salvation Army since 1985.
Julia started her career volunteering with Probation and Parole in 1980 receiving the Corrections Volunteer Award. She graduated in 1983 with a bachelor's degree in Sociology from King's College UWO with her concentrated studies of research on prostitution and effects on self-esteem. Her Salvation Army career began at Rebekah House as Primary Worker in 1985, the first female open custody youth facility under the Young Offenders Act until 1987. Julia transferred to Wycliffe Booth House as House Manager, working with male young offenders in 1987 and then promoted to Assistant Director in 1989 and Director in 1994. In 2000 Julia became the Executive Director for London and Area.
Julia returned to King's University and graduated in 2009 with an Honors Specialization Degree in Sociology. She completed Certificates in Non-Profit Management and Mediation from Western University and Leading a Mental Healthy Workplace from Queens. Julia helped to implement the Cornerstone Diversion Program for sex-trade workers in the London area and the Sex Buyers Accountability Program. Programs include The Journey, a three-day retreat. In addition, there has been the inclusion of many Human Trafficking Initiatives by the Salvation Army in partnership with the London Abused Women's Centre, which includes the Phoenix and Cornerstone Dignity Projects.
Julia received the Ontario Community Justice Association Award in 2014 was in 2020 was acknowledged for 35 years of faithful service from The Salvation Army.
The sexual exploitation of youth was evident in 1985 and it has taken 35 years for the broader community to recognize and name the harm. It is hoped that with education and prevention these types of crimes against our youth and vulnerable populations will end.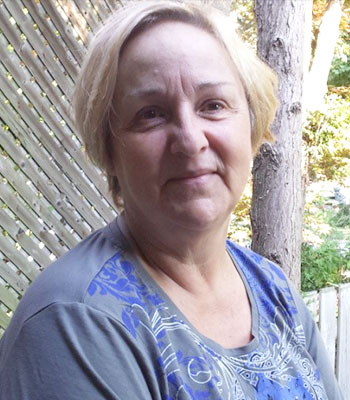 Aura Burditt
Aura is an outreach worker for The Salvation Army Correctional & Justice Services in London Ontario, working primarily with women who have been impacted by the criminal justice system. Aura provides practical help and creates a network of support services for those reintegrating from custody into the community. In this capacity, Aura also works with women who have been exploited in the sex trade or who have been trafficked. In addition to her full time role, Aura is also Chair of the London Anti-Human Trafficking Coalition, whose primary mandate is Prevention Through Education. Aura does numerous public speaking engagements about the harms of human trafficking in all its forms.
Jaclyn MacLean
Jaclyn is a Peer Support Worker for The Salvation Army Correctional & Justice Services coordinating the Journey to Justice Program. Outreach support and advocacy with police and the justice system is provided to clients through this program. It also offers survivors and victims of human trafficking information and support in the following areas:
• Reporting to police
• Information about the criminal justice system
• Making informed choices
• Offering assistance and court accompaniment or for legal appointments
• Help to access victim compensation
• Taking social justice action Jaclyn also is a co-facilitator for the Survivor Consultant Committee and the Journey to Justice Focus Group.
These groups engage survivors in discussion and planning of events and activities which allow their voices to be heard. The women also advocate for change in systemic issues in order to further help support those who have been trafficked, physically abused or who have suffered Non-State Torture. Jaclyn is a graduate of Fanshawe College where she earned a diploma in human services foundation and social service worker. She has worked in the field of mental health, brain injuries and youth justice throughout the past 10 years.
Michele Hines
Michele has been the Program Counsellor for Salvation Army Correctional and Justice Services for the past 20 years. She has been providing supportive programs and individual appointments for those impacted by the justice system, assisting them to connect with other needed service providers , advocating for clients, and helping them to define and reach personal goals successfully. For more than ten years Michele has facilitated the Sex Buyer Accountability Program, a court-mandated diversion program for those charged for the first time with purchasing sex. This program brings in numerous professionals from law enforcement, health services and other community members to speak with and educate the men about the harms of prostitution and the link to sex trafficking. This restorative justice approach has proven to reduce the impact of a criminal record, and prevent recidivism. Michele is a graduate of the University of Western Ontario and holds a BA in Sociology and a Certificate in Women's Issues and Social Change.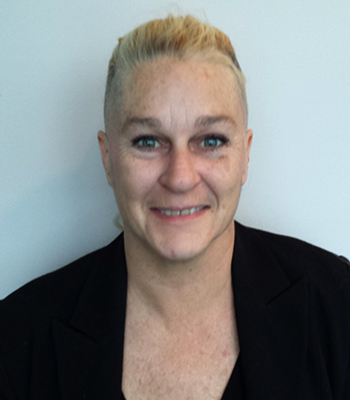 Caroline Pugh-Roberts
Caroline is a peer support worker with the Salvation Army Correctional & Justice Services in London Ontario. As a human trafficking survivor Caroline has done extensive training and research on the subject of sexual violence and exploitation, and is now an experienced public speaker who has spoken throughout our province as well as internationally. Caroline has received the Queens Diamond Jubilee medal, the Salvation Army Hope Award, the John Robinson Award and the Shine the Light Award for her work in this area. Caroline has been consulted on a number of government forums for changes to Canadian legislation and invited to numerous conferences across North America and recently to Warsaw, Poland. In addition to her expertise in human trafficking education, Caroline is also a trained community emergency response volunteer.