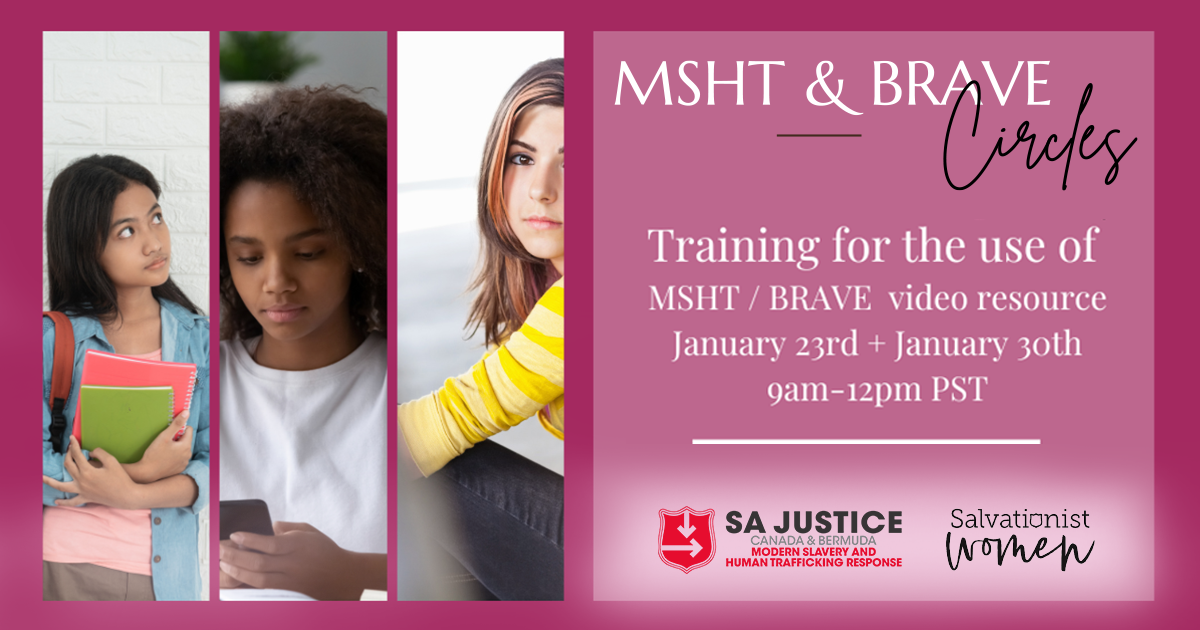 BRAVE Circles + MSHT Short Videos and Discussion
This training is for people leading Brave events and Brave Circles. Comprised of two sessions that are three hours each (6 hours total of training), participation must attend both sessions in order to receive a Certificate of Completion.

Session 1
January 23 from 9 am - 12 pm Pacific Standard Time / 12 pm - 3pm Eastern Standard Time

Session 2
January 30 from 9 am - 12 pm Pacific Standard Time / 12 pm - 3pm Eastern Standard Time

Brave seeks to end the exploitation of young women by empowering those most at risk through ongoing mentorships and empowerment events. Join us to learn more about The Salvation Army's new Brave Circle resource that aims to educate and empower young women around the topic of modern slavery and human trafficking.
In this training, participants will learn:
The Basics of MSHT
The Importance of a Trauma Informed Approach
How to Use the Resource
Questions to Ask if You Suspect a Young Girl is Being Exploited
Questions to Assess Risk and Safety
How to Deal With Disclosures
Dos and Don'ts
Safety Planning for Staff
Who is Your Divisional / Provincial / Regional MSHT Response Advocate
This training will also include group conversation / work and time to ask questions to the presenters. This training is ideal for people throughout the territory engaged in Brave events, Brave Circles, youth ministries, Women's Ministry, Corps work and / or people who want to learn more. People who complete the training will receive access to the resource plus User Manuel.