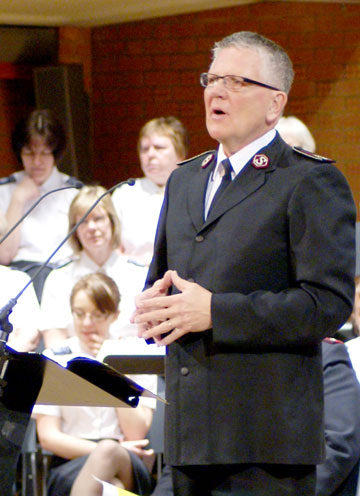 Salvationists from across the Anglia Division, United Kingdom Territory with the Republic of Ireland, gathered at the Apex, Bury St Edmunds, in early April for a celebration under the leadership of the Chief of the Staff (Commissioner Barry C. Swanson) and the World President of Women's Ministries (Commissioner Sue Swanson). As people arrived they were challenged: "Will the real followers of Jesus please stand up?"
Anglia Youth Band and Peterborough Citadel Songster Brigade set the scene before Divisional Commander Major David Jackson gave a call to worship. The songsters enlivened the congregation by setting off party poppers and singing "I Will Call Upon the Lord."
Divisional Director for Evangelism, Major Cliff Allchin, introduced the Divisional Strategy document for 2012-14, highlighting several areas that are already under way. The major then welcomed new Salvation Army soldiers and adherent members before introducing Graeme and Rosie Hunter (Peterborough Citadel) who testified to their journey into faith.
Rosie spoke of needing to pray during a particularly disturbing time in her life. However, when she and her husband decided to attend The Salvation Army she found peace. Graeme—a former Salvationist—testified to being made welcome on his return to the Army.
In his message the Chief challenged his listeners to remain united to Christ in order to bear fruit. During the prayer time that followed, a number of people moved to the mercy seat.
An afternoon Praise Prom featured the united Anglia Fellowship and Norfolk Brass Fellowship Bands and the Norfolk Choral Fellowship.
Cambridge Citadel Songster Brigade and Norwich Citadel Band provided pre-evening meeting music before the divisional commander led the capacity congregation in uplifting worship. New soldiers Patricia Hunt (Lowestoft Citadel) and Grahame Hall (Felixstowe) testified. Major Allchin spoke of plans to extend Salvation Army mission within the division through two plants and five new expressions of worship within existing corps.
In a moving moment, Major Mary Hartley, who has led Whatfield Corps for 17 years although now being in her 80s, was awarded the Certificate of Recognition for Exceptional Service by the Chief of the Staff and was acknowledged as being a tremendous example to younger officers.
Commissioner Sue Swanson expounded on the story of Miriam and how she stood up for her faith, identifying three places in Scripture where Miriam comes to the fore. The congregation was enthralled by the commissioner's storytelling style and following her message people knelt at the mercy seat to renew their commitment to Christ.
"Stand Up, Stand Up For Jesus" was sung with great gusto before the finale—"Lift Up The Cross." Many people affirmed that they were standing up to be counted as followers of Jesus.