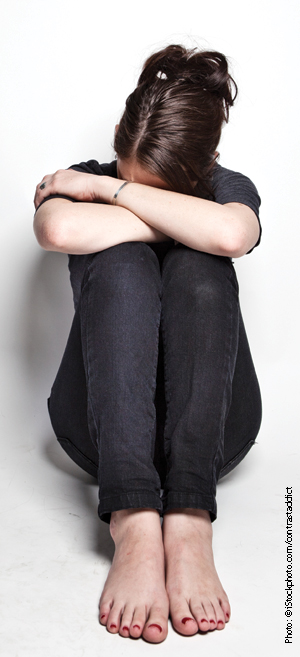 The death of a loved one is never easy to bear, but suicide is particularly difficult for those left behind. Survivors face an emotional assault from all sides: grief, confusion, anger, guilt. For Christians, suicide raises a number of questions, many of which have no clear answer: How could God let this happen? Is suicide a sin? What will happen to my loved one after they die? But the most difficult question is often, How do I move forward? In this article, three women share their experiences with the suicide of a loved one and the important role that their faith has played in helping them come to terms with this tragedy.
"In God's Hands"
The year 2010 was difficult for Lisa. In June, her sister died, and then in September, her sister's husband died. The final blow came in December when her sister's son, Justin, committed suicide.
"Justin was always a troubled child," Lisa recalls. "He never seemed truly happy, even when everybody else was." Justin had threatened suicide before, "but this time, he didn't threaten; he just did it."
Having no children of their own, Lisa and her husband were very close to Justin and his sister. Lisa was at home with Justin's sister when she heard the news of his death. "I was in total shock for days," she says. "It took a long time to really sink in."
Initially, Lisa focused most of her attention on her niece who had just lost her mother, her stepfather and her brother. "I was so busy with concern for my niece that in a lot of ways I didn't let myself grieve over Justin. It was just so much."
Once the shock wore off, Lisa was overwhelmed by grief—and anger toward Justin. "I was just so mad at him," she remembers. "I felt like: How could you do this to me? How could you do this to your sister? Why?"
When her sister died, Lisa believed in God, but she was not a religious person. But not long before Justin's death, she woke up one Sunday morning and felt God telling her to go to church.
"At first, I shook it off, but then I heard it again," she remembers. Lisa obeyed the call and has been going to church ever since.
Lisa's faith in God has played a big part in helping her come to terms with Justin's suicide. "I was totally immersed in the Holy Spirit at the time of his death, and I think that made a big difference as far as being able to get through it," she says. She was also comforted by her friends, family and her church, but she was especially touched by a letter that one of her friends sent her shortly after Justin's death. The letter contained an excerpt from The Healing of Sorrow by Norman Vincent Peale, which is commonly known as "When Someone Takes His Own Life."
"That letter helped me more than anything," says Lisa. "You don't know how many battles someone fights with himself just to try to make it through each day. I didn't know if Justin would go to Heaven, but I believe that he's in God's hands now."
Even still, coping with Justin's death has been very difficult for her.
"You hear people say, 'Give it to God and let it go.' Well, that's a lot easier said than done," Lisa says. "You ask God to take this burden from you, but then you still do the 'what if'—what if I'd said this, or what if I'd done that? Was there something I could have done to stop it?"
Just over a year since Justin's suicide, Lisa says that she has more peace with the loss, but she doesn't think she will ever fully get over it.
"You hold on to the good memories," she says, "and then the bad starts to slip away."
Beyond the Tears
Over the last 50 years, five members of Kim's family have committed suicide, four in her lifetime. The most recent suicide occurred just two years ago, when Kim lost her uncle Dan.
"We were at the 'happiest place on earth'—Disneyland—when we got the phone call," she remembers with a hint of irony. "None of us can figure out why he did it. He didn't leave a note."
With the other family members, the reasons were clearer: three were terminally ill, while the fourth, Kim's aunt Norma, was mentally ill.
Of these deaths, Norma's suicide had the greatest impact on Kim. "She and I were very close," Kim says. Before Norma had children, Kim spent weekends with her, and after her children were born, Kim, then a pre-teen, spent her summers with the family as their nanny.
Kim says she feels like she should have seen Norma's suicide coming. "Aunt Norma was very depressed, yet her doctors took her off her anti-depressants." Within two days, Norma was making plans to end her life.
When Kim's mother told her that Norma had committed suicide, Kim was devastated. She was not a Christian at the time of Norma's death, though she was raised going to church. Even still, Norma's death shook her faith in God.
"I wondered how God could have let this happen," Kim recalls. "Norma was such a wonderful woman. How could God allow her to be that sad and not help her?"
Becoming a mother led Kim back to church. "I wanted my children to grow up with the same values that I grew up with," she says. About five years after Norma died, Kim's son received a flyer at school advertising a kids' club hosted by the local Salvation Army corps. Kim went to the club with her son and says that her relationship with the corps just grew from there.
"I started to feel like this church was a family to me because I have no family nearby," she says. "All of my family live on the other side of the country."
"I know I can count on the church," she adds. "We are a good support system for each other." Sharing an example, Kim notes that when a woman in the corps had a psychotic episode recently, the corps immediately sprang into action: they took her to the hospital, looked after her children and assisted her throughout her recovery.
"There are plenty of us around who care and love," Kim says. "We watch out for each other."
Support systems are important to Kim, who also suffers from depression. Having experienced first-hand the devastating effects of suicide on a family, Kim and her mother, who also suffers from depression, have vowed never to commit suicide.
"Suicide doesn't hurt the people who kill themselves; it hurts the people left behind. And we love our family too much to do that to them," she says.
Kim's advice for others facing the suicide of a loved one is simple: "Don't blame yourself.
"The best thing you can do," she adds, "is talk about it—it's something that needs to be talked about."
A Duty of Love
Wendy's brother, Rob, was 20 years old when he was accepted into the university of his choice, but not into the program he wanted. A long-time friend of his had recently attempted suicide, and while Rob had received private counselling, he continued to endure sadness.
"He was a good boy struggling with relationships in his life," says Wendy. "He couldn't seem to find his own place in the world."
Wendy had just returned home from a demanding day of work when one of her siblings called to tell her that Rob had ended his own life.
"I shrunk down to the floor, huddling in the corner," she remembers. Wendy, who was living out of town at the time, flew home immediately. She had spoken to her brother just three days prior to his death and told him that she had been accepted into a seminary. Following his death, she decided to delay her studies.
As she grieved, Wendy was comforted by her faith. "The Bible assures us of God's total sovereignty," she says, quoting Exodus 33:19, where the Lord says: "I will cause all my goodness to pass in front of you, and I will proclaim my name, the Lord, in your presence. I will have mercy on whom I will have mercy, and I will have compassion on whom I will have compassion."
"I believe that God is gracious and merciful and I knew that Rob's destination wasn't really my concern," Wendy says. "He had a relationship with Jesus and he was now having that long talk about it with God."
Yet even with this assurance, she says that suicide is a devastating and gruelling death for a family to overcome. In addition to undergoing personal counselling, Wendy attended suicide survivor support groups for two years.
"Sometimes I had to stay home from church on Sunday mornings just to grieve," she says. "It took me five years before I could say I found a balance."
After her brother's death, Wendy says she read a number of books about suicide. She recommends
A Fierce Goodbye: Living in the Shadow of Suicide
by Lloyd and Gwendolyn Carr, which she found especially helpful.
A Fierce Goodbye
offers an account of the Carrs' personal experience with suicide (their daughter-in-law ended her own life), as well as a summary and discussion of Christian thinking about suicide.
Since Rob's suicide, Wendy has had the opportunity to counsel grieving friends and other members of her church, and she shares her confidence in God's sovereignty with them.
"God is merciful and God is love," she says. "No one can control the salvation of another—nor the life of another. But we have a duty of love to share the love of God with all the people we meet this day and tomorrow."