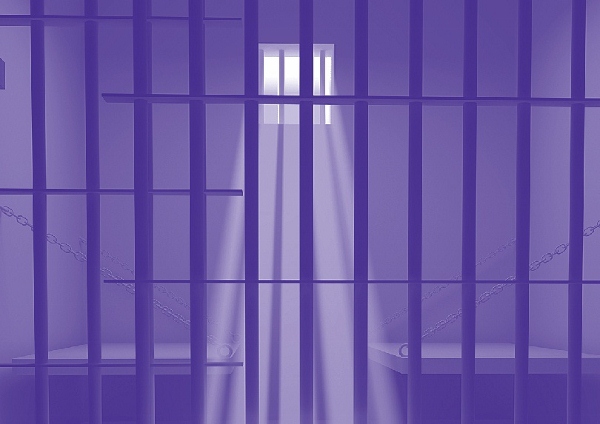 Brian Turner was only seven years old when he witnessed his mother murder his stepfather, a horror that would define his life for the next 30 years.
Racking up 60 convictions and many jail terms, Brian was utterly lost, seeing no way out of the life he had been living for so long—until 2008, when an encounter with a Salvation Army prison chaplain changed everything.
An Evil World
Brian's mother was sentenced to five years for murder in self-defence, and Brian was shifted from foster family to foster family, never truly finding a place to call home.
His world was rocked a second time when, at 15, his mother was convicted of murder again, after she strangled her lover. This time, her sentence was life in prison.
Brian left foster care for good and started living on the streets of downtown Toronto, stealing to survive.
"I was living without any rules or structure, running wild," he remembers.
He had his first encounter with the law at 16, when he was arrested for shoplifting and sent to a juvenile detention centre. Around the same time, he started experimenting with drugs and alcohol, which only led him further into a life of crime.
"The drugs masked a lot of the pain in my life," he says. "I developed a serious addiction to cocaine and crack, so everything I stole went toward supporting my addiction."
When stealing wasn't enough, Brian turned to dealing.
"I fell into an evil world," he says. "I felt like I had sold my soul to the devil because I knew I was selling other people poison, but I was trapped in the drug-trafficking lifestyle."
Overwhelming Mercy
In 2000, Brian's mother was released from prison and he moved to Kingston, Ont., hoping to reconcile with her. He had spent the previous 11 months at the Brampton Correctional Institute, also in Ontario, where he received treatment for his drug addiction.
"
This is going to be great,
I thought.
My mom and I can go into therapy. I can figure out the past and who I am, and try to move on with my life.
But she didn't want to do therapy with me. I felt rejected and abandoned all over again."
Brian went back to selling drugs and quickly became a high-level trafficker in Kingston. He was arrested several times with large quantities of narcotics and sent to prison three times in six years for drug trafficking.
During his second sentence, Brian made his first real connection with The Salvation Army. He was already familiar with them, remembering how they had provided him with blankets and hot meals when he was living on the streets.
"I was by no means spiritual at all—I used to mock Christians," he says, "but one day, I wandered into the spiritual centre at the prison and met Scott Pruden, a Salvation Army chaplain.
"My brother had just died of a drug overdose, and I was angry and frustrated because I couldn't be there," he continues. "I needed someone to talk to, and Scott helped me through the grieving process."
After he was released, Brian returned to drug trafficking and was arrested again, leading to his third conviction in 2008. This time, he was ready to seek help.
"I was willing to try anything at that point," he says. "I had all this trauma from my childhood and I was suffering, but I didn't know what to do about it." He spent the next four and a half months at a corrections centre in Lindsay, Ont., where his cellmate was a friend he'd met during his previous incarceration.
"When he saw me, he said, 'Brian, what's happened to you? I didn't even recognize you,' and I broke down," he remembers. "He told me that he had become a Christian and that God could change my life. I thought,
Oh, yeah? If you only knew the mess that I've made of things.
"
Brian's friend prayed with him and Brian requested a Bible, which The Salvation Army provided.
"I'd just finished screaming, 'God, I don't care if I live or die anymore!' when my hatch opened and a Bible came through," he says. On the other side of the hatch was Marilyn Allington, an Army chaplain.
"Marilyn was my angel," Brian says. "She led me through Keychange, a one-on-one weekly counselling program that helps men who are suffering from post-traumatic stress disorder, and are having difficulty addressing their issues and turning their lives around."
Keychange uses music as a healing tool to restore emotional, spiritual, mental and physical health, and it encourages participants to express their emotions through art. With Marilyn's help, Brian was able to address the hurt and anger that were at the root of his self-destructive behaviour.
"I had to really look at myself and see what I had become," he says. "I wanted to be right with God. I prayed and asked Him for forgiveness and this overwhelming mercy came over me, like a flood. I was saved."
His Greatest Strength
When Brian was released, he entered The Salvation Army's Harbour Light substance-abuse treatment program and he started attending Kingston Citadel. He says that being part of a church community has played a significant role in helping him turn his life around.
"I've found a lot of healing in the church," he says. "They've helped me reintegrate safely back into the community and, by praying for me and caring about me, loved me back to health. It's one of the biggest gifts I've ever received."
Brian, who is now a member of The Salvation Army, attends Kingston Citadel with his wife, Devon, their four children and Devon's parents. He also works at the church as a custodian, a job he loves.
"I joke around and say I've been given the keys to the kingdom but, truthfully, it's an honour for me to have the responsibility of cleaning and taking care of God's house," says Brian.
"I feel like God has given me a whole other life that I never, ever could have dreamed of," he continues. "I'm still taking care of my addictions, but I know that the worst things that have happened to me are actually going to be my greatest strength, because I've accepted God, and He's working in my life."
Brian's mother passed away last August, but not before he was able to reconcile with her, finally putting their troubled past behind him.
"We forgave each other and she told me that she loved me very much," he remembers. "I sang Amazing Grace to her, and I was able to pray with her and lead her to Christ."
A celebration of life service for Brian's mother was held at Kingston Citadel. "Our church family supported us through all of this, and God has helped us move forward in a healthy way," he says. "We are eternally grateful to The Salvation Army."