The Chief of the Staff (Commissioner André Cox) and Commissioner Silvia Cox (World President of Women's Ministries) visited the Kenya West Territory to conduct the installation of the new territorial leaders, Commissioners Kenneth and Jolene Hodder.
Rousing music contributed to the expectant and jubilant atmosphere at Kisumu International Airport as divisional commanders, district officers and other Salvationists gathered to greet the international leaders.
The Chief of the Staff expressed his love of being in Africa once more, saying that the warm welcome they had received demonstrated that "we are one family united by Jesus Christ." Before leaving the airport they held productive discussions with Kenyan government officials. En route to territorial headquarters in Kakamega, the convoy briefly stopped at Mbale market where Salvationists gathered to greet the commissioners.
At officers councils on Saturday the Chief reminded the gathering of 400 officers that good leadership requires commitment to one's calling, purity of heart and worthiness in the Church and community.
In the afternoon, the international leaders joined hundreds of Salvationists to officially open Shikulu Outpost. After dedicating the building to God, the Chief of the Staff congratulated members of the outpost and the community for diligently working to build the hall. He encouraged them to use the new building to reach more people.
On Sunday the installation of new territorial leaders Commissioners Kenneth and Jolene Hodder was held in Bukhungu stadium, Kakamega. In a way it was a homecoming for the couple, who have previously served in Kenya.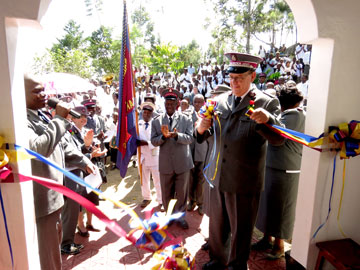 During the installation ceremony the Chief of the Staff emphasized the magnitude of responsibility that comes with territorial leadership. He encouraged the Hodders to strive enthusiastically to win souls for Christ, in a manner consistent with gospel values. He went on to say: "It is with joy and confidence that I commend to you your new territorial leaders. I call upon all Salvationists to receive your new leaders with Christian love and joyful expectation. Please support them in prayer and in dedicated service."
In his response, Territorial Commander Commissioner Kenneth Hodder said that he and his wife were humbled to be back in Kenya and to serve as leaders in the territory. He told the congregation: "God will bless you more as you continue to work towards glorifying him," and encouraged the territory's Salvationists to rely on Christ: "Our faith in God should not be swayed by earthly things and thoughts," he said. "Believe in Jesus Christ who answers all who call on his name."