The prayers of the international Salvation Army that surrounded the visit of General Linda Bond to the Singapore, Malaysia and Myanmar Territory were answered through the moving of the Holy Spirit during meetings led by the international leader – and also in practical ways after the General was granted a visa to enter Myanmar.
Almost 1,000 Salvationists gathered to greet the General in Myanmar (also known as Burma). Some had travelled for nearly two days in very difficult circumstances, through heavy rain and having to negotiate mudslides. The Celebrating Myanmar meeting included items that represented local culture, although the highlight was the enrolment by the General of 63 young people as junior soldiers.
The General attended the Silver Star gathering for parents of the cadets and shared spiritual thoughts. She thanked the parents for giving their children to God for ministry.
On Sunday morning the General conducted the Ordination and Commissioning of the Proclaimers of the Resurrection Session of cadets. The entry of the cadets was powerful and sacred – a covenant in itself. The General reminded the congregation that they are a resurrected people and that The Salvation Army is based on this principle.
In the appointments meeting the new lieutenants heard words of challenge and charge from Territorial Commander Colonel Gillian Downer before – in scenes of great celebration – receiving their appointments. The meeting included an acknowledgement of the Heralds of Grace Session – which will be commissioned in 2014 – and a welcome to the new cadets of the Disciples of the Cross Session.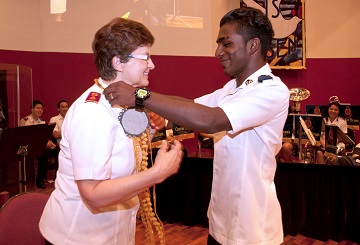 The General's time in Myanmar concluded with a God-honouring salvation meeting. The General declared to the congregation that she was proud to be the General of The Salvation Army and of the Myanmar Region. In special, sacred moments she had the joy of enrolling 76 senior soldiers to the glory of God.
Throughout all the meetings in Myanmar there was a willing and enthusiastic response at the mercy seat. Many people knelt at the foot of the cross that was central to the celebrations.
The General travelled back to Singapore to lead a public meeting attended by Salvationists and friends from the host country as well as many officers and soldiers from Malaysia. She was led into the auditorium by the percussion band and young people from Gracehaven Children's Home.
The General was given a cultural welcome by three young people. This included a traditional Chinese tea ceremony, a spoken greeting from a junior soldier and the presentation of a sandalwood garland from the Tamil fellowship of Eratchipuu Corps.
In her forthright Bible message the General spoke honestly about the need for Salvationists to "be the people we are called to be."
During her time in the territory the General shared in officers councils in Myanmar and also in Singapore and Malaysia. These sessions were deeply spiritual and encouraging for all those who gathered.