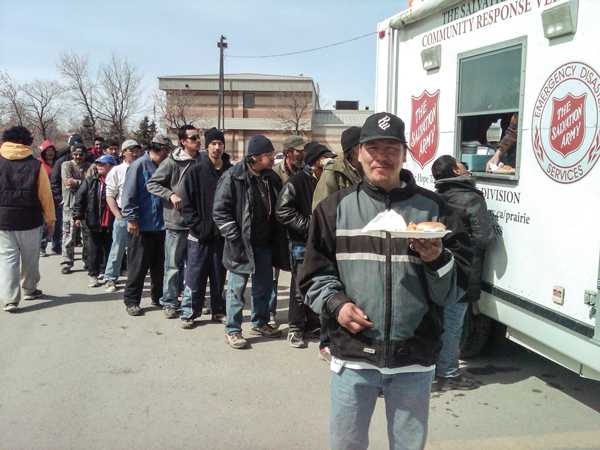 Homeless and vulnerable people living downtown in the city of Thompson, Man., were pleasantly surprised the first time Major Betty-Lou Topping popped open the back of her van and handed out hot soup and sandwiches from the parking lot located next to a local shelter.
They were caught off guard when, months later, she showed her sense of humour and humility by appearing in a Christmas parade wearing a clown costume.
"I wanted people to see that I can be a clown and a pastor," she laughs.
But what has really captivated the hearts of this mining community of about 15,000 located an eight-and-a-half-hour drive from Winnipeg, is Major Topping's compassion and persistence toward those in need.
Last July, the same month that Major Topping, her husband and son arrived at Thompson Corps, the city was named Canada's most violent city for the second year in a row, according to Statistics Canada. Disparity exists between the employees of mining companies who earn large paycheques and the unemployed who face life on the streets, isolation, frigid temperatures, the temptation of substance abuse and a lack of affordable housing. As Thompson is surrounded by First Nations reserves, racism and gang violence also run rampant.
"You can go downtown almost any hour of the day and you will see people—especially in the summertime—sitting around under the influence of alcohol," says Major Topping. "There are a lot of needs and once you start asking people, 'Why are you on the street?' it's heartbreaking."
Many Aboriginals choose to live on the streets of Thompson rather than stay on their reserve due to abusive environments at home. Others refuse to stay in the local shelter because they have been traumatized by their experience growing up in residential schools.
"Once the doors lock at night, they're confined and they can't handle that," says Major Topping. "They've told me stories of how they were held down and physically and sexually abused at those schools."
The Thompson Homeless Shelter (also known as Nanatowiho Wikamik Homeless Shelter) has an overnight capacity for 24 people. For those registered, all meals are provided. But the shelter isn't able to accommodate much more than that and often has to turn people away.
"In the summer, there are between 75 to 100 people every day who go to the shelter hungry," says Major Topping. "In the winter, there are around 40 to 60 because many return to their reserves." Winter months can be especially difficult for those who remain on the streets as temperatures can dip below -40 degrees.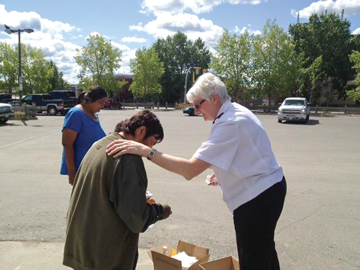 To alleviate the problem, Major Topping began to put her plans into action. With a team of volunteers at her corps, a 15-minute drive from downtown, they prepared chili, sandwiches and soup and distributed the meals from the back of Major Topping's van to 30 to 50 hungry people once a week. Eventually, the corps received an Army emergency response truck in support of their efforts.
"When we arrive downtown, everyone comes running to the truck," says Major Topping. "I walk around and chat with people and some have shown up at the corps on the following Sunday—some have given their lives to the Lord."
She is also part of a team that visits the hospital and nursing home where she conducts chapel service and prays with those who have specific needs.
Major Topping's motivation to support others stems from the examples set before her.
"I'm one of nine children and helping others was born and bred in us," she says, mentioning that her parents would assist anyone who needed it in their small community in Newfoundland and Labrador . She was also positively influenced by the Army's Founder. "When you join The Salvation Army and learn about William Booth, how could you not want to reach out to others?
"God has called me to serve and I am thrilled to be his hands extended to those in need."
Welcome Back, Soldiers!
Before moving to Thompson, Man., 11 years ago, Baxter Critch, a mechanic who works in the mine, lived in La Scie, N.L., where he smoked three packs of cigarettes a day and had to drink six beers in order to fall asleep at night. Sick and hung over on a Sunday morning, he always noticed a man in an Army uniform walk past his parents' house to go to church and thought, "I wish I was like him."
Critch wanted to quit his addictions, but found it too difficult. One Tuesday evening in 1985, his friend invited him to a prayer meeting and he found himself talking to God for the first time.
"I never knew much about being a Christian, but my friend said that when you talk to God, it's the same as talking to a friend," says Critch. After kneeling at the altar and telling God he couldn't give up his addictions on his own, he felt God touch him. "I haven't had a craving for a smoke or drink since."
In 2002, Critch moved to Thompson and began attending the corps in 2005. He enrolled as a soldier under Captain Hannu Lindholm, but went through a period where he went to church "off and on" and began drifting away.
"One thing you should never do is take your eyes off of God and put them on man, because man is sure to fail you," says Critch.
But last year, Critch began attending services regularly and got involved in ministry, delivering meals through the food truck.
"When I went out on the truck for the first time, it hit me pretty hard because at one point in my life, I had been on the street," he says. "I didn't have money and had to steal my food. People are living on the street, not because they want to, but because alcohol has such a grip on them and they just can't break it on their own."
Critch discovered a passion for serving others and, on Easter Sunday, he and three others renewed their commitment as soldiers at the corps.
(Photos from top: Mjr Betty-Lou Topping, Cheryl Harnum, Rosalyn Fudge)