On the outskirts of Havana, Cuba, a lushly lined dirt road that doubles as an impromptu soccer field for neighbourhood kids now features a blue structure with a bright red roof and a stark white cross. The new Salvation Army Diezmero Corps and a similar one in Paraga are the joint work of the Army in Cuba and Canada—the result of Mission: Cuba.
Following five years and 13 capital building projects, Mission: Cuba ended on May 2, 2013, in Havana with the dedication of the two new corps buildings.
"The profile of The Salvation Army has increased dramatically here, and the government has a better understanding of the role and function of The Salvation Army and what it can do to assist in disaster and humanitarian projects," says Major John Murray, former divisional secretary for public relations and development, Ontario Central-East Division, noting the Cuban government's request of assistance from The Salvation Army following hurricanes in recent years. "This is about more than building projects; it's about building community, mission and God's church."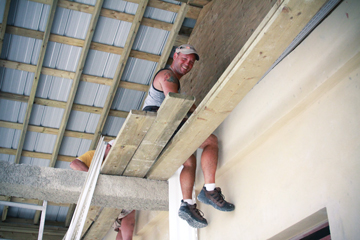 Establishing Trust
For the past five years, the Ontario Central-East Division has organized self-funded projects, in partnership with the Cuba Division, to improve facilities for the Army in Cuba. Under the direction of Majors John and Brenda Murray, and with initial support from former territorial leaders Commissioners William and Marilyn Francis, Mission: Cuba has included more than 150 Canadian volunteer team members, ranging in age from 14 to 81, including students, a farmer, a retired policeman and contractors.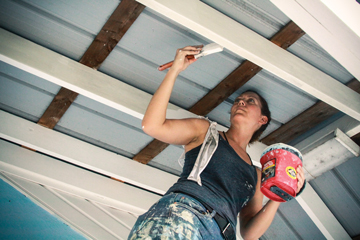 Commissioner William Francis recognized that Canada is uniquely poised to partner with Cuba and supported missions there. The Francises attended dedication services in the first four years of Mission: Cuba.
"I was amazed at the strength of the Army there. Many have known nothing else but Fidel Castro and communist rule, but through all of that the people have kept the joy of the Lord," says Commissioner William Francis. "That's a wonderful verse, but when you see it embodied in people it takes on new meaning."
According to the Canadian Ambassador to Cuba, Matthew Levin, Canadians represent 40 percent of all tourists to Cuba.
"There is a perception here of external threat—you have to work with the government until they become comfortable with you," he says. "With relationships comes an openness to engaging in works."
It's those connections that define Mission: Cuba in the largest Caribbean island with a population of 11 million people.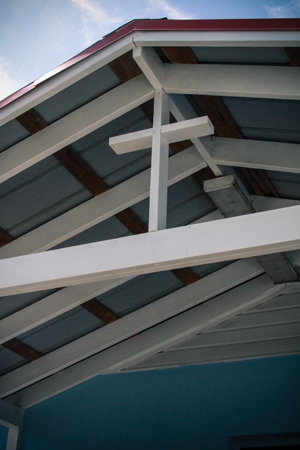 One of few remaining socialist states espousing communism, Cuba's turbulent history—from the 1898 Spanish-American War to the establishment of the Communist Party of Cuba in 1965 and continued tension with the United States—has sidled the island's lush beauty with decay.
Though Cubans still receive monthly food rations from the government, free education and health care, the struggle to survive is real. For those who can get a job, average monthly earnings total roughly $20. The Wall Street Journal and Heritage Foundation's 2012 Index of Economic Freedom ranked Cuba 177 out of 179 countries.
Teresa Matos, a soldier of the Havana Central Corps, was born in Cuba and taken to the United States as a toddler. Living in New York for 19 years, she returned to Cuba in 1980 and, due to various circumstances, has not been able to leave since.
"The problem here is economics—the 'taxes,' the lack of jobs, the lack of supplies and the overpricing of supplies. It is difficult to live in Cuba," she says. Matos teaches under-the-table English lessons and has no computer or television. "When you look around, it seems like everybody is living normally. But it's very hard. Practically everyone you deal with wants to leave the country."
When the Soviet Union collapsed in 1992, its subsidies to Cuba ended and the island country entered a rapid depression known as the Special Period. Ever since, supplies have become more difficult to find, and more expensive. Raul Castro, president since 2006, has repeatedly lamented that Cuba imported approximately 80 percent of the food it consumed between 2007 and 2009, at a cost of more than $1.7 billion a year.
Things are slowly improving under the second Castro president, who lifted bans on Cubans owning mobile phones and computers, and in 2011 allowed citizens to buy and sell houses and cars. Yet like the 1950s cars Cubans manage to keep running, the people must scheme and dream in order to survive.
"If people don't want to turn to the Communist Party, then they turn to church looking for betterment in life," Matos says.
Under Fidel Castro, who claimed control of Cuba following the 26th of July Movement in 1959, religion was actively suppressed—including nationalizing church property, distributing anti-religious propaganda and preventing believers from professions for decades to avoid any ideological threat to the regime.
The Salvation Army began work in Cuba in 1912 with missionary officers and operated until 1958 when the last overseas officer left the island upon signs of revolution, according to Captain Julio Moreno, divisional commander in Cuba and a former inspector for the government. For 10 years, Captain Moreno says, Cuban people continued the Army's work without the knowledge of International Headquarters.
"Cuba was without any link to The Salvation Army outside the country," Captain Moreno says, until a Cuban officer went to an event in Jamaica. It soon after joined the Caribbean Territory until the formation of the Latin America North Territory in 1999.
The Cuban Communist Party removed atheism as a prerequisite for membership in 1991 and permitted religious believers to join for the first time. A year later it amended the constitution to become a secular, rather than atheist, state—"opening" religion, many believe, as a result of the end of Soviet Union supplies. Allowing religious groups to provide social services increased religious liberty while reducing the cost of the government's ruling. To each faith community, the Office of Religious Affairs (ORA) assigns representatives to sporadically attend events and bring any concerns to the government.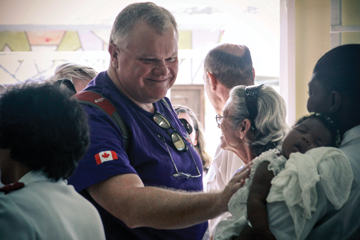 The Army's Extended Family
Today, The Salvation Army in Cuba operates 22 corps and two social service projects—a seniors' home and an addictions recovery program—with 24 officers as members of the Cuban Council of Churches.
"According to the constitution, we guarantee the freedom of religious expression as in any other part of the world," says Maria Delos Angelas Perec, a senior ORA official representing the Christian churches, though not an attendee of any church. "Essentially, we work together—the church and the government—to better help people. We work with legality and love to build good for people, to love people as we love ourselves."
Perec says the ORA approved 9,000 religious visas for foreigners coming to Cuba in 2012. "As the government, we appreciate the church but we know the community appreciates it more," she says. "The Salvation Army is a church for service to the people, the community. The best thing Cuba has is the people."
For The Salvation Army, too, the people are key.
"These people have become almost family," says Major Brenda Murray. "They said they had been praying for God to send someone, and I'd been praying that God would use me. What's so strong about this is that it isn't about Canadians showing Cubans how to do things, but partnering together so that everyone benefits from it."
Mission: Cuba began each August when a pre-team visited Cuba to meet with Salvation Army staff and survey areas of priority need with a contractor. An itemized, 12-page list of materials was sent to the Cuban government for approval, upon which every item was shipped in a 12-metre container. Members of this pre-team had to be on-site when the container was approved for release, generally in January. The materials were stored with the Army in Cuba until the spring projects began.
This year, Mission: Cuba 5 ran from April 19 to May 3. Each of the 25 team members paid his or her own way to volunteer in Cuba.
"We always leave behind a big, bright building and people come to look," says Paul Robertson, one of the team's contractors and a member of Mission: Cuba since the beginning. "We attract attention while we're building, and people stop to ask what's going on. You never know who's being affected, but we know these places are beacons for the community."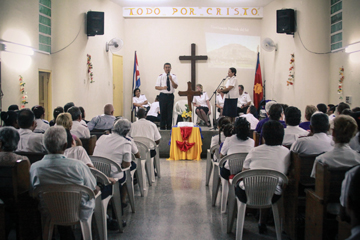 One project—at Paraga Corps—completed work that began during the initial Mission: Cuba. Squatters living in rooms attached to the corps would not allow the team to roof above their living area in 2009, so the roof only extended over the corps. It now stretches the complete 10 metres, and the team added two rooms to the officers' quarters, which previously only had one room for the family—built by Mission: Cuba 3.
The second project—at Diezmero Corps—turned an unusable property with only two walls and no roof into a complete building covered by a 15-metre roof. The officers had been holding services inside their home, but now have a church.
Both project sites were painted inside and out, and Mission: Cuba 5 also paid for a fence to be put in at The Salvation Army's training college for officers in Cuba.
Before leaving the job site this year, Doug Morton, a retired policeman from London, Ont., gave a woman a new pair of shoes. She cried, saying she had been praying for new shoes—the equivalent of a month's salary for most Cubans. But first, Morton washed her feet in a bucket of water.
"I wanted to thank her for teaching me what it's like to serve," he says.
Christin Davis is the managing editor of New Frontier Publications in the USA Western Territory.
(Photos: Christin Davis)