Every summer, thousands of children from across Canada visit Salvation Army camps, where they enjoy a week of fresh air and fun, and many encounter the gospel for the first time. But going off to camp isn't an option for every child. Recognizing an unmet need, The Salvation Army now offers camp at home programs for young people in many communities, bringing the classic camping experience to kids who otherwise wouldn't be able to go. This article profiles three camp at home programs across the territory through the eyes of a parent, a camp staff member and a corps officer.
Sports and Spirituality
"Once summer is approaching, they're asking me, 'When is Kids Games starting? When is Kids Games starting?' " smiles Tina Ortutay, mother of Daniel, nine, and Matthew, seven, in Chilliwack, B.C.
This month, Daniel and Matthew will attend their third Kids Games, a popular camp at home program at Chilliwack Community Church, which is open to children in Grades 1 to 6. Last year, the boys were two of 100 children who participated in the program, which grows by about 10-15 children each year. Most of the children who attend are from the community rather than the corps, and many are from low-income families. More than 60 percent do not have a church home.
Kids Games combines Bible teaching with a variety of sports activities, such as soccer, karate, lacrosse and tennis. With this focus, the week-long program provides an opportunity for the church to reach out to the community while also promoting children's health.
And unlike other day camps, Kids Games isn't actually held during the day. The program happens in the evenings to allow people who have daytime commitments to be involved.
"It opens up so many doors for people who wouldn't normally be able to come and hang out with kids," says Chrisandra Nagel, summer camps co-ordinator. With this flexibility, Kids Games has a volunteer base of 50 people, including sports coaches from the community who usually wouldn't be involved with any kind of church activity.
The combination of sports and spirituality has been perfect for Ortutay's children.
"They enjoy all the different activities, and last year, they made their first real connection with the Bible," Ortutay says. "We've always had Bibles in our house and I've read Bible stories to them, but now they've connected the Bible to real life."
Ortutay credits the unique format of the Bible teaching at Kids Games for this transformation. The teaching portion of the program begins with videos created by volunteers from the church. These videos feature stories and heroes from the Bible, following a particular theme. This year, Kids Games has taken on a "mission impossible" theme, and so the Bible stories they've recorded will be done in the style of a secret agent story.
"The children get to see a 'real life' version of the story," Ortutay says. "For my boys, it's: 'I've seen the movie, I've read the story—now it's making sense to me.' "
After the video, the children go to various stations around the church where they play games, learn a key verse for the day, enjoy a healthy snack, learn to pray and spend time in small group discussion. In keeping with the mission impossible theme, this year the church sanctuary will be transformed into secret agency headquarters and the children will have "missions" and "secret codes."
After her family's first year with the Kids Games program, Ortutay was so impressed that she and her husband, Mike, decided to become volunteers, teaching the children lacrosse.
"I love the way the program connects sports—which is something most kids can relate to—with the Bible stories," Ortutay says. "Whether they've never stepped into a church before or go every Sunday, every child can be comfortable, have fun and get some exercise.
"Introducing children to God and seeing them make the connection—it's amazing to watch and I love being part of that," she adds.
The Ortutay family also participates in Kids Games Live, a weekly version of the summer program that runs from September to April. The purpose of this program is to maintain the relationships established in the summer and help the children grow in their faith. In addition to sports and lessons, the program includes a free meal for the whole family. Approximately 80 children are registered for Kids Games Live and 50 attend each week.
"The children are excited to be here—they remember what we taught them last week and they ask questions," says Nagel. "Our goal is to help kids follow Jesus. That goal takes many different forms and has different components, but at the end of the day, we just want them to know the love of God."
Planting Seeds of Love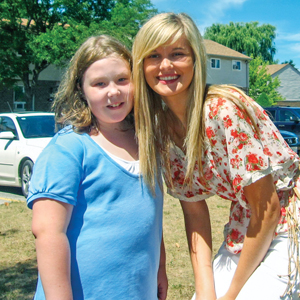 Sarah Burford is a Salvation Army camp veteran. Growing up in Chatham, Ont., she attended the Army's National Music Camp at Jackson's Point, Ont., for 10 summers, and last year joined the Camp at Home team in the Ontario Great Lakes Division.
"Going to camp was the highlight of my year," she says. "I don't think I'd be as close to God as I am now if it hadn't been for the camps I went to. And so when I joined Camp at Home last year, I thought, 'It's my turn to help the kids who are going through the things I used to go through.' "
Each summer, the Ontario Great Lakes Division sends out two teams of five young adults to seven corps each, where they conduct a week-long vacation Bible school program. The program features Bible teaching in the morning and fun activities in the afternoon which, depending on the community, may involve field trips to local attractions and various games and sports.
Many of the corps market the program through their community and family services offices and offer the program for free or at a minimal cost so that children who otherwise would not be able to afford camp can come. Over the course of a summer, the two teams reach approximately 500 children, many of whom are non-churched.
The opportunity for hands-on ministry is central to Burford's desire to be a part of the Camp at Home team.
"It reaches out into a community of people who may never have heard about Jesus, and invites them into the family of God," she says.
Burford remembers meeting an eight-year-old boy last summer at the vacation Bible school in Wiarton, Ont., who followed her around and always wanted a hug. Toward the end of the week, he told her that he had wanted to commit suicide.
"That really shocked me," she says. "It made me realize even more that it's so crucial to share the love of Jesus."
Burford's team met another boy in London, Ont., who at the beginning of the week was very disruptive and disrespectful. "But by Wednesday, it was like he was a different boy," she recalls, "and on the last day he was heartbroken that we had to go and he was crying. So we made him a scrapbook with pictures of us so he could remember us.
"We plant the seeds and we leave with a prayer that the church takes over and that God continues his work," she adds.
Burford joined the team hoping to have an impact on the children, but it soon became clear that the program would change her, too.
"I was challenged," she says. "I was there to help them, but they helped me as well. I was a comfortable Christian before last summer and now I'm not afraid as much to go outside my comfort zone."
Captain Terence Hale, divisional youth secretary, Ontario Great Lakes Division, says that this is one of the goals of Camp at Home.
"We are doing leadership development," he says. "We have had young people join the team who were not really involved in their corps, and are now actively involved in ministry and growing in their relationship with God, because of their time with Camp at Home."
"Camp at Home made me realize that I have a happiness and joy in my life that comes from knowing God and helping other people," Burford says. "I feel closest to God when I am helping others, which is why I wanted to join the team again this summer. When I look at the kids from Camp at Home, I see a little bit of Jesus in every one of them."
Mission to Maritimes
Before the summer mission team visited Sussex Community Church, N.B., in 2011, the corps did not have a Sunday school or much programming for children and youth. But thanks to the team's work that year and the following summer, the corps now has an established, growing program.
"Hosting a vacation Bible school with the summer mission team helped us make connections with parents and children," says Major Judy Folkins, corps officer. "We were able to follow up and get a Sunday school started, and then continue to minister to these children and families."
Major Folkins says the program has also had a positive impact on the teenagers who were already part of the corps. They were called upon to volunteer and assist the summer mission team with the vacation Bible school, and now those teenagers are Sunday school helpers.
The Maritime Division summer mission team is comprised of four to six staff members from the Army's Scotian Glen Camp, who visit three corps in the division during the month of August. Each vacation Bible school program reaches 25-30 children aged seven to 12.
But the impact of the program goes beyond the children who attend.
"On the last day of our vacation Bible school, we have a closing program where the children share what they've learned that week," Major Folkins explains. "It's amazing—seeing all these children standing up there, quoting Scripture verses, telling a story, being part of a drama or singing. And the look on the parents' faces—a lot of these parents went to Sunday school, too, and it brings them back."
As well as running a week-long vacation Bible school, the summer mission team does a variety of outreach activities in the communities they visit, such as picnics in the park, open-air meetings and teen nights.
"By going beyond the vacation Bible school component, we expand the range of people and family members that the team is able to connect with," explains Major Wanda Vincent, former divisional youth secretary, Maritime Division.
In Sussex last year, the team, together with youth from the corps, visited nursing homes, went bowling with seniors, made gift baskets and delivered them to shut-ins.
"As well as an outreach into the community, it's training for our young people and fellowship," says Major Folkins. "The summer mission team brings an air of excitement into our corps, and it encourages our young people to reach out further than they would on their own. The team gives them an example of something to strive for—now our youth are talking about going to camp to be leaders themselves."
The summer mission team will not be visiting Sussex this summer, but because of their assistance in the past two summers, the corps now has the resources to run a vacation Bible school on its own, drawing on a volunteer base of 20 people.
"Our corps really comes together," Major Folkins says. "We have those who cook, clean and help with crafts—it has been a really good way for the corps to connect and bond."
Major Folkins hopes the summer mission team will be back next summer, to further the positive impact they've had on the corps and the community.