"Keep your lamps trimmed and burning … the time is drawing in nigh!"
The final notes of the bluesy spiritual fill the room. All eyes are on the conductor. She holds on just long enough, then gives the signal, the song ends and a collective smile comes over the 60 youth assembled for mixed chorus at National Music Camp. It's a satisfying end to a 40-minute practice, one the youth attend daily while they're at camp.
At The Salvation Army's National Music Camp, held annually in August in Jackson's Point, Ont., the days are jam-packed. Between breakfast at 8 a.m. and vespers at 11:50 p.m., campers attend band and choir rehearsals, worship and Bible-teaching services, and electives that include everything from timbrels to conducting to yoga.
Not that National is all work and no play—far from it. Ask one of this year's 180 campers how they'd describe their experience, and one of the first words you'll hear is "fun."
"Everyone's really nice here and there's always something to do," says Jessica Braund, 18, from Winnipeg. "You learn about God and it's a lot of fun."
Playing With Purpose
National aims to equip Salvationists aged 16 to 30 to serve God through the ministries of their local corps, and one of the ways it achieves this is through skill development. Campers don't need to be experts to come to National—the camp features bands and choruses for various skill levels.
"I've gotten so much better at my trombone this week," says Nathan Allen, 16, from Winnipeg. "I didn't play much before coming to National, but here I've been playing at least twice a day and learning so much. When I get back home, I hope to join one of the bands at my corps."
"I'm really enjoying the vocal ensemble elective," says Braund. "We're singing some amazing songs and it's a smaller group of people, so you get to challenge your skills."
As well as developing musical ability, the camp emphasizes spiritual formation and growth. This year, Bible teaching was provided by Major Keith Pike, territorial youth secretary.
"Every year, I've found the Bible time really valuable," says Victoria Pinson, 19, from Guelph, Ont., who has attended National four times. "This year, we're learning about kings of the Old Testament—stories I've known since Sunday school, but I'm getting to see everything in a different way."
Braund agrees. "I always bring home the Bible booklet that we get at National and use it as a personal devotional guide because, looking through it again, I can learn new things every time," she says. "It helps me remember not to lose my fire for God after I leave camp."
For Elissa Zelinsky, 16, from Toronto, the small-group time following each morning's teaching session is particularly helpful.
"I've taken something away from each of Major Pike's Bible studies, and when we go into our small groups and discuss them, I feel like I have a lot to say," she says. "I grow more spiritually with God at camp, and then take that back to church and into the school year."
One of the highlights of the week is Spiritual Night on Thursday, or "cry night" as it is affectionately known among the campers.
"It's an emotional and impactful night because you think about your life and the changes you want to make," says Erica Summers, 18, from Guelph. "Everyone prays for each other and it brings a lot of people together."
Real Relationships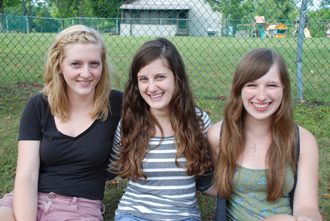 Making new friends—and reconnecting with old ones—is a big part of what makes National a positive and enriching experience.
"It's often the friendships that keep bringing me back," says Pinson. "There are lots of people that I don't see throughout the year, but I get to see them again at National."
"There are a lot of good relationships here," says Braund. "It shows how connected The Salvation Army is."
This year, Jackson's Point welcomed youth from all of the divisions in the Canada and Bermuda Territory and beyond.
It's a long way to go from Paris, France, to Jackson's Point, but Loïc Mangeard, 19, has been happy to make the journey—four times.
He was one of nine international students at National this year, hailing from countries such as Germany, Belgium, the United Kingdom, Argentina and Mexico.
When he first heard about the Army's music camp, Mangeard was hesitant as he felt his English skills weren't up to par.
"But my mom convinced me to go, and I'm really glad I did," he says. "I come here first to do music, but also to meet other Salvationists and see how God is working in our lives."
At camp this summer, Mangeard, who became a soldier last year, decided to further his knowledge about The Salvation Army by taking the soldiership elective.
"It has been a good time of discussion on why we are Salvationists, why we are unique and why we believe the things we do," he says.
For Mangeard, learning about the history and faith that unite Salvationists everywhere underscores the Army's internationalism—a point made personal when he ran into an old friend from Germany at National this year while waiting in line for a meal.
"Everybody's connected," he smiles. "It's a small world."
Big Finish
After seven days of intense practising, National concludes with a final festival, held this year at Toronto's Scarborough Citadel on August 31. Each band, chorus, drama team and worship team had a chance to shine before the capacity crowd, performing pieces such as Children of Light, His Eye is on the Sparrow and Purcell's Rhapsody on a Theme. Commissioner Brian Peddle, territorial commander, shared a devotional message, and the program closed with In Perfect Peace, a fitting end to a blessed week.
"I've really enjoyed National," says Zelinsky, who attended this year for the first time. "Learning new music, testing my ability, making new friends—I've had so much fun. I'd definitely come back."
To view more photos of National 2013, visit
Salvationist
's flickr page.(Photos: Kristin Ostensen)