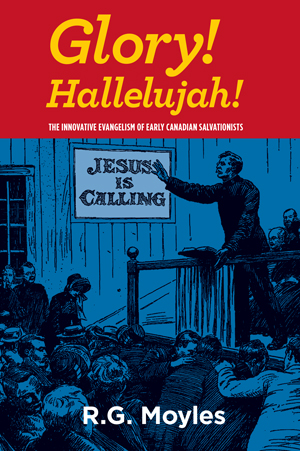 "The Salvation Army was, without argument, the most aggressive religious agency in the world of its time," writes R.G. Moyles in his new book,
Glory! Hallelujah!
Highlighting the perhaps unknown but innovative—and seemingly bizarre—evangelistic efforts of early Canadian Salvationists, Moyles transports readers back in time to the centre of the action. Through detailed descriptions and the inclusion of historical writings, he shows the passion and effectiveness with which they endeavoured to "save souls."
Moyles, a Salvationist and a professor emeritus at the University of Alberta in Edmonton, has written 30 books, 10 of them on The Salvation Army, including
The Blood and Fire in Canada
and
Come Join Our Army
.
Glory! Hallelujah!
is divided into 10 chapters, each chronicling an evangelism method used by early Salvationists, including open-air meetings, musical specials, hallelujah weddings, travelling bicycle brigades and the "Salvation Navy," which took the gospel to remote communities and outports along the coasts of the Great Lakes and Newfoundland and Labrador.
An especially interesting chapter focuses on the success of woman preachers, in particular Captain Abigail Thompson, who arrived in Kingston, Ont., from the United States in 1883. While a gifted preacher and evangelist who regularly over-filled large auditoriums with people clamouring to hear the gospel, "Captain Abby" shared an unexpected friendship with none other than Sir John A. Macdonald, prime minister of Canada.
Moyles also tells the story of General William Booth's visit to North America in 1898, at the height of the Klondike gold rush. Met by his daughter, Eva, commander of the Army in Canada, he immediately caught her vision for an Army expedition to save the souls of miners as they sought their fortunes. Moyles recounts how Eva, supported by a team of eight volunteer Salvationists, including two nurses, struck out for Dawson City in the Yukon Territory to "repair the broken dreams of disappointed men."
Moyles' anecdotes show the influence of early Salvationists on all levels of society, from the humblest miner to the prime minister of Canada.
Glory! Hallelujah!
takes readers across Canada, from the shores of the Atlantic to the interior of British Columbia, and beyond to the battlefields of the First World War—a must-read for Army history buffs and newcomers to the Army alike.
To order a copy of
Glory! Hallelujah!
visit The Salvation Army's online store.Watch for an excerpt from
Glory! Hallelujah!
in the November issue of
Salvationist
showcasing the Army's presence on the front lines of the First World War.