"We are hard pressed on every side, but not crushed; perplexed, but not in despair; persecuted, but not abandoned; struck down, but not destroyed."—2 Corinthians 4:8
The 7.0-magnitude earthquake that struck Port-au-Prince, Haiti, on January 12, 2010, left more than a million people homeless and others distraught by the death of loved ones. Devastating an already-impoverished area (nearly 80 percent of Haitians live on less than $2 per day), hope escalated as billions of dollars from the international community poured into the country, then plummeted when, months later, it seemed not much had changed.
The Salvation Army has worked in Haiti since 1950. After the earthquake, hundreds of thousands of people flooded Salvation Army facilities for food, water, shelter and medical aid. In March 2012, the Army expanded its services in Haiti, launching a five-year, $3.6-million Integrated Family Support Project (IFSP), funded entirely by the Army in Canada and Bermuda Territory's world missions department.
The project includes four components: permanent housing, vocational training, livelihood support and agricultural support. Almost two years into the project, Army staff visit some of the IFSP beneficiaries to find out how it's been helping people rebuild their lives.
A Home At Last
Standing in front of his newly constructed 24-square-foot home, Frenel bellows a solemn, melodic tune in Creole as his four children shyly fidget and stare back at the spectators. "Nothing is impossible with prayer," he sings in front of his home, one of 29 that have been constructed since November 2012 through The Salvation Army.
Frenel is a farmer who walks 30 minutes every day to tend to his peanut and sugar cane crops. He sells these crops at the local market, but his income is far from sufficient. His wife stays at home with the children, who aren't in school because they can't afford the fees. Still, this family is grateful to have a place to call "home."
Four years ago on the day of the earthquake, they watched their home, and other homes in their community, collapse.
"I remember that day," he says through a translator. "We ran out of our house and watched concrete homes turn to rubble. People were crying and I was in a very bad situation."
Frenel's crops were ruined by the quake, but thankfully, none of his family members were injured and he was able to collect some clothes from his house. A family member in a neighbouring community temporarily provided shelter for Frenel's family while their new house was being built, a blessing considering many victims ended up in "tent camps," communities where residents live in shelters made of tarps, wood, rags, plastic bags, corrugated tin and cardboard. Jodel Pierre, IFSP manager, estimates 3,000 tent camps were set up after the earthquake, but that number is now decreasing.
"Some people lost everything they had in the earthquake and didn't have any place to go except the tent camps," says Pierre. "Others moved to the camps by choice because organizations would provide them with water, sanitation, health care, food and medications that they were not able to pay for outside the camp.
"Many of our project participants lived in these tent camps. We always aim to aid the most vulnerable."
Though disheartened by the earthquake, Frenel didn't just sit passively as his house was being built. He took an active role in the construction of his house by working with the contractor to dig the foundation and carry material from the depot to the land.
"After the earthquake, I felt very sad and hopeless," says Frenel. "This new house is a blessing that God gave to me. Now I see that there is hope."
The Salvation Army is aiming to construct 260 houses by the end of the project. Twenty houses are currently being built.
>>
Watch this video of Frenel singing in front of his new home.
Pipeline to Prosperity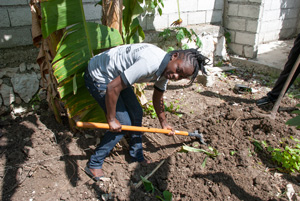 The town of Fonds-des-Nègres, approximately 113 kilometres from Port-au-Prince, did not sustain the same level of damage from the earthquake as the capital, but the repercussions were still felt.
Chatelier, 23, was sleeping when the earthquake hit. When she felt tremors, she ran and her house collapsed.
A single mother of a two-year-old son, Chatelier is currently living with her sister. At first, she felt that her situation was hopeless, but after gaining vocational training skills in the field of plumbing, her attitude has changed.
"Before, I was under the control of others to take care of me and I worked for nothing because I didn't have any skills," she says. "Now I have training and I will be paid for my time.
"I now have a way that I can support myself and my child."
Thriving Crops
Twenty-one-year-old Jonas carries a permanent reminder of January 20, 2010. During the earthquake, a concrete block fell on his head. After spending a month in hospital, he was released, but a scar remains.
"Sometimes I feel afraid when there are weather events and noises due to rain," says Jonas. "Sometimes it feels like it's in my head."
Jonas' dad, Raymond, is wearing a shirt that says, "Best Dad Hands Down." Regardless of whether he understands what the words mean, his children would probably agree that he deserves the title. His income currently supports 25 members of his family and he looks after 10 children, five of which live with him.
Raymond is a beneficiary of IFSP's agricultural support. Through this program, impoverished Haitian farmers receive agricultural training, seeds and loans which they can use to purchase tools, material and livestock. IFSP aims to provide agricultural support to 1,500 farmers living in poverty.
Raymond rents land to grow crops such as tomatoes, maize and corn. Once the crops are ready, he gives a portion to the landowner and sells the rest in the market.
The Salvation Army's support has given Jonas, Raymond and 226 other agricultural beneficiaries (so far) a reason to smile again—even though, as Raymond jokes, it's hard to smile when he has no teeth.
"The program has helped me improve my life," he says. "I trust The Salvation Army because they are serious about helping others and when they promise something, they do it."
"I would like to say a special thank you to the donors for the opportunities you provided my father with so that he could continue to support us," says Jonas. "I also hope you can continue to support other people."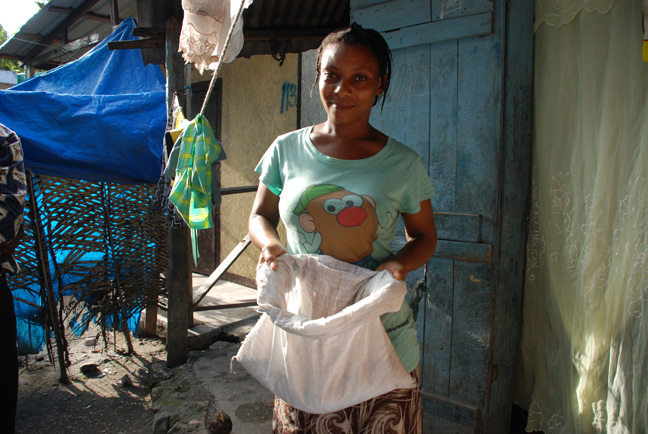 Livelihood Support Funds Education
Carline, 29, her husband and two children, a 13-year-old and five-year-old, lived in a tent camp for three months after the earthquake damaged the walls of their house.
When The Salvation Army approached her to discuss the livelihood support program, which provides people living in poverty with loans to start their own business, Carline was overjoyed.
"I was very happy to participate in this project because it helped me to buy items to sell," she says. "I can take care of my children and send them to school."
Before the project, Carline's children couldn't attend school due to the family's insufficient income. Carline now has enough to provide them with food and earns 500 gourdes (approximately C$12) a day by selling peas, rice, sugar, corn, peanuts and candy.
"Thanks to The Salvation Army," she says, "because I had nothing and you supported me with my family."
The Army's goal is to provide 1,500 vulnerable families—especially female-headed households—with support and training to start their own businesses so they can have a regular income.
>>
Carline and two other students who received training and support say "thank you" in this video.
Building Skills For Life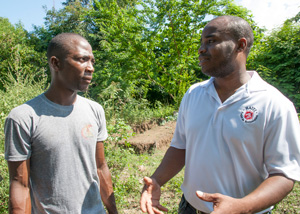 In a forested area in Petit-Goâve, a coastal town located about 70 kilometres from Port-au-Prince, young adults diligently work together to weave thick blades of grass around large wooden sticks. The group members are building a compost system that will transform manure, shrubbery and coconut leaves into an organic fertilizer that will ultimately help increase crop production. The group learned their agricultural skills from Le Centre de Formation Technique Avancée (Advanced Technical Training Centre), an institution that is partnering with The Salvation Army.
The vocational training the students receive is part of IFSP and targets 1,000 adults aged 18-35 who don't receive any support from their families and who cannot afford school fees. The centre offers courses in fields such as auto mechanics, tiling, agriculture, plumbing, construction, electricity and ceramic work and involves instruction in and out of the classroom. There have been 560 program participants so far. Once they complete their training, graduates receive a certificate that is recognized by the state, which increases their chances of gaining long-term employment.
Osselin, 27, is currently living in a shelter he created with plastic sheets. He lives in this tent with three members of his family.
"During the earthquake, I ran out of my family's house, not knowing where to go," he says. "Our house collapsed and we lived in a church for about two or three months."
Through the vocational program, he has learned valuable skills that he hopes will lead to securing a job.
"I put all my effort into learning through this program," he says. "After that, I'll see if I can rebuild my family's house myself."
Once graduates complete the program, The Salvation Army helps to link students with existing employers and supports them in their job search. Throughout their training, NGOs and other potential employers are invited to meet the students to scout prospects.
"We didn't have this kind of experience before," says Osselin. "Now I'm a technician and we all have something we can do to help ourselves."
>>
In this video, the territorial leaders of the Caribbean territory thank donors for their support.
A Stronger Haiti
The Integrated Family Support Project is one of the largest projects in Haiti and is currently being implemented in 24 communities. Manjita Biswas, who developed the project as overseas program director in Canada and Bermuda's world missions department, believes that success is more than just the number of people who are being helped.
"All four components of the program are helping to rebuild Haiti and provide beneficiaries with life-changing experiences," she says. "The significance of this project is that we're not giving hand-outs, we're giving them skills. We're working alongside them and helping them develop sustainable mechanisms so that when the project is over, their house will still be standing and they will have the skills to thrive in their own business, find employment and grow nourishing crops to sell in the market and feed their families."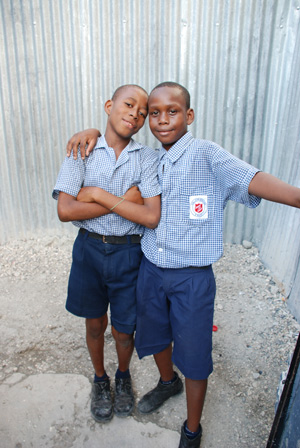 Other Salvation Army Projects in Haiti
• The Salvation Army has operated a health facility in Delmas 2, Port-au-Prince, for 40 years. The clinic was damaged by the earthquake and work is under way to build a stronger structure.
• The Salvation Army construction team continues to work diligently to repair and rehabilitate schools outside of the Port-au-Prince area that were damaged by the quake. The Army employs local labour and contractors in each community to support its economy and work force.
• The Salvation Army provides meals to children at its schools throughout the country. For some, it is the only meal they receive on a given day.
—
with files from Linda Leigh, THQ PRD
(Photos: Melissa Yue Wallace)