To celebrate our Canadian Olympians in Sochi,
World Missions
is reprinting the cover story Faith & Friends published on Cindy Klassen in February 2010.
The secret to being Canada's most-decorated Olympian? Believe in yourself and trust in God.
At 18, after failing to make the 1998 Olympic women's hockey team, Cindy Klassen refused to be deterred. She decided to try another sport to reach the Olympics and replaced her hockey skates with speed skates.
"You have to believe you can make it," Cindy asserts. "When I first started speed skating, I was horrible! The skates were so different from what I was used to. People thought I wouldn't succeed but I believed in myself and that got me through the hard times."
Podium-Bound
That belief helped her make it onto Canada's national speed skating team in 2000. At the 2002 Winter Olympics, Cindy was awarded a bronze medal in the 3,000-metre race. She exceeded everyone's expectations at the 2006 Olympic Games in Turin, bringing home a bronze medal in the 3,000-metre and 5,000-metre, a silver in the 1,000-metre as well as a team silver, and gold in the 1,500-metre, becoming the first Canadian to win six Olympic medals.
Belief in God has helped Cindy ride out the ups and downs in her life that were beyond her control. In October 2003, she fell while rounding a corner during training and crashed into a group of skaters. A skate blade cut her right arm from wrist to elbow, slicing through 12 tendons, a nerve and a major artery. Amazingly, she was able to resume training two months later. She competed at the World Single Distance Championship in March 2004 with a splint on her arm, winning silver and bronze medals.
God's Peace
After her seemingly charmed year in 2006, Cindy started gearing up for the 2010 Winter Olympics. Then, in February 2008, her younger sister's vehicle hit a ramp-like buildup of ice on a highway bridge in their home-town of Winnipeg. Lisa went over the railing and into the Red River 15 metres below. She was trapped under-water until two intrepid bystanders rushed to her rescue, cut her loose from her seatbelt and administered CPR until an ambulance arrived.
"When I found out about my sister's accident, I was competing in Berlin," Cindy says. "I went to my room and sent out an e-mail to all those people I knew who would pray for her, and then I felt calm. I had to sit through a nine-hour flight, plus I was delayed in Montreal. While there, I watched the details of the accident on the news. There was a lot of uncertainty but I felt like God was lifting me up. Normally, I would have panicked but God gave me His peace."
A Season Derailed
Cindy, along with sister, Faye, brother, Cary and parents, Jake and Helga, put everything on hold while Lisa was in the hospital.
"People all around the world were praying for her," remembers Cindy. "My pastor, Gerald Hildebrand, was there for us right away. He knew all the questions to ask the doctor. The rest of us were in shock, seeing Lisa like that; we didn't know what to do or say. Pastor Hildebrand was a great comfort. The first week the doctors weren't giving us any hope, but we didn't despair."
Miraculously, Lisa was released from the hospital after a little more than two weeks. She had a sore tailbone but suffered no brain damage. Although Cindy knew then that her sister was going to make it, she cut her skating season short to stay with Lisa.
"I always miss my family when I'm training in Calgary so I usually try to fly home at every opportunity," she says. "We're really close. Lisa still had physiotherapy to do in the hospital and exercises to do at home. It took a while for her to walk normally and she was uncomfortable. Our church family went into action and supported us through letters, cards, meals, baking—the sense of community was overwhelming. They all helped us tremendously. It was worth giving up my season. My family means everything to me. Skating is important, but it's not everything."
Cindy happily reports that her sister is now doing phenomenally well. "Lisa is 100-percent healed and has gone back to work," says Cindy. "That's a huge accomplishment because she's a flight instructor and had to pass all the necessary tests to be able to fly again."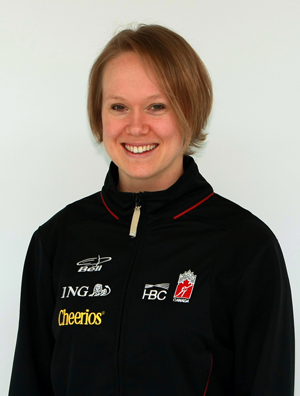 Don't Stop Believing
Shortly after Lisa got back on her feet, Cindy had to get off hers and once again wait on God. "The doctors had to perform surgery on my knee," she explains. "I kept busy with physiotherapy and training."
While recuperating, Cindy bonded with the national team, going with them to Richmond, B.C., to get used to the Oval where the 2010 Olympics will take place.
"Sometimes it was hard watching my teammates perform when what I was doing at the Oval wasn't typical of what I could normally do," confesses Cindy. "Then I remembered there was nothing I could do about it. If God wanted me to wait a bit before I got back to where I had been, it was all in His hands. I've been blessed my whole life by what God has done for me so how can I not be thankful even when times are tough?"
Cindy believes God is still in control of her life. "Through everything I quote Philippians 4:6-7: 'Do not be anxious about anything, but in every situation, by prayer and petition, with thanksgiving, present your requests to God. And the peace of God, which transcends all understanding, will guard your hearts and your minds in Christ Jesus.' That verse has kept me calm throughout my sister's tragedy, the problems with my knee and my preparation for the upcoming Olympics. I know if I give things over to God and they're in His hands, everything will be OK."
Article from Faith & Friends February 2010.  For more articles from Faith & Friends, please visit the website
here
.