Partners in Mission has officially launched in Montreal!  World Missions has decided to give them a Gold Medal for their unique ideas and their valiant effort to supporting the international community and partnering territory of Liberia & Sierra Leone.  The Corps has approximately 140-150 people attend their Corps on a regular basis.
Major Anne Venables, Divisional Director Women's Ministry, is one of the many involved with the Partners in Mission campaign in Montreal.  She had the opportunity to be on the Partners in Mission trip with Major Gillian Brown, Director of World Missions, to Liberia & Sierra Leone.  Taken from an article she wrote for the Salvationist magazine, she said this;
"As we toured the school grounds, he followed at a distance and continued to watch. I asked the officer to tell me his story.  His name is Chris. Every morning he walks for about an hour to get to school because he wants to learn and be with other children. Unfortunately his family can't afford the $50 to cover Chris' school uniform and fees. I immediately offered to pay the money, but the response was: "What about next year? Who will pay next year? And what about the hundreds of other children who can't go to school? Who will pay for them?" All I could think of was that any of my friends or family could easily part with $50 to ensure that children like Chris could get the education they so desperately wanted and needed. There's a saying in Liberia: "A problem shared is a problem easily solved." We need to get involved and commit to programs such as Partners in Mission to help Chris and the thousands like him."
Major Venables understands the crisis in Liberia & Sierra Leone, experiencing it first hand.  At the launching of the campaign, just last week, Major Venables was asked to speak of her experiences and as you read above, she was able to share the importance of partnerships with the international community.
Below, you will find the Montreal Citadel calendar of events; ranging from children's projects, samosa lunches, movie night, waffle lunch and even a hockey game!  Montreal certainly has some wonderful and great ideas to not only raise funds, but to share in some great fellowship.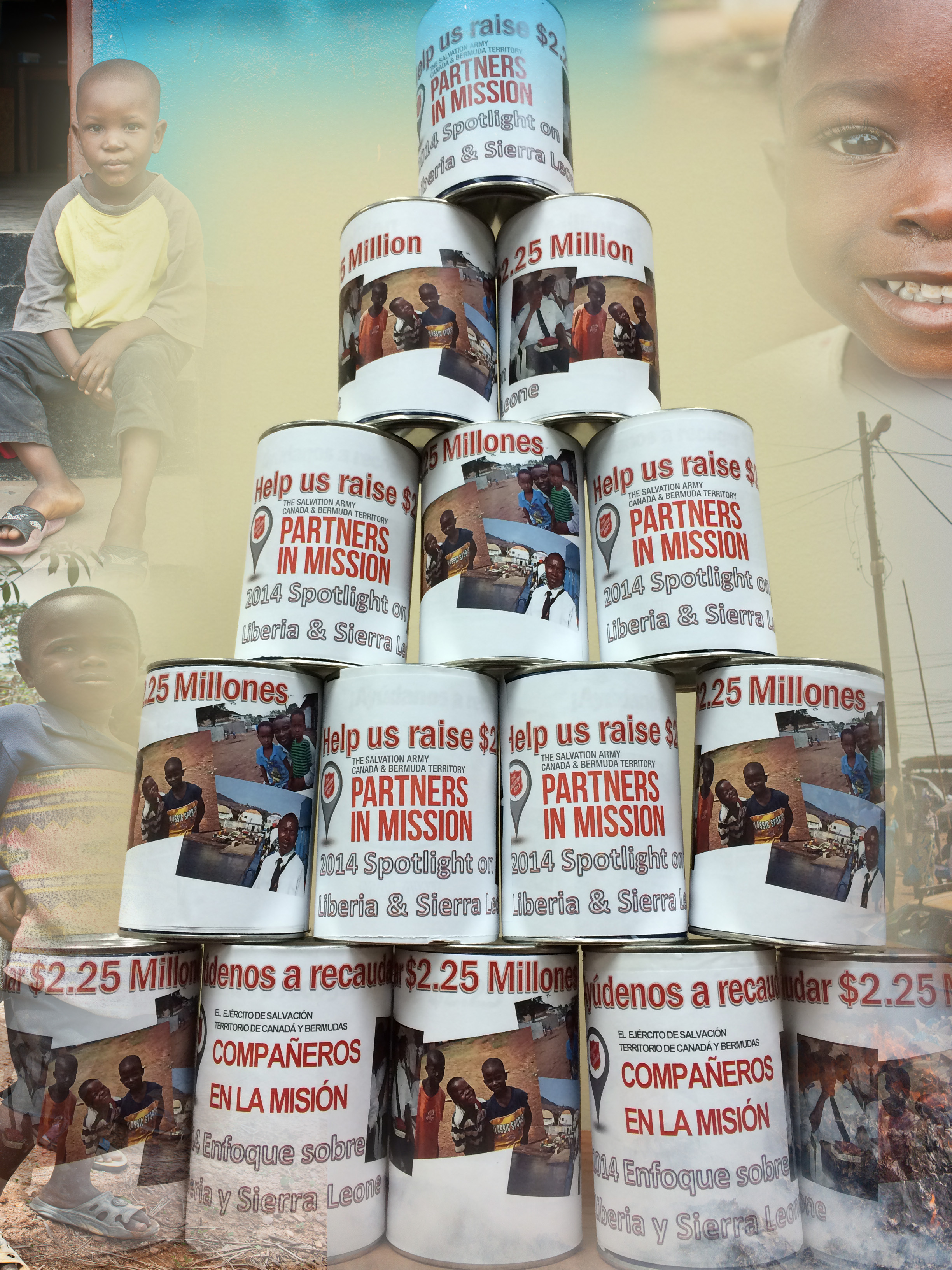 Coin cans (as shown above) were developed and designed by the Montreal Corps.  The cans were a part of the launch on February 16 and were given to one member of each household. They are encouraged to contribute their weekly loose change but some will give paper money at the end of the campaign.  The cans are then collected at the end of the campaign at the in-gathering.
Sunday 16 February: Toonie soup lunch + distribution of PIM coin cans.
Sunday 23 February: Launch of the pilot fundraiser with FundScrip (fundscrip.com)
Sunday 2 March: Introduction of the children's project
Sunday 16 March: First children's presentations on Liberia/Sierra Leone
Sunday 12 March: Second children's presentations on Liberia/Sierra Leone
Sunday 23 March: Third children's presentations on Liberia/Sierra Leone + Samosa Sunday ($2 each)
Sunday 30 March: Shepherding program luncheon - toonie soup lunch
Saturday 5 April: Minute-to-Win-It family fun day run by the teens of the Corps (food for sale) + Movie Night ($3)
Saturday 12 or 19 April: Hockey game (food for sale)
Sunday 20 April: Easter Waffle Lunch Extravaganza ($2/ticket)
Saturday 17 or 24 May: Soccer match (food for sale)
Saturday 31 May: Coffee House and Concert (tickets for sale include coffee + dessert)
Sunday 1 or 8 June: Fundraising In-Gathering Service
World Missions wants to thank everyone in the Corps for the hard work and all of their volunteer hours they have put forth to make this Partners in Mission campaign a successful one!  World Missions congratulates you on receiving a World Missions Olympic Gold Medal!  May God bless you!